Jacob Blake's Family To File Civil Suit Against Wisconsin Police Department
Attorneys announced at a Tuesday news conference that the family of Jacob Blake, who was shot by Wisconsin police on Sunday, would file a civil suit against the Kenosha Police Department.
Blake was shot in the back multiple times by Kenosha police while attempting to enter his vehicle. Blake's children were waiting in the car as he was shot. Eyewitness video of the shooting circulated on social media, sparking demonstrations in Kenosha which turned violent. Wisconsin Governor Tony Evers mobilized 250 members of the Wisconsin National Guard to assist local law enforcement during the protests.
"We have to bring a civil lawsuit and we're going to be doing that among other things," said attorney Patrick Salvi, who appeared at the news conference. Salvi said that the lawsuit would "hold the wrongdoers accountable for this injustice." Salvi also said money gained from the lawsuit would help Blake afford his physical rehabilitation.
Blake was left paralyzed by the shooting. Salvi said that a bullet went through "some or all" of Blake's spinal cord. Blake also has "holes in his stomach," according to Salvi, and has had nearly all of his small intestine and colon removed.
Civil rights attorney Ben Crump, who is representing the Blake family, issued a demand that "the prosecutor arrest the officer who shot Jacob Blake." Crump also called for the other officers connected to Blake's shooting to be "terminated immediately."
Crump is also representing the families of Minnesota man George Floyd and Kentucky EMT Breonna Taylor, both of whom were allegedly killed by white police officers.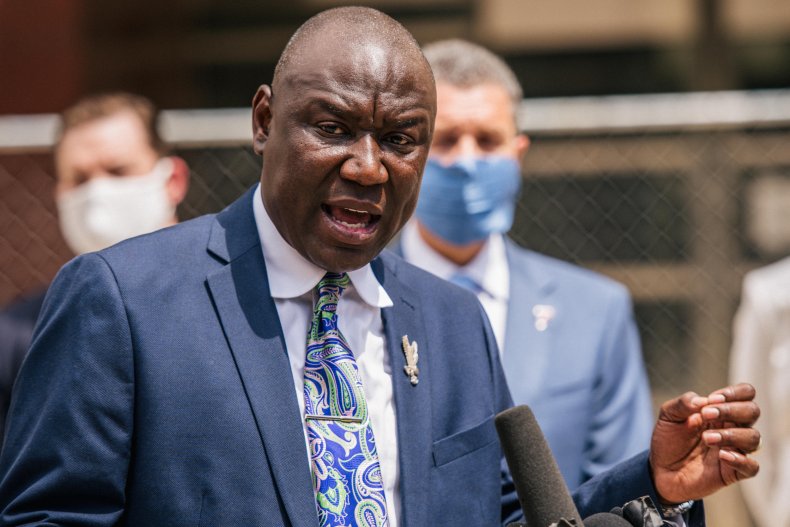 During a Monday briefing, Wisconsin Attorney General Josh Kaul said the Wisconsin Department of Justice understands "there is a need for this investigation to move swiftly, and our goal is to move swiftly." Newsweek reached out to the Wisconsin Department of Justice for further comment.
Blake's mother, Julia Jackson, made a plea for peaceful demonstrations during Tuesday's news conference. Jackson said that the damage caused by protests "doesn't reflect my son or my family."
"If Jacob knew what was going on as far as that goes, the violence and the destruction," Jackson continued, "he would be very unpleased. So I'm really asking and encouraging everyone in Wisconsin and abroad to take a moment and examine your heart."
Governor Evers raised the number of National Guard members mobilized to Kenosha from 150 to 250 on Tuesday in anticipation of another night of protests. Evers acknowledged in a Tuesday statement that individuals have the constitutional right to peacefully protest, but that "there remains a line between peaceful assembly and what we saw [Monday] night that put individuals, families, and businesses in danger."
During protests in Kenosha Monday night, protesters set structures ablaze. Some demonstrators set fire to a garbage truck. Law enforcement authorities used less than lethal weapons against the protesters, including tear gas and pepper spray.