Jacob Blake's Family Ignore Trump's Kenosha Visit, Hold Community Celebration Instead
The family of Jacob Blake opted for a community celebration instead of meeting President Donald Trump, whose visit to Kenosha divided local opinion.
On Tuesday, Trump toured the areas of the Wisconsin city that had seen the worst of the violence following the multiple shootings of Blake by a police officer.
The incident on August 23, which left Blake, 29, paralyzed, triggered yet more anger over U.S. police practices against Black people and led to the gun deaths of two protesters last week. Kyle Rittenhouse has been charged with their murders.
Near where the shootings took place, Blake's family held a community party to coincide with Trump's visit, which included offering voter registration, playing music and providing food.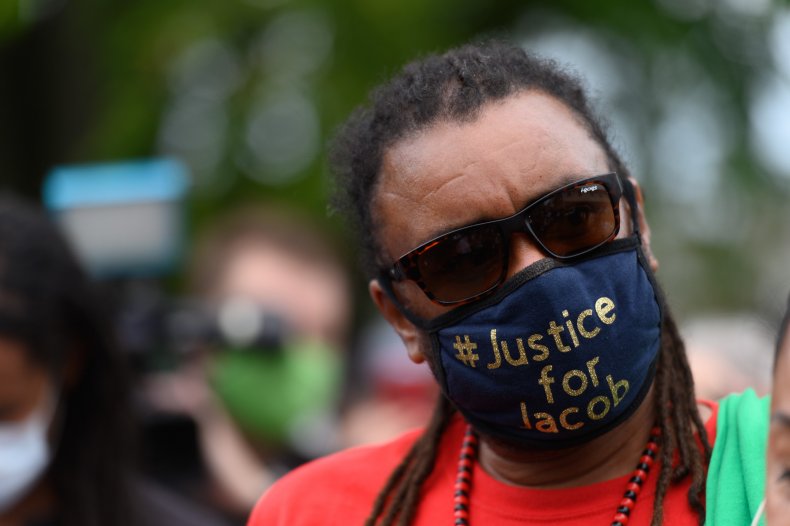 "Whatever his motive is, we're not engaging. We're focused on getting justice for little Jake, helping Kenosha get over this horrendous act in their backyard. That's why we're here today," Blake's uncle, Justin Blake, told ABC 7.
Rep. Gwen Moore said: "This is the Kenosha that I know and I'm joining and celebrating the life of Jacob Blake. Just putting it out there in case the president wants to say his name, say that name he may have forgotten it by now."
Trump said that he did not meet the Blake family because they had wanted lawyers present. Blake's father, Jacob Blake Snr, earlier told CNN regarding a possible meeting with Trump: "I'm not going to play politics, this is my son's life we are talking about."
Trump's visit had been opposed by Kenosha Mayor John Antaramian and Wisconsin's Democratic Governor Tony Evers, amid fears that it would stoke tensions.
Blake was shot seven times in the back and remains hospitalized. The subsequent unrest prompted Evers to activate the Wisconsin National Guard a day later, although Trump claimed credit himself for ordering in the National Guard.
The president spent Tuesday's visit touring damaged property and meeting with local business leaders and police officials. He pledged an extra $1 million for law enforcement and $4 million for businesses damaged during the unrest.
"These are not acts of peaceful protest but, really, domestic terror," he said.
Meanwhile, during a roundtable discussion on community safety, Trump blamed the violence on "anti-police and anti-American riots."
Trump's visit did get some positive feedback from other Kenosha residents, such as Jim Larsen, who told NBC: "It sends the right message about who is in charge and who needs to stand down, what kind of country this is supposed to be and how people ought to behave." Newsweek has contacted the White House for comment.