Jacob Blake's Mother Calls for Peaceful Protests After Kenosha Police Shooting
Wisconsin Governor Tony Evers mobilized members of the National Guard on Monday as protests were expected over the Sunday shooting of Jacob Blake by members of the Kenosha Police Department.
Video of Blake's shooting, which circulated on social media, showed officers firing as Blake attempted to enter his vehicle. Blake's young children were in the car when the shooting occured.
The shooting is under investigation by the Wisconsin Department of Justice. Protests erupted in Kenosha after news of Blake's shooting became public. Businesses were vandalized and approximately 50 vehicles were set ablaze at a used car lot. Blake survived the shooting and, according to a tweet from his cousin, is in intensive care after surgery.
"We will continue to pray as he fights," the tweet read. "We will not excuse the actions of the Kenosha Police department, but his mother asks everyone to please remain peaceful."
Officers involved in the shooting incident were placed on administrative leave. County officials announced an 8 p.m. curfew. Protesters interrupted a news conference held by Kenosha Mayor John Antaramian Monday, causing law enforcement officers to use pepper spray against demonstrators.
Governor Evers said Sunday that he stands "against excessive use of force and immediate escalation when engaging with Black Wisconsinites."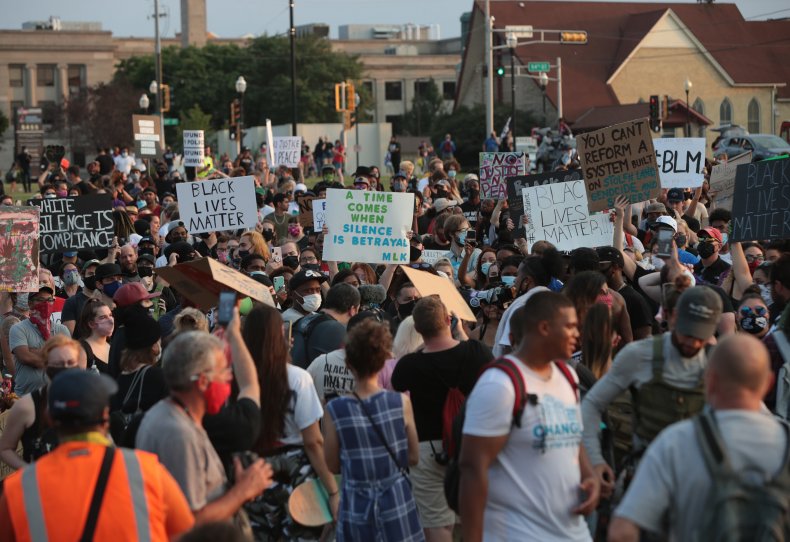 Evers said the National Guard members were being deployed to "help protect critical infrastructure and assist in maintaining public safety and the ability of individuals to peacefully protest."
"Every person should be able to express their anger and frustration by exercising their First Amendment rights and report on these calls to action without any fear of being unsafe," said Governor Evers in a Monday statement. "This is a limited mobilization of the National Guard focused on supporting the needs of local first responders to protect critical infrastructure, such as utilities and fire stations, and to ensure Kenoshians are able to assemble safely."
Blake's family is being represented by attorney Ben Crump, who also serves as legal counsel for the families of George Floyd and Breonna Taylor. Crump said in a Monday statement that it was a "miracle" that Blake was still alive.
"How many more of these tragic 'while Black' tragedies will it take until the racial profiling and undervaluing of Black lives by the police finally stops?" Crump wrote.
Blake's shooting elicited some to say the Kenosha Police Department should be the subject of an investigative probe.
"This calls for an immediate, full and transparent investigation and the officers must be held accountable," Democratic presidential candidate Joe Biden said in a statement. "These shots pierce the soul of our nation."
President of the Kenosha Police Union Pete Deates asked people to "withhold prejudgment" about police involvement with the incident.
"As always, the video currently circulating does not capture all the intricacies of a highly dynamic incident," Deates wrote Monday. "We ask that you withhold from passing judgement until all the facts are known and released."
Updated 11:26 p.m. EST 8/24/2020: Officers used less than lethal weapons against demonstrators Monday night after they failed to observe the curfew. Protesters allegedly threw projectiles toward law enforcement officials. During the demonstration, protesters also allegedly set a garbage truck on fire.