Michael Avenatti Suggests Jacob Wohl Was Behind His Domestic Violence Arrest in Twitter Blast Against Conspiracy Theorist
Attorney Michael Avenatti lashed out at conspiracy theorist Jacob Wohl on Twitter following Avenatti's arrest in Los Angeles on Wednesday. The lawyer was booked on a felony domestic violence charge, with bail set at $50,000.
"When we are fully exonerated I am coming for you Jacob Wohl aka Surefire," Avenatti tweeted Thursday morning.
Wohl, 20, appeared to take credit for Avenatti's arrest in a Twitter post.
Surefire Intelligence, a company that NBC News reported was "linked to Wohl in numerous ways, including domain records and a company phone that redirects to a number registered to Wohl's mother," retweeted a post about Avenatti's arrest that read: "Surefire Intelligence strikes again."
Wohl retweeted the Surefire Intelligence post from his personal Twitter account.
Mediaite reporter Caleb Ecarma tweeted that Wohl was reporting what Avenatti said to law enforcement.
"Jacob Wohl just told me: 'Michael Avenatti's criminal threats against me are being reported to law enforcement as we speak,'" Ecarma posted.
Avenatti has denied the allegations against him and said he was booked, not charged. "I have never struck a woman. I never will strike a woman. I have been an advocate for women's rights my entire career and I'm going to continue to be an advocate," reported ABC News.
He wrote on Twitter that "There is a lot of inaccurate reporting out there. For example, (1) I have NOT been charged with anything, let alone a felony; (2) Lisa wasn't even with me Tues; etc. Numerous other "facts" being reported are completely bogus. Why is TMZ's news "standard" the new standard?"
Avenatti's first and second wives defended him, The Washington Post reported.
"I have known @MichaelAvenatti for over 26 years we met when he was 21 years old and we were married for 13 years. Michael has ALWAYS been a kind loving father to our two daughters and husband to me. He has NEVER been abusive to me or anyone else. He is a good man," Christine Avenatti Carlin, his first wife, tweeted.
A lawyer for his second wife, Lisa Storie-Avenatti, said she was not abused.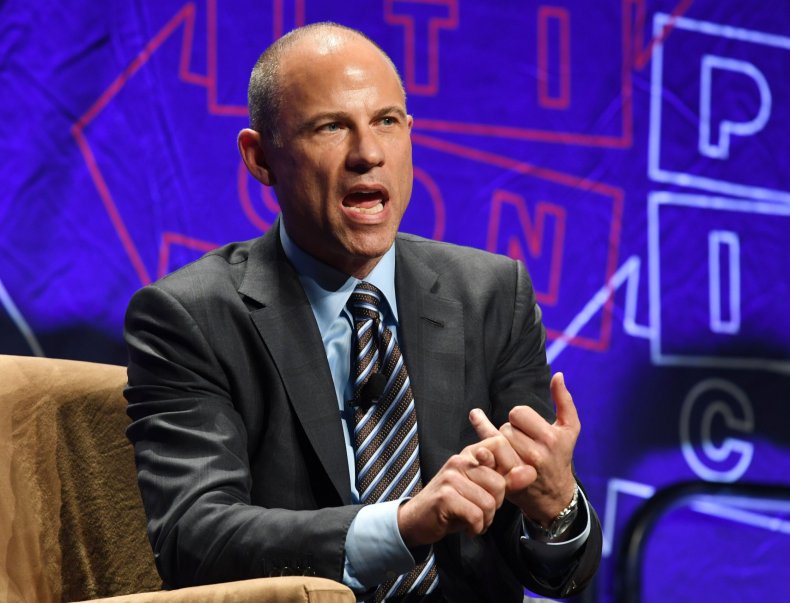 The spat between Avenatti and Wohl joins two figures who have recently generated much national attention. While Avenatti, the attorney for adult film actress Stormy Daniels, has become a household name following his frequent TV appearances in which he has vociferously attacked Trump and mused about running for president, Wohl's name only went public last month.
Wohl gained notoriety for his apparent involvement in a plot to accuse special counsel Robert Mueller of sexual assault.
In mid-October, a number of journalists received emails from a woman claiming she had been offered money to accuse Mueller of sexual misconduct.
Later in the month, Wohl tweeted that "Several media sources tell me that a scandalous story about Mueller is breaking tomorrow. Should be interesting. Stay tuned!" The accusations then appeared on The Gateway Pundit, a far-right website that Wohl has contributed to.
The conspiracy theorist later held a bizarre press conference with conservative lobbyist Jack Burkman.The allegations fell apart after a woman who Wohl said would speak publicly about her experiences with Mueller failed to show up. Burkman said that the accuser feared for her life, but he and Wohl provided no evidence that she ever existed or that other women had made similar allegations against Mueller.
A representative for Mueller said the claims that women had been offered money to accuse him of sexual misconduct had been referred to law enforcement.
"When we learned last week of allegations that women were offered money to make false claims about the special counsel, we immediately referred the matter to the FBI for investigation," spokesman for the special counsel Peter Carr said.
This story has been updated to clarify that Avenatti has not yet been charged, note that his first and second wives have commented on his arrest and include tweets from Avenatti and the LAPD.