Jada Pinkett Smith Calls Anne Hathaway 'Ally' to Black People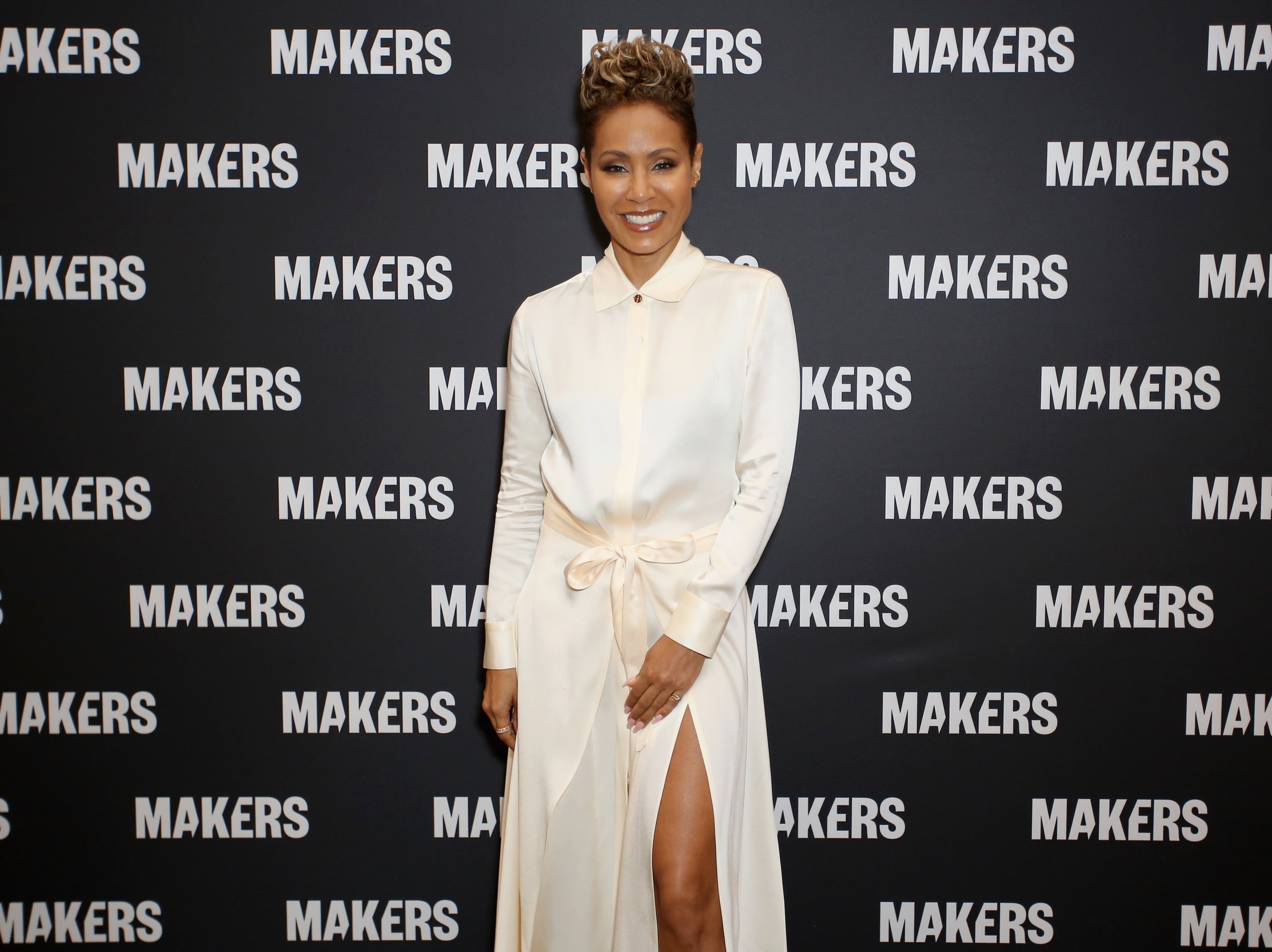 In the midst of Black History Month, actress Jada Pinkett is taking a moment to shine a light on one particular celebrity she considers to be an "ally" to black people: Anne Hathaway.
Smith, 47, was joined by her 17-year-old daughter Willow Smith and mother Adrienne Banfield Norris, 64, for their Facebook Watch show Red Table Talk on Monday to dissect white privilege. In the episode, Smith declared her support for women like Hathaway who have publicly addressed the problem with white privilege.
"As women of color, we really have to recognize when white women come in to help that we make room for it. Because there's been a couple of times, like when Anne Hathaway, or—" Smith said before her teenage daughter interrupted. The "Whip My Hair" singer added: "It's trust issues."
The Girls Trip actress agreed with her child, continuing: "It is trust issues. I get it! But at some point, where are we, as black women, going to be able to recognize an ally?"
Monday's guest Rachel Cargle, a writer and activist, then chimed in to argue that white women need to take more action. "It's not a matter of black women saying, 'Hey, we're open to you being an ally to us.' It's white women showing up and saying, 'You have a righteous anger. You're allowed to be livid at the things we have imposed on you over history,'" she said. "Either [white women are] the hero or they're the victim. They rarely take responsibility."
Hathaway, 36, showed support for the late Nia Wilson in the wake of her July 2018 death. Wilson, a black woman, was murdered at 18 by a knife-wielding John Cowell after exiting a train station with her two sisters in Oakland, California.
After news broke of Wilson's untimely death, the Serenity actress took the opportunity to speak out on Instagram about the violent act while addressing the problem with white privilege. She even called out her own white privilege.
"The murder of Nia Wilson—may she rest in the power and peace she was denied here—is unspeakable AND MUST NOT be met with silence," she wrote. "She is not a hash tag; she was a black woman and she was murdered in cold blood by a white man."
"White people—including me, including you—must take into the marrow of our privileged bones the truth that ALL black people fear for their lives DAILY in America and have done so for GENERATIONS. White people DO NOT have equivalence for this fear of violence," she added.
Hathaway's post included the hashtags #BlackLivesMatter, AntiRacist, #NoExcuse, #SayHerName and #EarnTheRightToSayHerName. Reese Witherspoon and Busy Philipps were among other high-profile white women who spoke out alongside Hathaway in light of Wilson's death.