Tupac and Jada Pinkett Smith's Relationship Inaccurately Portrayed in 'All Eyez on Me' Biopic, Actress Says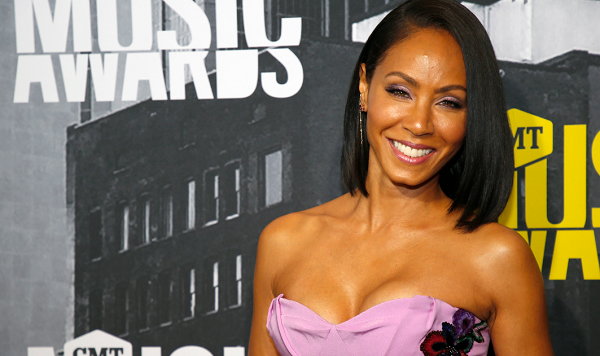 Tupac Shakur fans have long waited for a biopic detailing the iconic rapper and actor's life and achievements. However, the announcement this year that a film about Shakur's rise to fame would finally come to the big screen was muddied by controversy, from a lawsuit filed by Shakur's estate to a toss-up over who would direct the film. Antoine Fuqua, Carl Franklin and John Singleton were the first pegged to helm the movie, but it ended up being Benny Boom.
Nevertheless, production persisted, and All Eyez on Me, starring Demetrius Shipp Jr., an actor who may be Shakur's most spot-on doppelgänger, finally was released in theaters across the U.S. on Friday. (The release coincides with what would be the rapper's 46th birthday.) Now, the controversy that seemed to plague the film's creation appears to be following All Eyez on Me after its release, as lackluster reviews were unleashed by a slew of critics and viewers, including one whose opinion may hold quite a bit of weight: Jada Pinkett Smith.
After watching the movie, Smith shared her thoughts in a series of tweets Friday, writing that she found it "deeply hurtful" to watch the "reimagining" of her relationship with Shakur.
Smith and Shakur were childhood friends who attended Baltimore School for the Arts. Although rumors swirled that the duo had a romantic relationship, Smith, who married actor Will Smith just a year after Shakur's death, has adamantly denied being anything more than friends with the rapper.
However, All Eyez on Me features multiple scenes in which Shipp and actress Kat Graham, who portrays Smith, play up the duo's alleged love affair, which led an upset Smith to call out what she says is an inaccurate depiction of their relationship.
"Forgive me...my relationship to Pac is too precious to me for the scenes in All Eyez on Me to stand as truth. Pac never read me that poem. I didn't know that poem existed until it was printed in his book. Pac never said goodbye to me before leaving for LA. He had to leave abruptly and it wasn't to pursue his career," Smith wrote. "I've never been to any of Pac's shows by his request. We never had an argument backstage."
The 45-year-old actress didn't go so far as to condemn Shipp's portrayal of her former friend. She thanked Shipp and Graham for "bringing so much heart and spirit" to their roles.
Smith isn't the only celebrity with an unfavorable opinion of the film. Rapper and actor 50 Cent also took to social media to blast the biopic, albeit in a tone that was a bit harsher than Smith's.
Comparing the movie to the rap biopic Straight Outta Compton, based on the story of the legendary rap group N.W.A., 50 Cent (real name: Curtis Jackson) said the Shakur biopic was "some bulls**t."
"I just want you to keep me in mind when you watch that s**t. Straight out of Compton was good. That was a bad movie man, 2 PAC is supposed to be a classic they f**ked it up," 50 Cent wrote on Instagram, adding, "John Singleton said it was wack, I had to see it for myself. Go check it out you gonna be mad as a mother f**ker. I want my money back now!!!"
Straight Outta Compton, which followed the lives of Dr. Dre, Eazy-E and Ice Cube, was released in 2015 to rave reviews.