Justin Trudeau's Rival Jagmeet Singh Praised for 'Perfect' Response After Being Told to 'Cut Your Turban Off' to 'Look Canadian'
Jagmeet Singh, the Canadian New Democratic Party leader running to unseat Prime Minister Justin Trudeau, is receiving high praise for offering the "perfect" response to racist criticism after a man approached him in Montreal and told him to "cut your turban off" to "look like a Canadian."
Singh had been taking a stroll through Montreal's Atwater Market ahead of a French-language debate when he was approached by a white man who asked how the politician was doing.
Leaning closer to Singh, the man can be heard saying, "You know what?" before offering some unsolicited advice. "You should really cut your turban off and you [inaudible] look like a Canadian."
Putting a hand on the man's shoulder, Singh quickly shut down the racist suggestion, telling him: "I think Canadians look like all sorts of people. That's the beauty of Canada."
"In Rome, you do as the Romans do," the man countered.
"This is Canada. You can do whatever you like," Singh said, before walking away from the conversation.
Singh, who is the first member of a visible minority to lead one of Canada's major federal parties, is a practicing Sikh and wears a turban as part of his faith.
After video of the racist encounter was published online, the NDP leader received widespread praise for his handling of the situation.
"Very classy response from [Singh]," said Berry Vrbanovic, the mayor of Kitchener, in a tweet. "Canada is stronger because of our diversity. There is no place for attitudes like this in our country—we welcome & include everyone equally regardless of religion or ethnicity & must stand up against all racial intolerance," he said.
"Full credit to @theJagmeetSingh on his classy response," said Patrick Brown, the mayor of Brampton. "No one deserves to have their faith diminished."
"Singh's response is perfect," said Alana Tiemessen, an associate professor of Political Science and Security Studies at Endicott College.
While noting the race to become Canada's next prime minister is currently a tight one between Trudeau and Conservative Party leader Andrew Scheer, Nova Scotia journalist Oriol Salvador commended Singh as a potential candidate to lead the nation.
"The response to the brownface situation, his reaction to this man… I know it is primarily between @JustinTrudeau vs. @AndrewScheer at the moment, but @theJagmeetSingh could be a great PM for Canada! Classy act," Salvador said.
Salvador also gave Singh praise for his handling of the recent "brownface situation," that has seen Trudeau mired in controversy over his past decisions to wear blackface and brownface on at least three different occasions.
After photos and video came to light showing Trudeau wearing black and brown face paint in the 1990s, Singh said his actions showed a "pattern of behavior" of "someone who humiliates people who are suffering."
"It makes fun of people who are going through pain. And that's something that Canadians are legitimately asking questions about," he said in an interview with the Canadian Broadcasting Corporation's As It Happens.
Trudeau has since apologized to Singh, as well as to the public, for his past decisions, acknowledging that his actions "hurt people who shouldn't have to face intolerance and discrimination because of their identity."
"This is something that I deeply, deeply regret," Trudeau said.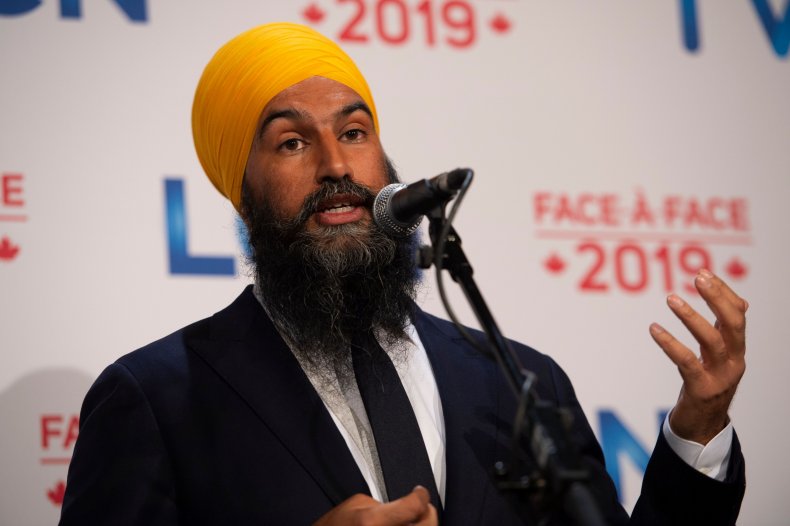 Justin Trudeau's Rival Jagmeet Singh Praised for 'Perfect' Response After Being Told to 'Cut Your Turban Off' to 'Look Canadian' | U.S.