Jaguars' Gardner Minshew Files Trademarks For 'Mississippi Mustache,' 'Minshew Magic' and 'Minshew Mania'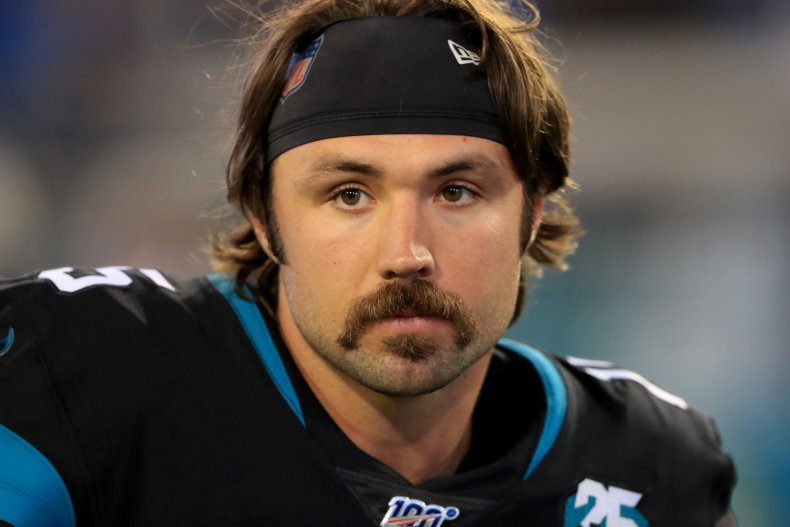 Jacksonville Jaguars quarterback, Gardner Minshew has recently filed three trademark applications for "Mississippi Mustache," "Minshew Magic" and "Minshew Mania" with intentions to use them for clothing.
Minshew filed his trademarks on November 21, but resurfaced Friday after trademark attorney Josh Gerben posted a video to Twitter explaining the details around the quarterback's trademark applications.
In his video, Gerben mentions how Minshew was on the sidelines for the Jaguars after Jacksonville's then-starting quarterback Nick Foles returned from injury at the time the applications were filed in November.
Speaking to Newsweek, Gerben said that the applications were filed under 1B, meaning that Minshew's filed under the 'intent to use' trademark. plans appear to be related to clothing. According to a screenshot of Minshew's application for 'Mississippi Mustache', shared by Gerben in his video, the quarterback plans to create clothing under the trademark.
According to Gerben, Minshew is likely to have all three applications approved.
"It's pretty clear that the trademarks are related to him," Gerben told Newsweek. "These are nicknames and slogans that have been associated with him personally, the only question would be if there are any pre-existing trademarks that are too similar to these."
Minshew's iconic mustache was first seen in college while playing at Washington State University, but picked up steam as he began to play in the NFL. After winning two out of his three first starts, Jaguars' fans began to show their love for their new quarterback, with one fan dressing up as the quarterback for Halloween.
In an effort to honor Minshew's new NFL fame, the Jaguars gave away 35,000 fake mustaches to the first fans who arrived to the stadium prior to their game against the New Orleans Saints. As he continued to impress fans across the league, his fame grew, and even the NFL's Twitter account referred to him as the "Mississippi Mustache."
While the applications indicate Minshew's plans to create clothing, Gerben said that could extend to other things in the future.
"He could still go out and sell mugs or bedding, they just wouldn't be protected on a federal level like they would be for clothing," Gerben said.
Minshew's trademark filings may be the most recent applications by an athlete, but he is not the first to do so. Los Angeles Clippers star and reigning NBA finals MVP Kawhi Leonard filed two trademarks in October including one for his "what it do baby" phrase from a video that went viral.
New York Giants quarterback Daniel Jones also filed a trademark for his nickname "Danny Dimes."
"This has become relatively commonplace for athletes to seek trademark protection for slogans and brands associated with them," Gerben said. "It is becoming something that folks are recognizing that protecting these types of things with a registration has a lot of value."
After Foles recovered from his injury, he regained the starting quarterback job but not for long. During the Jaguars' Week 13 matchup against the Tampa Bay Buccaneers, Minshew replaced Foles after he had three turnovers in the first half, and has since been named the starting quarterback for the remainder of the season by head coach Doug Marrone.
Minshew currently has a total of 15 touchdowns, 2,594 passing yards and 5 interceptions.