Jaguars' Leonard Fournette Suspended One Game for Shaq Lawson Fight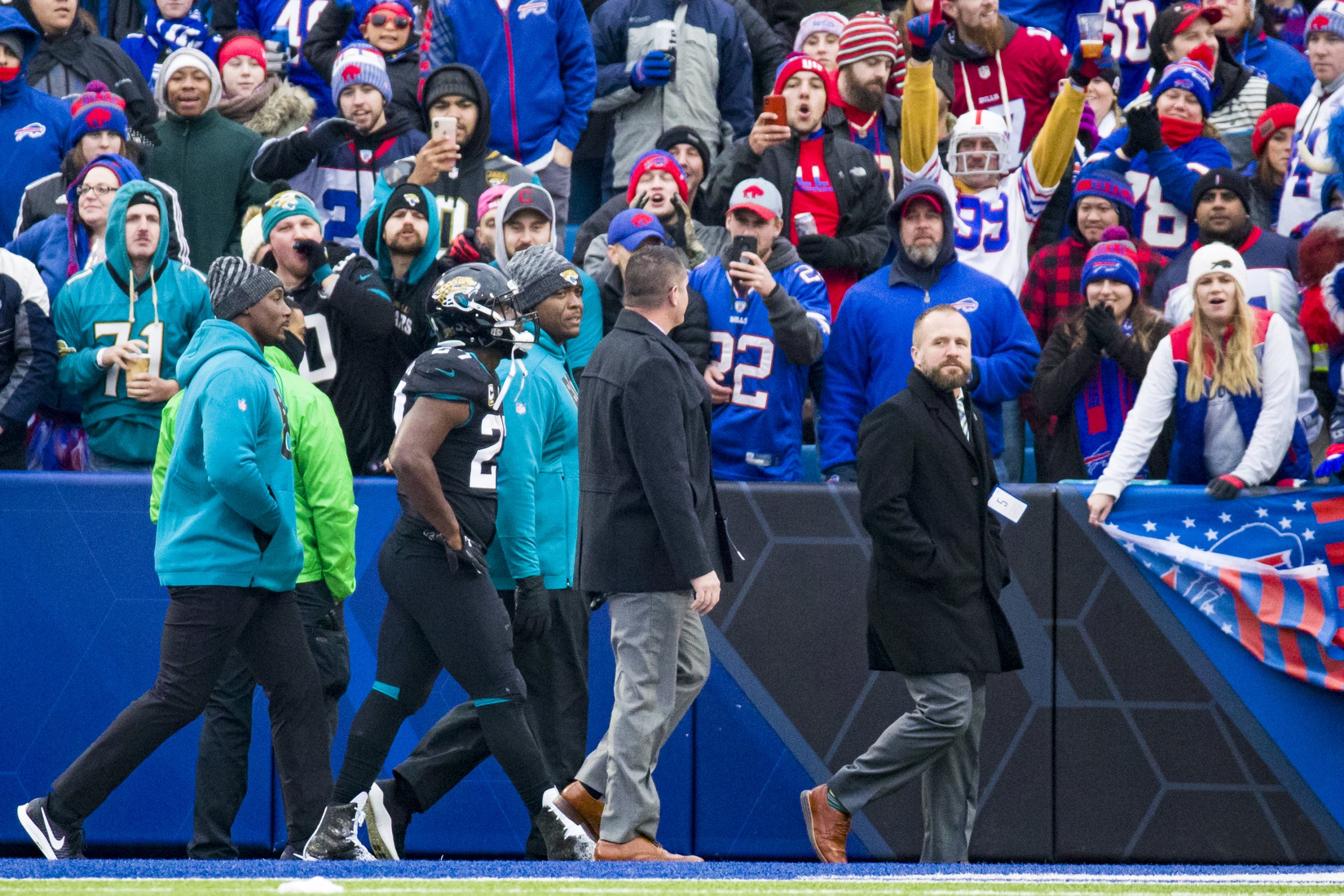 Jacksonville Jaguars running back Leonard Fournette will be suspended for one game without pay by the NFL for his role in an on-field fight with Buffalo Bills defensive end Shaq Lawson on Sunday.
According to the league, Fournette violated its unsportsmanlike conduct and unneccessary roughness rules during the incident, which led to his ejection in the third quarter of Sunday's 24-21 loss.
The league did not mention whether it planned to discipline Lawson, who was also ejected during Sunday's game. Fournette will have three days to appeal his suspension or he will miss this week's game against the Indianapolis Colts at TIAA Bank Field.
"Sportsmanship is the cornerstone of the game and the league will not tolerate game-related misconduct that conveys a lack of respect for the game itself and those involved in it," NFL vice president Jon Runyan wrote in a letter to Fournette, who is expected to appeal.
"Video of the incident shows that you were not a participant in the play and that you ran from your sideline to the opposite side of the field to insert yourself as an active participant in a fight. Once you entered the fight area, you struck a member of the opposing team. Your actions adversely reflected on the NFL and have no place in the game."
Jaguars head coach Doug Marrone said that he spoke with Fournette and several other players involved in the fight on Monday during his press conference.
"Those discussions are private, and we discussed all the personal fouls with the team," Marrone said. "We have 22 personal fouls, which leads the league. It is something that stops us from having the opportunity to win football games. I addressed it with the team and addressed it with some players individually."
Fournette is one of three Jacksonville offensive captains who will be out for Sunday's game, along with injured center Brandon Linder (knee) and quarterback Blake Bortles, who was benched on Monday for backup Cody Kessler. Marrone said he wasn't planning on stripping the running back's title as a captain as a form of punishment.
"Captaincy is voted by the team," Marrone said. "If the team came to me and said they wanted to strip his captaincy, then that is a team decision, not necessarily just the head coach's decision."
Fournette left the Jaguars sideline and got involed in a skirmish that initially began after teammate Donte Moncrief and Bills cornerback Levi Wallace fought for the ball on a deep pass near the sideline, with both players refusing to let go after the play was over.
Jaguars wide receiver Dede Westbrook intervened and pushed Bills safety Micah Hyde, who also came over and stood by the two players. Fournette was among several players from both teams who rushed over, which resulted in more shoving and thrown punches.
"Just want to apologize to the fans and kids out there was totally out of character was in the heat of the moment in a important game, emotions got the best of me apologize again to you all...." Fournette tweeted after the 24-21 loss.
"You are going to have to rise up and also protect your own," Fournette told reporters after the game. "At the same time, you can't have that. I apologize to all the kids who look up to me, and their parents. The biggest thing is, this loss [is] totally on me. I take [full responsibility]."
Both players were separated as they were escorted to their respective locker rooms at the same time through the Bills' only tunnel. A fan in the front row made contact with Fournette as he was exiting, leading to a confrontation before police officers intervened.
"My biggest thing was when the fan hit me. I had a problem with that," Fournette said. "... He [Lawson] was saying what he had to say. I really don't care. Words are just words. They don't mean nothing to me. Just got to move on."
The former first-round pick said he got angry when he witnessed Lawson shove teammate and fellow running back Carlos Hyde.
"I mean, that's my brother," Fournette said. "All of them are my brothers. I don't know [how] y'all was raised, but that's just me."
Moncrief's catch was initially ruled a touchdown, but was overturned upon review after officials saw that he went out of bounds at the 1-yard line. Buffalo stopped Jacksonville from scoring during the next four plays, which included another would-be touchdown that was overturned after a holding call on Jaguars receiver Keelan Cole.
The drive ended with kicker Josh Lambo's missed 42-yard field goal attempt, which would have tied the game at 14-14. Buffalo scored three plays later on a 14-yard touchdown run by quarterback Josh Allen.
"Tensions were high from stuff getting talked about," Alexander said. "That stuff stems back to last year, when we played them. They're very chirpy. We're not going to back down. It's a physical game mindset. Those types of things happen when you're playing football."