Lula Da Silva, Jailed Politician, Leads Polls in Brazil's Presidential Election
Brazil's jailed former president and now presidential candidate is leading in a new poll, released Monday.
Luiz Inacio Lula da Silva was ahead of his rivals, with 37.3 percent of people favoring his candidacy. Jair Bolsonaro trailed in second place with 18.8 percent.
The poll results came days after the United Nations ruled that Lula must be able to campaign while in prison because his legal appeals were still in progress.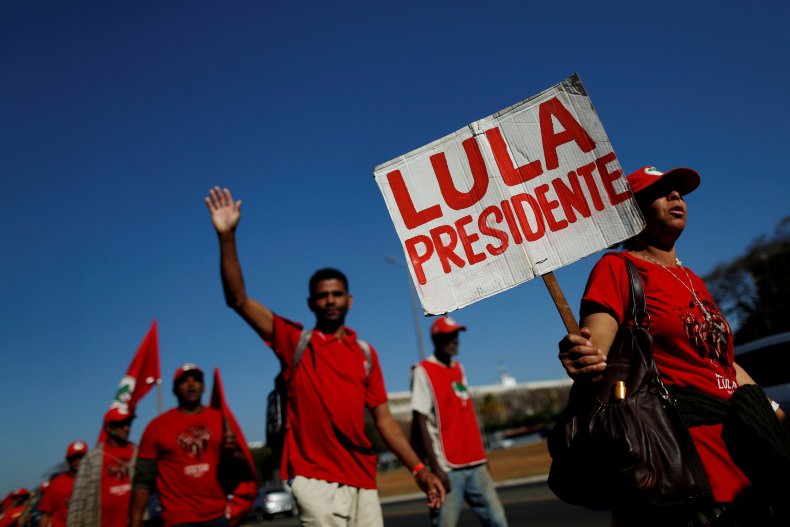 A panel from the U.N. Human Rights Committee said in a statement that it "requested Brazil to take all necessary measures to ensure that Lula can enjoy and exercise his political rights while in prison, as [a] candidate in the 2018 presidential elections," The Guardian reported.
The statement went on to say that the "committee also requested Brazil not to prevent him from standing for election in the 2018 presidential elections until his appeals before the courts have been completed in fair judicial proceedings."
The Brazilian government responded to the ruling, saying "the conclusions of the [UN rights] committee have the character of a recommendation and do not have a legally binding effect."
Brazil's Clean Slate Law prevents politicians, who have been convicted of a crime that has been upheld on appeal, from taking part in elections.
It is expected that the law will prevent Lula from taking part in the election after Attorney General Raquel Dodge requested that the Superior Election Tribunal, Brazil's highest court regarding election issues, disqualify Lula, reported Deutsche Welle.
In a written statement, Lula's legal team stated that the committee meant that "no Brazilian government entity can present any obstacles to former president Lula's ability to run in the 2018 presidential elections until his appeals are exhausted in a fair trial."
Lula is the leader of the Workers' Party and ruled as president of Brazil from 2003 until 2010. He was sentenced to 12 years in prison in April on corruption charges after receiving a $2.2 million beachfront apartment in what has been called the "Car Wash" corruption scandal.
"I'm going to prove my innocence. Do what you want, the powerful can kill one, two or 100 roses. But they'll never manage to stop the arrival of spring," Lula told a crowd of supporters before he surrendered to authorities.
Lula Da Silva, Jailed Politician, Leads Polls in Brazil's Presidential Election | World