'Game of Thrones' Composer Wove a Dream of Spring for Jaime and Brienne Into the Final Episode
Winter is finally over for the people of Westeros, but for some beloved Game of Thrones characters, happier days will never come. The show's composer, Ramin Djawadi, confirmed fan theories about Brienne of Tarth and Jaime Lannister by stating one of his tracks for the series finale was meant to evoke a wedding that would never come, at he same time hinting toward the provisional title and themes of author George R.R. Martin's planned final installment of the Song of Ice and Fire series: A Dream of Spring.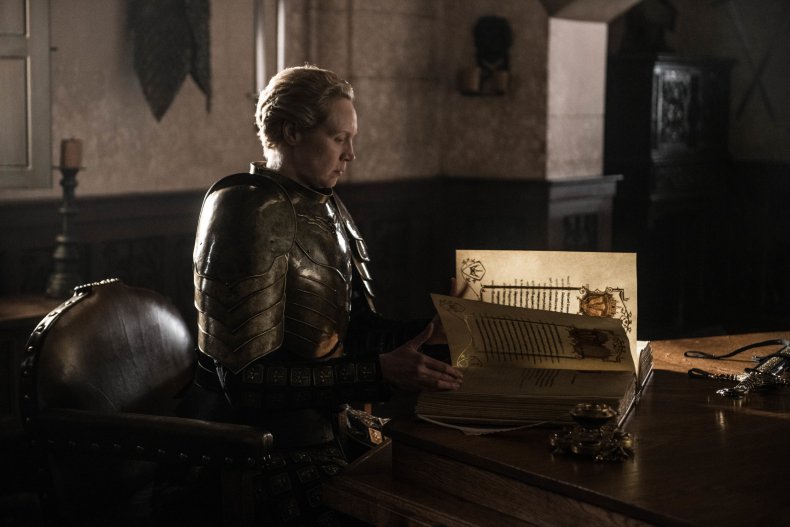 During that final Brienne scene, when she's writing Jaime's story into the White Book in Kings Landing, the head of Bran Stark's Kingsguard emotionally reflects on the life of her lost loved one, with whom she briefly had a romantic relationship with in Season 8, before he left her to return to his lover and sister, Cersei Lannister. In the Battle of King's Landing, both Jamie and Cersei died when their castle collapsed on them.
Brienne seems to ruminate the possibilities of the life they might have had if Jaime hadn't returned to Kings Landing. From the honorable words she writes, it's clear she's forgiven the Kingslayer for leaving her. Then, the music tells its own story.
As Brienne writes, strains of "I Am Hers, She Is Mine," also known as the Game of Thrones wedding theme, are clearly audible. It was played at the wedding of Robb Stark and Talisa, and at the wedding of Rhaegar Targaryen and Lyanna Stark. To some fans, this sparked a theory that Brienne and Jaime had might have gotten married if he had stayed at Winterfell.
Djawadi explained the composition was meant to draw attention to the possible happiness they might have shared. "It's just a hint of what their relationship — if they had stayed together, if he was still alive — what it could have been," he told Insider. "What they could have become. That's why I put that in there. I was amazed some people picked up on it. I was hoping people would go, 'Wait a minute, that's from Season 2.' And that was exactly my intent. I thought it would be very appropriate."
The scene showing Brienne writing Jamie's life story also includes motifs from what has become known as the "Honor Theme," which Djawadi has used in scenes between the pair throughout the series.
"What's interesting is their theme together came out of what I call the "Honor Theme" [...] over the seasons, when they met and the way they treated each other, it was always an honorable theme. So that became their music," said Djawadi.