Jaime Harrison Increased Democratic Vote Against Lindsey Graham by Just 5 Percent Despite Raising Over $100 Million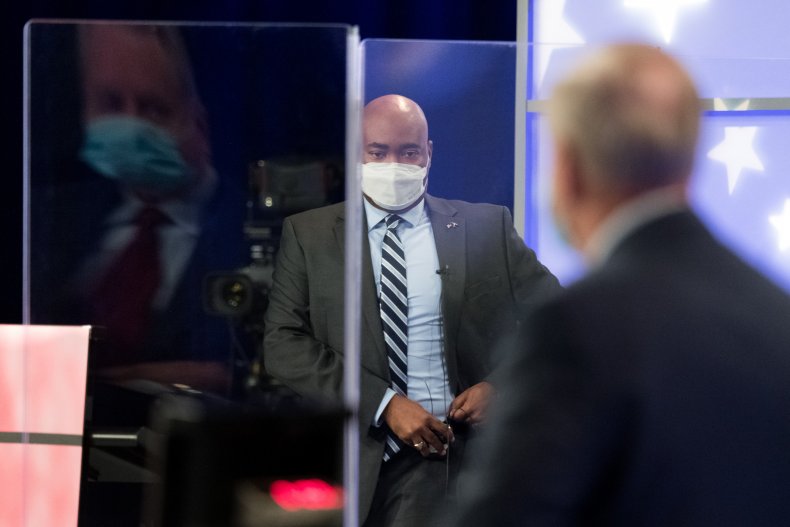 Despite raising more money than any Senate candidate in the 2020 election cycle, Jaime Harrison increased the Democratic vote against Republican incumbent Lindsey Graham by just 5 percentage points.
Graham won the South Carolina Senate race with 54.5 percent of the vote, according to results reported by The New York Times. Harrison garnered 44.2 percent of the vote—a roughly 5 point increase from Democrat Brad Hutto's performance against Graham in 2014.
Six years ago, Hutto received 38.9 percent of the vote compared with Graham's 54.4 percent. Hutto had raised and spent just over $520,000 in that contest, far less than both candidates in 2020.
Harrison raised more than $107 million this cycle and spent more than $104 million in his bid to unseat Graham, according to the Center for Responsive Politics. Graham raised $72 million and spent $60 million in the race.
Outside money from both sides of the aisle also flooded into South Carolina as polls conducted in the weeks before Election Day showed a tight race. The GOP-aligned Senate Leadership Fund spent nearly $16 million in the state. It was also reported that the Democratic Senate Majority PAC was spending at least $6 million in an advertising blitz in late September.
But Harrison's campaign always faced an uphill battle. South Carolina is a deep red state that hasn't elected a Democrat to the Senate since 1998. This year, the state supported President Donald Trump's reelection effort 55 percent to 43 percent.
Harrison's campaign manager Zack Carroll said the race was just the beginning for Democratic success in the state.
"We built the groundwork to begin to change the state," Carroll told Newsweek. "It's a slow process, and the work our campaign did has led to lasting implications here setting up South Carolina as a potential battleground state. But, there is much more work that needs to be done. South Carolina needs a continuation of the work Jaime put in that led to over 1.1 million South Carolinians voting Democratic. This is only the beginning and each election cycle will get closer to victory and put the Palmetto State on the map."
Harrison also expressed optimism after the race was called. During his concession speech, he told the crowd: "Well folks, I'm still breathing, and I still have hope."
The Democrat added, "We proved that a new South is rising. Tonight only slowed us down. But a new South with leaders that reflect the community and serve the interests of everyone will be here soon enough."
During his victory speech, Graham praised Harrison for his campaign but didn't mince words against the pollsters who predicted he might lose his seat and for donors who dumped money into the race.
"All the liberals in California in New York, you wasted a lot of money," he said. "This is the worst return on investment in the history of American politics."
Newsweek reached out to the Graham campaign for comment but did not receive a response prior to publication.