Jaime Harrison Says Voters Will Punish Lindsey Graham for Flipping Over Supreme Court Nomination
The Democratic challenger for the closely fought South Carolina senate seat, Jaime Harrison, has said voters in his state will punish the Republican incumbent Lindsey Graham at the ballot box for his reversal on pledges—such as the one he made not to back a Supreme Court candidate during election year.
In an interview on The Late Show, Stephen Colbert asked Harrison about the comments Graham had made "multiple times" that if someone were nominated for the Supreme Court in the final year of President Donald Trump's first term, "he wouldn't be in favor of confirming that person?"
On Monday, Amy Coney Barrett was sworn in as a Supreme Court Justice to replace Ruth Bader Ginsburg, giving the country's top judicial body a 6-3 conservative majority and delivering a boost for President Donald Trump and the GOP days out from the election.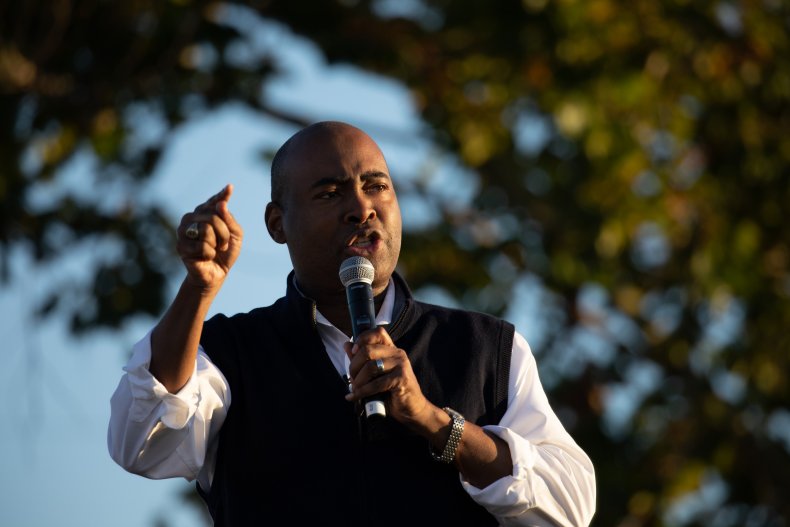 In 2016, Graham had joined other GOP senators in blocking the confirmation of Merrick Garland, former President Barack Obama's nomination for the Supreme Court, and said he would do the same for a Republican president. He reiterated this stance in an interview in 2018.
Harrison told Colbert: "The way that I grew up, my grandfather always used to tell me...'a man is only as good as his word.'
"Lindsey Graham's word isn't worth much of anything Stephen. I think the greatest travesty that you can do as a public servant is to lie to the people that you represent," he added.
Although Graham faces criticism over reversing his stance about the court, back in May, the senator did say that circumstances had changed, telling The Hill: "You had the president of one party nominating, and you had the Senate in the hands of the other party.
"A situation where you've got them both would be different. I don't want to speculate, but I think appointing judges is a high priority for me in 2020." In a letter to Democrats after Ginsberg's death, he wrote "I am certain if the shoe were on the other foot you would do the same," The New York Times reported.
During Wednesday's interview, Harrison went on to criticize the length of time Graham had been in office.
"He has lied about term limits, when he first got there, he was one of those folks with a contract with America and he said 'I will stay there no longer than 12 years.' Well it's 25 years now and he's running for yet another six.
"So this man doesn't keep his word because all he concerns himself with is power," he said, "that's why folks in South Carolina are about to give him a one-way ticket back to Seneca, South Carolina, or Mar-a-Lago or wherever he wants to go, but he's leaving Washington, DC." Newsweek has contacted Graham's office for comment.
The race for the South Carolina senate is tight with the latest polling putting the candidates neck and neck. A poll by East Carolina University put Graham three points ahead, 49 to 46, while a Quinnipiac survey this week had them tied at 48 each.