Jaime Harrison Raises $2 Million in 48 Hours as Polls Show Him Leading Lindsey Graham
Democratic South Carolina Senate candidate Jaime Harrison announced on Saturday that his campaign against incumbent Senator Lindsey Graham raised over $2 million in 48 hours, after he called on his supporters to donate towards a $10 million goal.
"We told y'all we needed to raise $10 million to fight back against Lindsey and Mitch [McConnell]'s super PAC," Harrison tweeted. "And you stepped up! We've raised over $2 million in the last 48 hours."
The Senate Leadership Fund, a Republican super PAC run by allies of Senate Majority Leader Mitch McConnell, announced earlier this month that it would contribute a $10 million ad blitz against Harrison in South Carolina to boost Graham's chances in an unexpectedly close race.
In response, Harrison asked his supporters to donate and match the $10 million set forth by the Senate Republican's top super PAC as recent polls show the Democratic candidate's narrow lead.
"To win this race, we need to match this number, $10 million," said Harrison in a video message on Friday. "We got into this race, you invested in this race, so we could do two things: Bring hope back to South Carolina and send Lindsey Graham home."
Harrison raked up over $22 million in the pre-general filing election period spanning the first two weeks of October, benefitting his campaign to unseat Graham. On Friday, Graham's campaign said that he brought in nearly $15 million in the same time period.
Earlier this month, Harrison's campaign announced that it raised a record-shattering $57 million in the third quarter of this year, the most ever raised by a Senate candidate in a quarterly fundraising period in U.S. history. It brought his total fundraising up to more than $85 million on September 30.
In that same third quarter, Graham raised $28 million, which his campaign said was the most ever raised by any Republican Senate candidate in a single quarter, in any year.
The race is the most expensive in South Carolina's history. Harrison told The Associated Press on Thursday that his campaign has already spent the funds raised, with more than $40 million going to advertising alone. In Thursday's video message, he said that $34 million was spent on television ads, $8 million on digital ads, and $2.2 million on African American radio.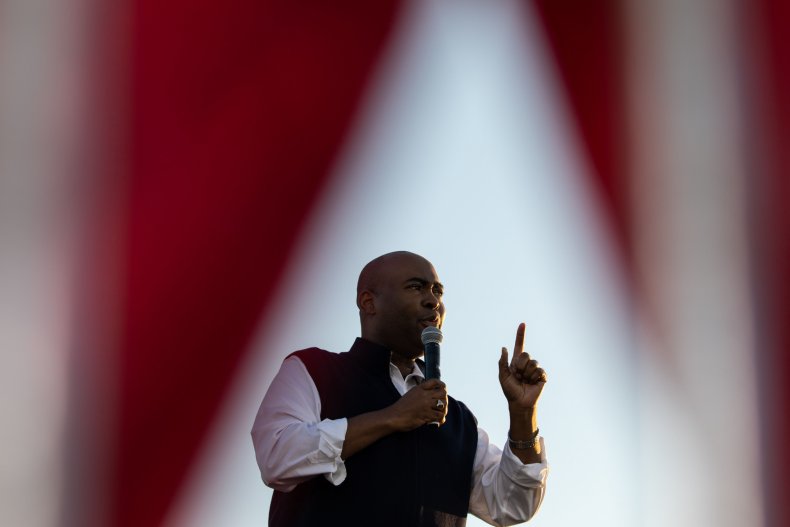 Last month, Graham made several appearances on Fox News asking viewers for donations, saying that he's being "killed financially" and blamed Democrats for "hating his guts." The Senate Judiciary Committee chairman also commented on Harrison's high fundraising total during the confirmation hearings for Supreme Court nominee Amy Coney Barrett.
"There is a lot of money being raised in this campaign," Graham said. "I would like to know where the hell some of it is coming from, but that is not your problem."
South Carolina Democrats filed a formal ethics complaint against the senator for attempting to fundraise for his campaign in a federal government building last week.
After the third day of confirmation hearings had concluded, Graham was asked by reporters about the large sum of money raised by both him and his opponent and how the televised hearings might be affecting the race.
"I don't know how much it affected fundraising today, but if you want to help me close the gap — LindseyGraham.com — a little bit goes a long way," he said. "I feel really good about my campaign."
A Morning Consult poll released this week showed Harrison leading Graham by two points—47 percent to 45 percent—while a Data for Progress poll on October 14 showed Graham trailing behind by just one point. However, a Siena College/New York Times survey earlier this month had the Republican senator up by six percentage points. The Cook Political Report considers the South Carolina race a "toss-up."
Newsweek reached out to Graham's re-election campaign for comment, but did not receive a response in time for publication.