Jaime Harrison Would Consider DNC Chair Job Following Record-Breaking, but Failed, SC Senate Campaign
Jaime Harrison said on Tuesday that he would consider chairing the Democratic National Committee (DNC) if Joe Biden were to offer him the position while building his presidential administration.
Just one week after conceding his hard-fought battle to unseat Republican South Carolina Senator Lindsey Graham, Harrison told The Washington Post that he would "definitely" consider chairing the national committee if the opportunity to do so presented itself.
"If that's something that they are interested in me doing, I'll definitely take a good look," Harrison told the paper. He went on to say that he hasn't spoken with Biden about stepping into any administration positions thus far, but he has heard from others within the party who have indicated that they believe Harrison would do the job well.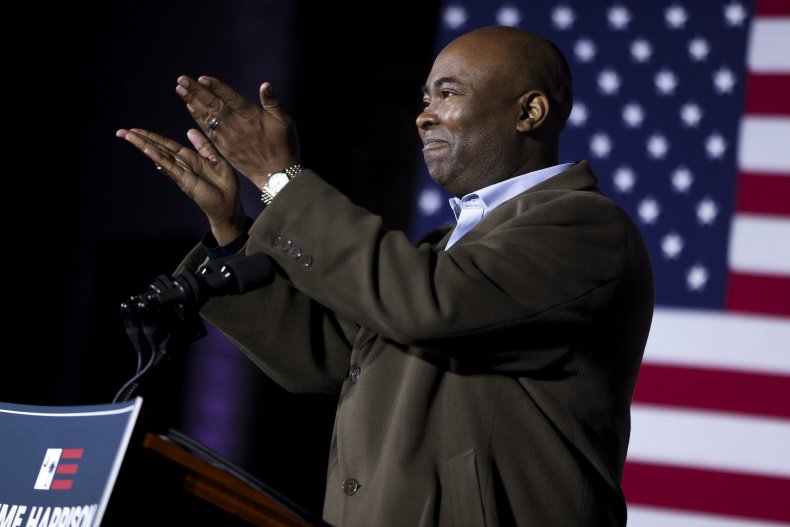 One of the individuals that Harrison pointed to was House Majority Whip James Clyburn, who endorsed Biden in February shortly before Biden won the state's primary election. Harrison told the Post that while he "can't betray any conversations" with Clyburn, "I know that it's something that he seems to think that I could do."
Newsweek reached out to Clyburn's office for comment but did not receive a response in time for publication.
Harrison said he was "flattered" by the idea of chairing the committee but acknowledged that the decision would ultimately be Biden's to make.
Harrison previously chaired the South Carolina Democratic Party and is currently an associate chair and senior counselor at the DNC. He launched his senate campaign last year by criticizing the way Graham went from being a critic to an ardent supporter of President Donald Trump during Trump's time in office. The race grew increasingly competitive, with Harrison's campaign raking in a record $57 million during the third quarter—the most money any Senate campaign has raised in a single quarter.
Despite Harrison's fundraising numbers and polls conducted in the weeks leading up to the election that indicated the race was tight, Graham won by more than 10 points, according to the Associated Press. Graham's seat is one of several that Democrats did not succeed in flipping during the election last week, likely leaving the Republicans with a majority hold in the Senate.
While election officials across the country continued ballot counting a week after Election Day, several major media outlets declared Biden the victor of the presidential race on November 7 after he secured the 270 electoral votes needed to win. Though Trump hasn't yet conceded the election, Biden said on Tuesday that his team has already begun taking steps to help the federal government transition from one administration to another.