Brazil Elections: Far-Right Populist Jair Bolsonaro Wins First Round of Vote
Former Army Captain Jair Bolsonaro has secured a resounding lead in the first round of Brazil's presidential election, in yet another showing of far-right populism's growing ascendancy across the globe.
Bolsonaro won 46 percent of the vote, just short of the 50 percent threshold that would have made a second-round run-off unnecessary. He will now face the left-wing Workers' Party candidate, Fernando Haddad, who came in second with 29 percent of the vote, on October 28.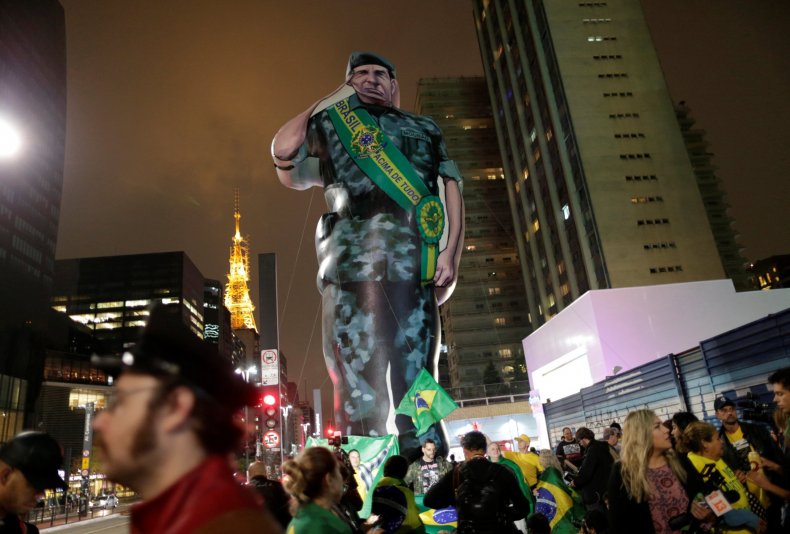 Bolsonaro, 63, ran a divisive campaign that was consistent with his 27 years as a congressman, attacking Brazil's black, gay and indigenous communities and expressing a genuine nostalgia for Brazil's military dictatorship, which was in place between 1964 and 1985. He chose General Antonio Hamilton Mourão, a retired military general, as his running mate. As recently as 2017, Mourão suggested that a military coup in Brazil might be necessary.
"It was a wonderful time when you could walk in the streets with safety, and your family was respected," Bolsonaro said in a TV interview regarding Brazil's military dictatorship, according to the New York Times. Bolsonaro also describes himself as "pro-torture" and is vehemently opposed to abortion and same-sex marriage. He represents the Social Liberal party.
A self-proclaimed Trump supporter—and sometimes dubbed the "Trump of the Tropics"—Bolsonaro echoed the U.S. president on the eve of the election when he declared to his 7 million followers on Facebook: "Let's make Brazil great! Let's be proud of our homeland once again!" Bolsonaro also employed Trump's strategist Steve Bannon as an advisor after a meeting in August.
Bolsonaro is widely expected to win the second round and is set to become the dominant force in Congress, with the parliamentary elections held simultaneously on October 28. This would mark a seismic shift in Brazil, the world's fourth-largest democracy, and a dramatic turn towards the right. Since 2002, every president has been on the left.
But Bolsonaro capitalized on a deepening anger and disillusionment among voters with the status quo. An ongoing string of controversies and political failures—from economic recessions and rising levels of crime to high-level corruption—loosened the left's grip. According to government figures, seven people are murdered every hour in Brazil and, in 2016, the homicide rate was at a record high.
The presidential campaign itself was marked by violence, with Bolsonaro stabbed in August during a campaign rally in Minas Gerais. A few days earlier, Bolsonaro had called for his left-wing opponents to be shot.
Bolsonaro's other incendiary comments from the past include telling a female representative of Congress that "I'm not going to rape you, because you're very ugly" and saying that "if it's up to me, every citizen will have a gun at home."