Prep School Blocks First Black Valedictorian's Speech Over 'Run-ins,' Mayor Broadcasts On YouTube
A Rochester, New York prep school's first black valedictorian was forbidden from speaking at his graduation for several "run-ins" with his principal.
Jaisaan Lovett graduated from University Preparatory Charter School for Young Men as valedictorian in June. But a rocky relationship with UPrep Principal Joseph Munno saw him banned from giving a speech at the graduation ceremony, the Rochester Democrat and Chronicle first reported. The school refused to let Lovett speak as retaliation for what he said is animosity from Munno. However, Rochester Mayor Lovely Warren stepped in to the situation and broadcast his graduation speech on the city's official YouTube channel.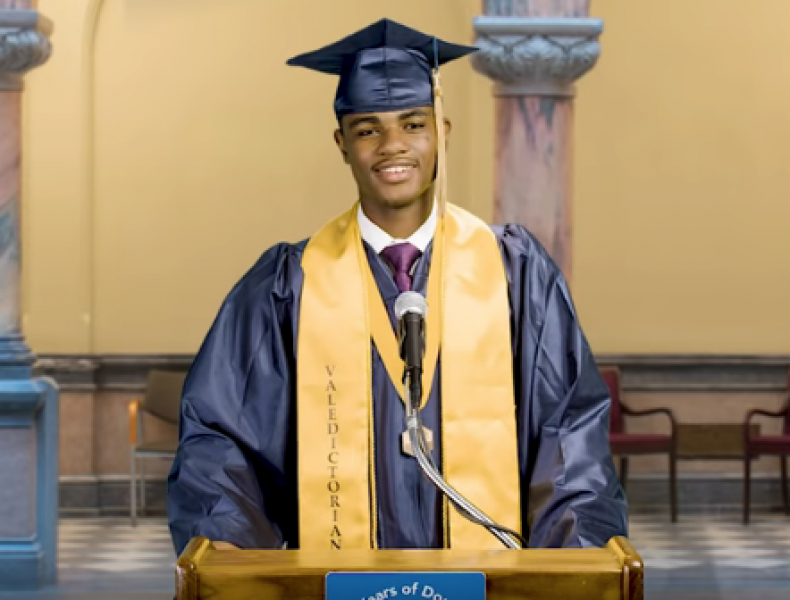 In his belated speech, Lovett thanked his family, teachers and other community members that helped him land a full scholarship to Clark Atlanta University, in addition to being the prep school's first African-American valedictorian. But to Munno, he took on a different tone. "To Mr. Munno, my principal, there's a whole lot of things I've wanted to say to you for a long time," Lovett said. "I'm here as the UPrep 2018 valedictorian to tell you that you couldn't break me. I'm still here, and I'm still here strong."
"And after all these years, all this anger I've had toward you and UPrep as a whole, I realized I had to let that go in order to better myself. And I forgive you for everything I held against you," continued Lovett. Warren, who put the speech on the official mayor's office YouTube channel, appears in the video to chastise the prep school administration for not letting Lovett give his momentous speech. Warren invoked abolitionist and former slave Frederick Douglass in her comments, who published the North Star newspaper in the city in the mid-1800s.
"Unfortunately, Jaisaan's school did not allow him to give his valedictorian speech," Warren said in the video. "For some reason, his school—in a country where freedom of speech is a constitution right, and the city of Frederick Douglass—turned his moment of triumph into a time of sorrow and pain."
"Jaisaan will never graduate from high school again," she added. "He will never get that moment back. This is not the time to punish a child because you may not like what he has to say."
Lovett said he spoke up about things that were "wrong" at the school and led a five-day student strike when the administration refused to order much-needed lab safety equipment. Lovett said he and the principal of the all-male school, Munno, had several run-ins similar to the protest in his six years between 7th and 12th grades. "There's a lot of wrong things that go on at that school, and when I notice it I speak out against it," Lovett told the Democrat & Chronicle. "[Munno] is a guy that doesn't like to be told 'no.'"
Munno did not issue any public statement on the matter. The University Preparatory Charter School board of trustees told the Democrat & Chronicle they were aware of the situation. The school's statement also misspelled his name.
"The Board will be reviewing the circumstances regarding what happened and looking into the related guidelines and school policies," the charter school's statement read. "For confidentiality reasons, the school isn't able to speak about the specifics of this situation. UPrep wishes Jaision [sic] Lovett, the first black Valedictorian in the school's four year graduation history, much success as he continues his education at Clark Atlanta University."