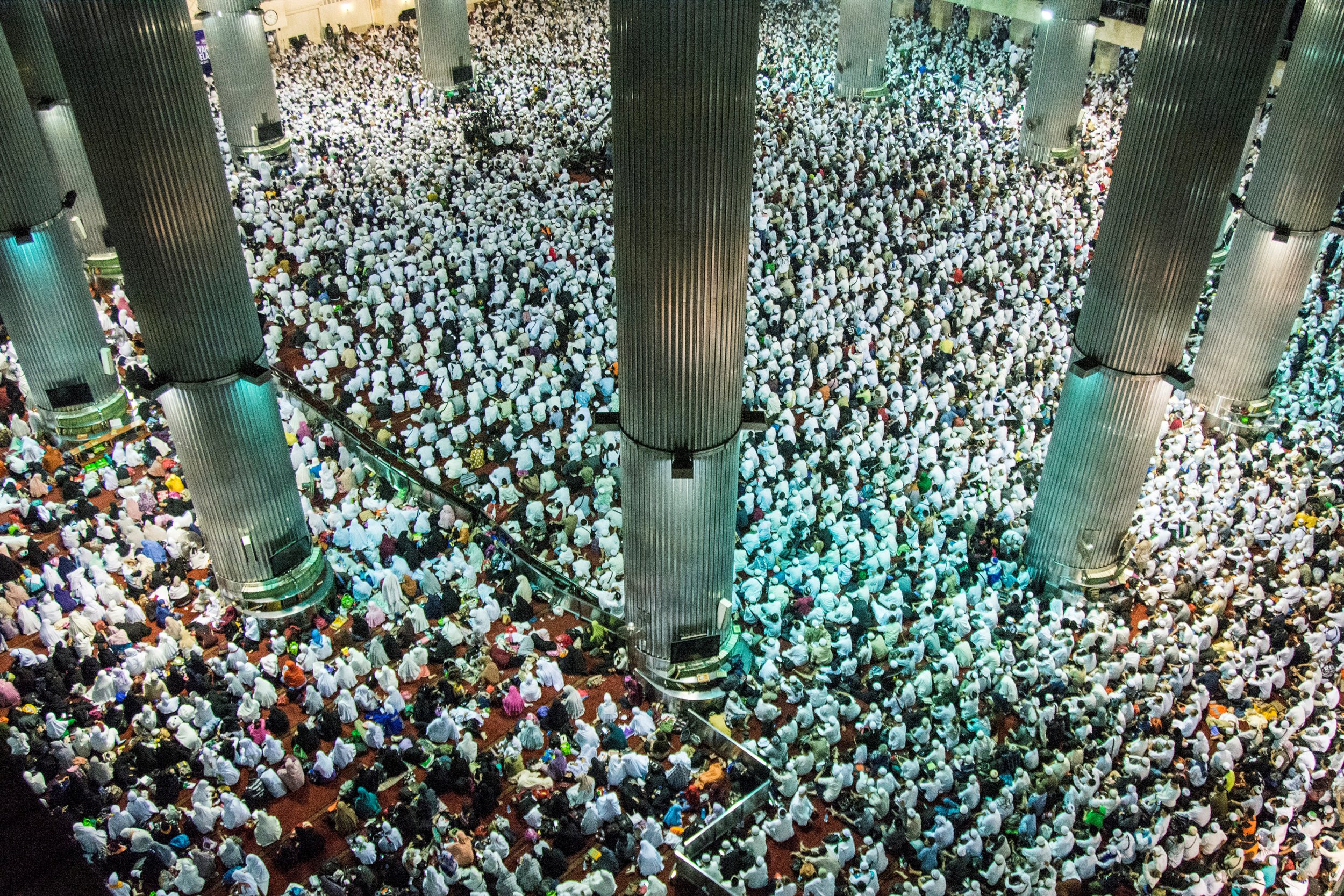 Updated | Jakartans go to the polls today, as the election to choose the next governor of the city begins. More than seven million people will vote today, in a multifaith city rocked by religious tensions.
The incumbent governor, Basuki Tjahaja Purnama, a Chinese Christian popularly known as Ahok, is battling Muslim candidate Anies Baswedan. In the first round of voting on February 15, Ahok won 42.87 percent of the vote, while Baswedan had 39.76 per cent.
Candidates need a 50 percent share of the vote to win, so the election will now go to a second round.
The winner will run the city of more than 10 million people for five years.
Ahok's campaign has been beset by allegations from Islamist hardliners that he insulted the Koran after doctored clips of a speech he made went viral. Prosecutors eventually charged him with blasphemy and he is currently on trial.
Islamists have led violent protests against the incumbent, sparking fears of a decline in religious tolerance in Indonesia, the world's most populous Muslim-majority nation, Reuters reports. Protests peaked in November, when up to 200,000 marched against Ahok, prompting police to use tear gas and water cannon to disperse the crowds. At least a dozen people were reportedly injured and one person died during the demonstration.
Newsweek takes a closer look at today's election that is being seen as a "litmus test" of Indonesian Islam.
Who is Ahok?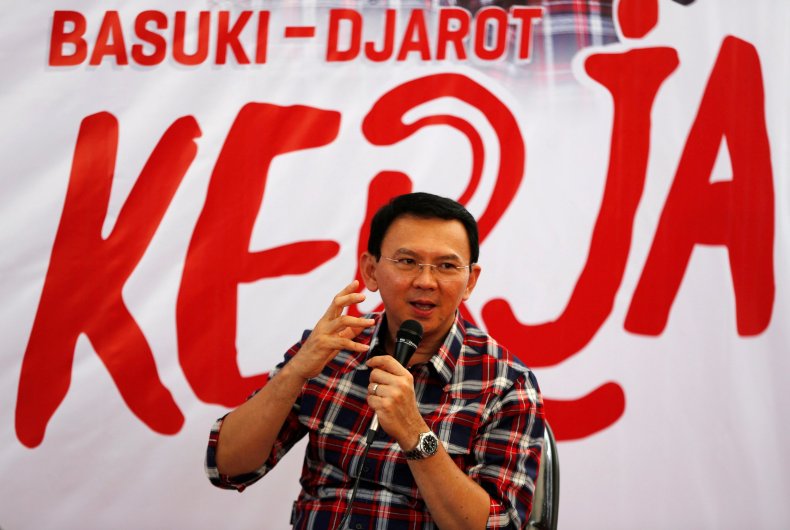 The first non-Muslim to rule the predominantly Muslim city of Jakarta for 50 years, Ahok has held the post since 2014. As deputy governor of the city, he was automatically promoted when his predecessor, Joko Widodo, left to become president.
Ahok is claiming credit for numerous successes over the past few years, including improving the city planning to reduce traffic jams, building better flood defenses and introducing a number of affordable housing options. He has also worked with 44 hospitals to provide treatment for the city's poor.
"Many rivers have been cleaned. You can see that major rivers have been cleansed of rubbish. You can make a comparison after I leave the city administration," Ahok told the Jakarta Post.
Ahok's re-election seemed certain until last September, when he told fishermen they should not be misled by Islamist leaders preaching that the Koran forbids Muslims from being governed by non-Muslims.
A Facebook user, Buni Yani, allegedly uploaded the speech, albeit with edits, which suggested Ahok was saying the Koran was misleading, rather than religious leaders. Yani now faces hate-speech charges, and if convicted, could face up to six years in prison.
But the video prompted thousands to take part in angry protests against Ahok, and a poll suggests that more than 45 percent of Indonesians thought what he said was blasphemous. He went on trial on December 16, and has appeared in court once a week as the trial continues. If found guilty, he could face up to five years in jail. Indonesia has strict blasphemy laws dating from 1965, which, among other things, include jail sentences for anyone saying they are atheists.
However, Ahok's success in the first round suggests he may triumph despite the Islamists' accusations, which his supporters maintain are false and politically motivated.
Who is Ahok's opponent?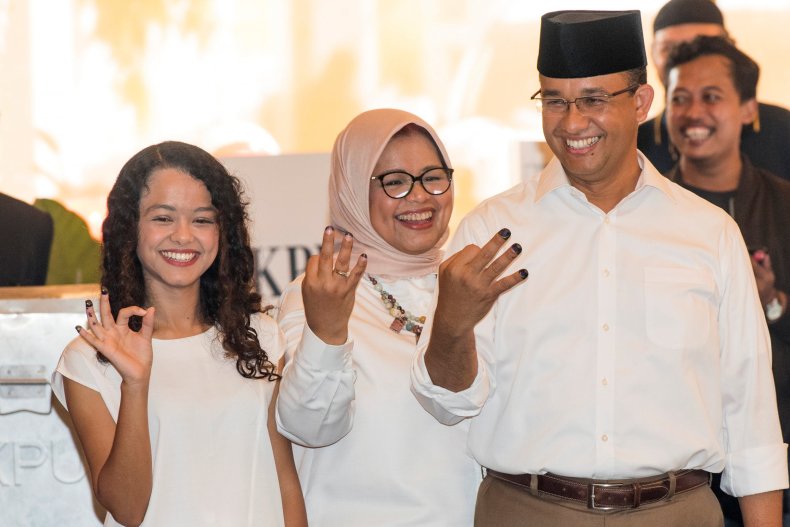 Former education minister Anies Basweden has appealed mainly to voters living in slum dwellings, who also happen to be Muslim. He has criticized the status quo, claiming Ahok focuses only on physical development —for example housing and infrastructure—rather than human development, citing the disparity between rich and poor as Jakarta's most pressing problem. Basweden has made campaign promises to create more jobs and develop educational opportunities for poor students.
Another Muslim candidate took part in the first round—Agus Yudhoyono, the son of former President Susilo Bambang Yudhoyono, who is now out of the race after receiving 17.37 percent of the vote. Representing the center-right Democratic Party, he opposed the anti-Ahok protests, and warned the government not to be swayed by hardliners. "Don't let a third party take advantage of the situation, and don't let radical and extremist groups show up so they can take advantage," he told the Jakarta Post .
What does this mean for Indonesia?
Indonesia has long been considered a relatively moderate Muslim country, with pockets adhering to hardline Islam. But Ahok's blasphemy trial and the protests against him have raised concerns that hardline groups are gaining greater influence and eroding religious tolerance.
"Jakarta will be led by a Muslim leader who submits to the will of Allah," a speaker, Maulana Kamal Yusuf, told a crowd at the Istiqlal mosque in Jakarta in February, urging supporters not to vote for Ahok. "Jakarta will be a religious city."
About 85 percent of Indonesians are Muslim, while the rest identify as Christians, Buddhists, Hindus and Confucians.
What happens next?
Official results are not expected until later Wednesday.
The likelihood of future protests turning into serious and widespread unrest is small. Jakarta has been led by Ahok for the last three years and throughout his tenure there has featured an undercurrent of tension from hardline groups. But until the accusation of blasphemy, hostilities never escalated.
"There will not be a civil war, absolutely not," Ben Murtagh, Head of the Department of South East Asia at SOAS, the University of London's School of Oriental and African Studies, told Newsweek .
"For Ahok to win he will need more than 50 percent of the vote, so that's a sizeable number of Muslims who will be voting. There may well be discontent from a minority who are already unhappy, but I don't think that means people will go out on the streets. It's a fair, democratic process. The vast majority of people are not participating in these demonstrations. They [the group protesting] are small, but extremely vocal."
The spanner in the works for Ahok is that even if he does beat Baswedan, he could be jailed if found guilty of blasphemy, in which case there may need to be a re-election. And he will doubtless be aware that in Indonesian legal history, most blasphemy cases lead to conviction.
This article was updated to reflect polls in Jakarta opening.