Jake Angeli, Shirtless Horned Rioter, Refuses to Eat in Custody Due to 'Organic' Diet
The mother of the shirtless rioter who stormed the U.S. Capitol in an outfit of horns and fur says her son hasn't eaten since he was taken into custody because his detention facility hasn't provided an "organic" diet.
Jake Angeli, of Arizona, whose real name is Jacob Anthony Chansley, made his initial federal court appearance in Phoenix on Monday, after he surrendered to the FBI on Saturday. Chansley was among the mob of President Donald Trump supporters that stormed the Capitol building on Wednesday as lawmakers convened to certify President-elect Joe Biden's win. The attack left five dead, including a Capitol police officer.
Gerald Williams, Chansley's public defender, told the court that his client has refused to eat in custody due to religious or health reasons. Outside the court, Martha Chansley, the suspect's mother, explained to reporters that "he gets very sick if he doesn't eat organic food."
"He needs to eat," she said. "I really need to speak to my son."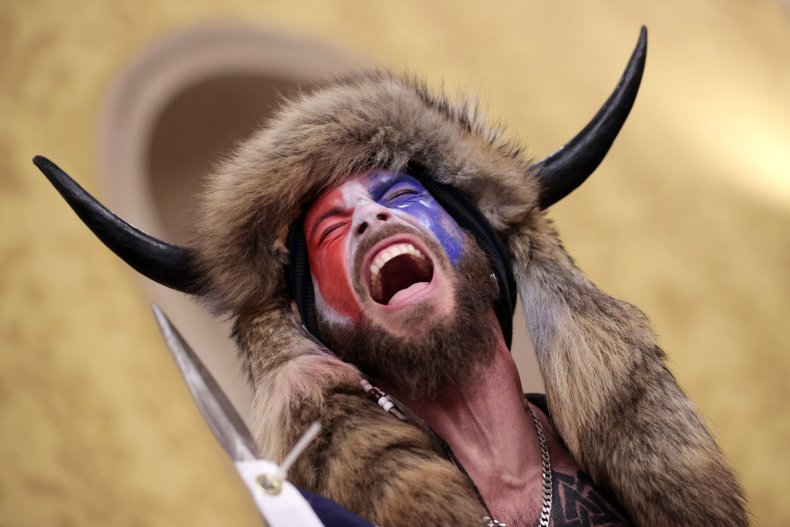 Magistrate Judge Deborah Fine has instructed Williams to resolve the dietary issue with the U.S. Marshal's office. "Mr. Chansley needs to eat," she said.
Chansley was arrested on Saturday and charged with knowingly entering or remaining in any restricted building or grounds without lawful authority, and with violent entry and disorderly conduct on Capitol grounds. He became a prominent figure in the Capitol riot after Getty pictured him inside the chambers shirtless, covered in tattoos, wearing horns with face paint in the colors of the U.S. flag.
He said he came to D.C. "as part of a group effort, with other 'patriots' from Arizona, at the request of the President," according to a Capitol Police arrest affidavit.
Martha Chansley defended her son's involvement in the violent attack on the Capitol in an interview with ABC-15.
"It takes a lot of courage to be a patriot, OK, and to stand up for what it is that you believe," she said. "Not everybody wants to be the person upfront."
She also called him "one of the gentlest people I know."
As he returned to Arizona, Chansley told NBC News that he hasn't done anything wrong. "I walked through an open door, dude," he said.
Several Trump loyalists quickly began pushing a false narrative that Antifa or the Black Lives Matter movements were behind the Capitol attack after authorities secured the building and removed the rioters. But Chansley took to Twitter and announced that he was "a Qanon & digital soldier" who "marched with police & fought against BLM & ANTIFA in PHX."
Newsweek reached out to Gerald Williams, Chansley's lawyer, for further comment.