Jake Ehlinger Tribute Video Honors Texas Longhorn Football Player Found Dead at 20
The University of Texas football team released a video tribute to honor Jake Ehlinger, a 20-year-old linebacker who was found dead Thursday in Austin.
Ehlinger was a redshirt sophomore for the Texas Longhorns, and the younger brother of Sam Ehlinger, a former four-year starting quarterback for the Texas team.
Austin police found Ehlinger deceased after receiving a call at 12:18 p.m. on Thursday at an off-campus residency on the 1200 block of West 22nd Street. The cause of his death remains unknown at this time, but police say the death is not considered suspicious.
Later that day, Texas football released a heartwarming video tribute for Ehlinger with the caption "We love you Jake." The video includes a montage of clips of Ehlinger alongside his teammates.
On Thursday, Texas coach Steve Sarkisian called the death "a tragedy beyond measure."
"Words cannot express the depth of our sadness and the huge void we are feeling, but above all else, our hearts pour out to Sam, Jena, Morgen and the entire Ehlinger family," Sarkisian said in a statement shared with Newsweek. "Jake was a tremendous person and was everything you could ask for in a student-athlete. Being a Longhorn meant everything to him, and he truly embodied all that it means to be one."
Texas athletic director Chris Del Conte added that the team and university would be there to support the Ehlinger family in every possible way.
"Jake was an amazing young man from an extraordinary family with such a bright future ahead of him. It's just such a tragedy that we are all really struggling with," Del Conte said.
"While the sense of pain and loss are deep, our focus at this time is on providing support to Jake's family, our football student-athletes, coaches and staff, and everyone so greatly impacted by this in our athletics department. We have resources in place and grief counseling available as we help support everyone in our program," he added.
Ehlinger played as linebacker at Texas for two seasons. He was also a business major and honors student who received interest from college programs, including Brown and Pennsylvania University, before opting to join the Longhorns as a walk-on, CBS reported.
In 2019, Sam Ehlinger told reporters that running out of the tunnel with Jake in their first game together in Texas was "unreal."
"We've been dreaming about that our whole lives," he added, according to ESPN.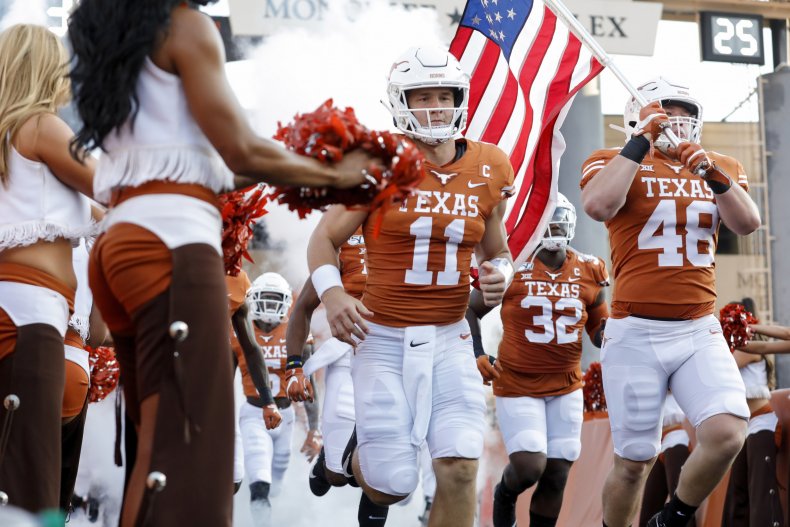 The news came just days after the two brothers were celebrating the fact that Sam Ehlinger was drafted by the Indianapolis Colts in the sixth round of the NFL Draft. Sam Ehlinger was in Indianapolis with the team when he found out the news on Thursday afternoon.
"There are no magic words in these moments, but all we can do is be there to love and support Sam," Indianapolis Colts coach Frank Reich said in a statement. "We will do everything we can. With Sam, our thoughts and prayers are with him and his mother and his sister as they mourn the tragic death of Sam's brother, Jake."
Ehlinger's death is not the first time his family has faced tragedy. In 2013, Jake and Sam's father, Ross, died during an Escape from Alcatraz triathlon in San Francisco.
Texas football players, both past and present, issued an outpouring of support for Sam Ehlinger and his family on Thursday. Cleveland Browns quarterback Baker Mayfield, a fellow Austin native, tweeted his condolences as well.