'The Guilty': Everything You Need to Know About Jake Gyllenhaal's New Netflix Movie
Jake Gyllenhaal returns to Netflix with his latest movie The Guilty.
The unusual film features a small cast of on screen talent but plenty of recognizable voices as Gyllenhaal takes and makes a number of calls over the course of one morning.
It's a remake of a Danish film of the same name and received a small cinematic release in the United States. It is now available to watch on Netflix.
What is The Guilty about?
Gyllenhaal plays Los Angeles Police Department officer Joe Baylor, who is working the night shift at a 911 call center. The Guilty takes place in almost real time over the course of a single morning where Joe receives a distressing call from a young woman who cannot freely talk.
As her story unfolds and the tension builds, we realize that there may be more to the case than meets the eye and everything is not as it seems.
Gyllenhaal spoke to Newsweek ahead of the movie's release and said the "deep complexity in such a profoundly simple context" attracted him to the project. He said: "We've been inundated by movies that show us everything and explain, or try to explain, many things. The best ones, to me, are the ones that make an obvious statement."
The original movie, The Guilty, was first released in 2018 to much acclaim, as it was nominated for a number of awards and was selected for the 2018 Sundance Film Festival.
Who stars in The Guilty?
Fans of Gyllenhaal will be pleased to hear he's one of the few actors we actually see on screen in The Guilty, as most of the supporting cast are only heard over the phone.
As the story unfolds, we hear Ethan Hawke (Boyhood) as Sergeant Bill Miller, Riley Keough (The Girlfriend Experience) as the woman in danger Emily Lighton, and Paul Dano (Prisoners) as Matthew Fontenot.
Peter Sarsgaard (Garden State), David Castañeda (The Umbrella Academy) and comedian Bill Burr also lend their voices to the movie.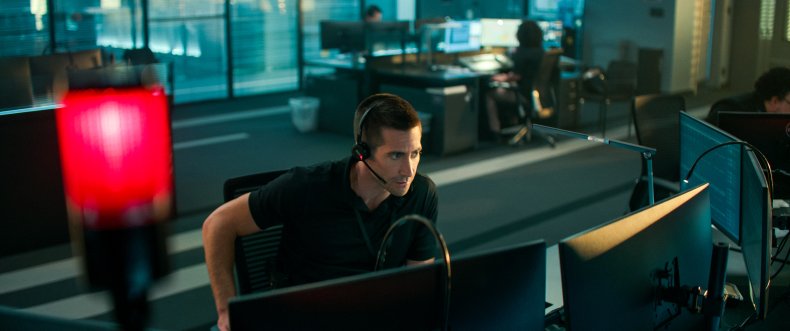 The team behind The Guilty
The Guilty is directed by Antoine Fuqua (The Magnificent Seven), who also worked with Gyllenhaal on the boxing movie Southpaw. Creator of the HBO series True Detective, Nic Pizzolatto wrote the screenplay for this adaptation of The Guilty.
Gyllenhaal acts as a producer on the movie under his company banner Nine Stories Productions. His previous movies with the company he founded include The Devil All the Time, Relic, Wildlife and Stronger.
It's far from Gyllenhaal's first collaboration with Netflix, with his previous credits in Netflix originals including Velvet Buzzsaw, Okja and the aforementioned The Devil All The Time as a producer.
Gyllenhaal is also set to star in another upcoming movie involving the LAPD in 2022, with a starring role in Michael Bay's movie Ambulance.
The Guilty is available to watch on Netflix now.