Phil Mickelson Threw $100 Bill at Country Music Star Jake Owen After Being Confronted Over Tiger Woods Match: 'Go F*** Yourself'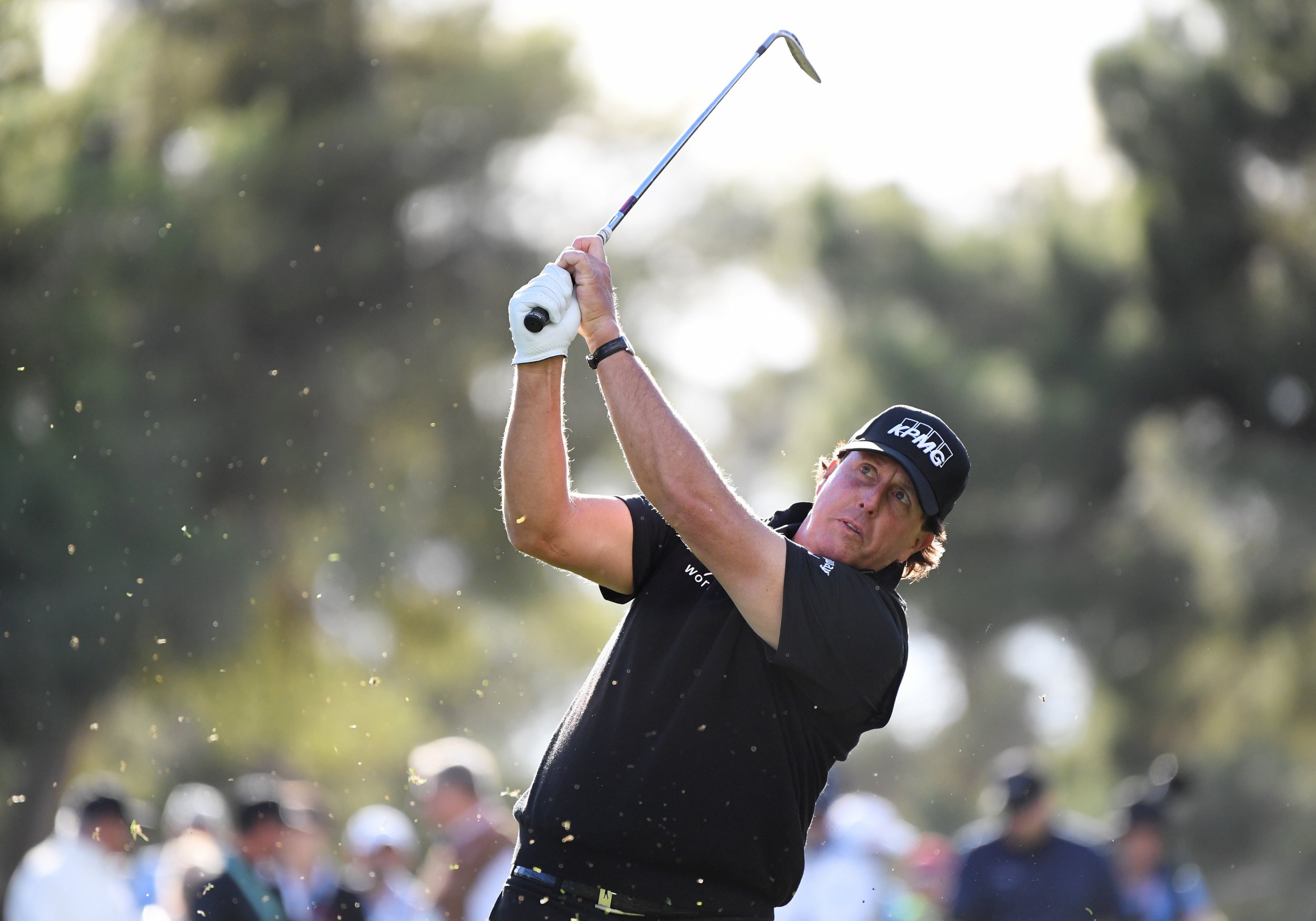 Phil Mickelson has never been shy about expressing his opinions, and he lived up to his reputation when he was confronted by country music star Jake Owen. The latter was incensed at the lack of quality on display at a showdown between Mickelson and Tiger Woods last November.
The former won $9 million after claiming the winner-takes-all "The Match" at Shadow Creek Golf Course in Las Vegas, but fans felt the unusual head-to-head between the two golfing heavyweights didn't live up to the months-long hype.
Owen told Barstool Sports' Fore Play podcast he was among the disgruntled viewers who paid $29.99 to watch the pay-per-view event.
Luckily for him, he had the chance to demand a refund almost immediately, as he and Mickelson both attended Jordan Spieth's wedding the day after the event.
"I'd had a few cocktails, and I saw him across the room, and I was like, 'I gotta go and tell this guy what I think,'" said Owen, who is an amateur golfer and has partnered with Spieth in past editions of the AT&T Pebble Beach Pro-Am.
"So I walked over to him, and I was like, 'Hey Phil, you owe me f***ing $29.99 for wasting four hours of my life with the s*****est golf I've ever seen.'"
The 37-year-old singer, who was named breakthrough artist of the year at the 2012 American Country Awards, then told Mickelson he felt the hype surrounding the match had turned out to be completely unjustified.
"You guys couldn't even make three birdies between the two of you," he told the five-time major championship winner. "I want my $29.99 back and apologize to me for some s***ty golf."
Clearly unimpressed by Owen's tirade, Mickelson then pulled out a stack of $100 bills, before flicking one toward the singer and telling him, "I won 90,000 of these yesterday. Take a $100 and go f**k yourself."
Anyone who thought Mickelson might attempt to contest Owen's version of events, or at least dial down his response, was left disappointed.
"True story" was Mickelson's reply to the tweet promoting Owen's interview with Fore Play.
After bringing a five-year winless streak to an end in March 2018, Mickelson has started the year on the front foot, winning the AT&T Pebble Beach Pro-Am in February.
The American finished 19 under par after carding a bogey-free 65 in his final round, beating England's Paul Casey by three strokes.