Jake Paul's scuffle with Floyd Mayweather and his entourage at a media event yesterday resulted in a black eye and chipped tooth—prompting a strong reaction on Twitter from fans and critics of the controversial YouTuber.
The legendary boxer was at a media event to promote his fight against YouTuber Logan Paul yesterday but chaos ensued when the younger Paul brother snatched Mayweather's hat.
"Don't be calling out on me, let's make it happen," Paul said to Mayweather at the Hard Rock Stadium in Miami Gardens.
Mayweather replied: "I'm a homeboy."
Jake Paul then reached out with his left hand, snatched the cap off Mayweather's head, and said, "Got your hat" as he took off walking away from Mayweather, sparking the brawl from both sides, with security guards getting involved and trying to separate the two.
"Jake Paul wanted some attention, and he got it. And so did I," Mayweather told The Athletic after the scuffle.
He also told ESPN he would be willing to fight both brothers.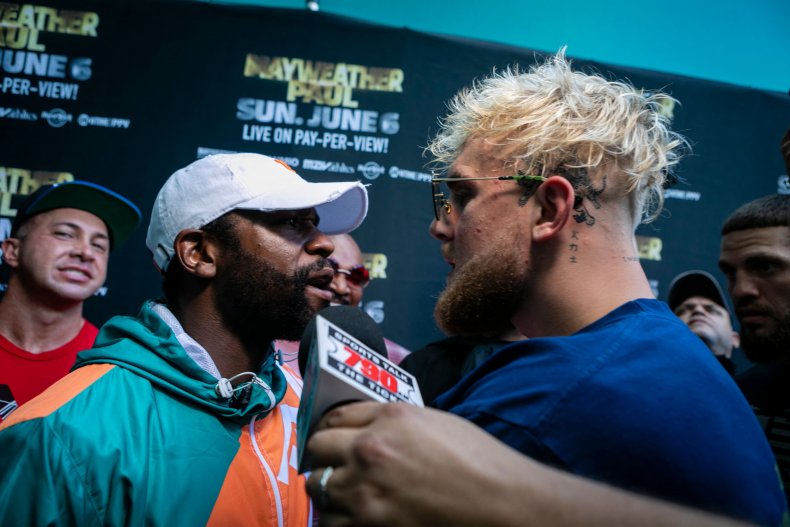 "I don't have to talk about what I'm going to do," Mayweather told the network. "The world knows what I'm going to do. I'm willing to fight both in the same night."
After the fight, Paul could be seen with a black eye and a broken tooth in a video he uploaded to Instagram.
Following the incident, the 24-year-old tweeted his "respect" for the bodyguard that landed the punch.
"honestly have had 3 easy fights as a pro so been itching for some real action," he tweeted. "1 of Floyd's 30 bodyguards got a clean shot on me in the eye RESPECT!!"
He also changed his name on Twitter to "Gotcha hat."
The black eye has caused Twitter to erupt with memes and jokes about the YouTuber's injury.
"Floyd gave Jake Paul a black eye and f***** up one of his teeth. My day has been made," reads one tweet.
"Jake Paul got a black eye from floyd mayweather, well deserved," joked another.
Fellow YouTuber DJ Akademiks said that Paul was "asking for it." He tweeted: "Jake Paul was asking for that black eye from Floyd Mayweather."
"Jake Paul has been exposed for the little b**** he is," reads another scathing tweet. "All talk but no action and goes crying in a closet. Don't disrespect the goat of boxing and not expect a black eye from it."
Another joked: "*jake paul steals hat from floyd*
jake paul: out of place teeth and black eye."