Jake Paul Brands Himself 'The Face of the Fight Game' After Boxing Victory
Jake Paul has declared himself "the face of the fight game" following victory over Tyron Woodley during their anticipated boxing bout.
The YouTuber-turned-boxer won by split decision when he faced off against former UFC champ Woodley at the Rocket Mortgage FieldHouse arena in Cleveland, Ohio, on Sunday.
On Monday night, Paul drew his 4 million Twitter followers' attention to his new bio, which states that he is "the face" of the fighting world.
He wrote: "when I put that s*** in my bio I'm not just saying it to say it. do the math - do the debating. and when it all comes back you will agree."
On Sunday, Paul expressed his joy at Dwayne "The Rock" Johnson sharing a post about his fight, writing: "The Rock posted me on his Instagram... I can retire now."
Hours later, Paul—whose brother, Logan Paul, has also ventured into boxing—followed up with another tweet that read: "Updated status: Retired boxer."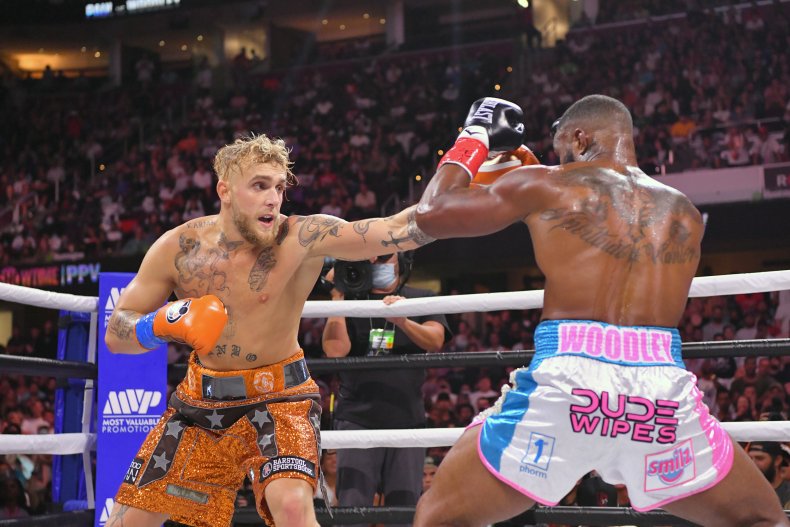 However, it would appear that Jake Paul is far from finished with his pugilistic journey, as he agreed to Woodley's demand for a rematch over the weekend—on one unconventional condition.
"Me and Jake need to run it back. I want a rematch. I feel like I won," Woodley said on the night of their bout, according to the BBC.
"If you get a tattoo 'I love Jake Paul' then we will run it back," Paul quipped in response, getting an agreement from Woodley.
Paul had previously emerged victorious from his boxing matches against AnEsonGib, Nate Robinson, and Ben Askren, while Woodley made his boxing debut on the night.
Tommy Fury, younger brother of Tyson Fury, challenged Paul to a fight after beating Anthony Taylor—who is Paul's sparring partner—in an undercard bout on Sunday night.
"Let's get it on Jake. I've done my bit, you do your bit," said Tommy Fury, whose U.S. debut over the weekend saw him win by unanimous decision.
"It should be easy enough for him, I went four rounds with his sparring partner. I'm a seven-fight novice in the gym, nowhere near the finished article."
In the weeks leading up to his fight, Jake Paul revealed that he would like to face off against Saul "Canelo" Alvarez next.
"Anything is possible—my goal is to become a world champion to laugh and say I did it. Ultimate fight would be against Canelo," he told British broadcaster talkSPORT.
"It's about making history and proving people wrong—I want to leave an everlasting legacy. I know I can become one of the best in the world in this sport. Boxing is the perfect way to prove haters wrong."