YouTuber Jake Paul Can't Throw a Party Without Some Controversy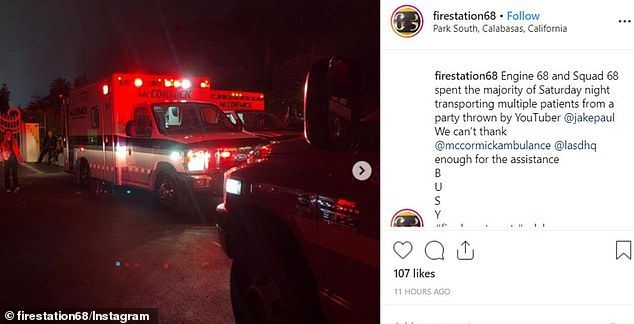 On Saturday night, YouTuber and vlogger Jake Paul threw a massive party at his Calabasas mansion, posting much of the event on social media. Paul opened his house to hundreds of guests, including mainstream celebrities like Lamar Odom, Bella Thorne and the controversial Chris Brown to celebrate rapper Desiigner's 22nd birthday. Influencers like James Charles and Tana Mongeau flooded Paul's spiral staircase and yard, eating faux burritos made of cotton candy and ice cream and dancing the night away. But it wasn't without some controversy.
The primary allegation of misconduct comes from the Facebook group "Moms of Conejo Valley." Someone in the group claimed their daughter attended the party and had "ended up in the hospital with eight other girls who had been drugged (ending up) incoherent." The post also claims that the girls were "half-naked," "unable to walk or talk" and that they were forced to sign an NDA at the door. An LAPD Representative told the Daily Mail that "it had not received any reports of anyone being drugged at Paul's home on Saturday."
At one point during the night, Station 86 of the LA Fire Department posted a picture on its Instagram, showing multiple fire trucks outside Paul's mansion, along with the caption "'spent the majority of Saturday night transporting multiple patients from a party thrown by YouTuber @jakepaul." An LAPD representative told the Daily Mail that "the department only received reports about loud music and the party 'getting out of hand.'" There were no "other reports or injuries or victims" the representative said. The Station 68 Instagram account has now been put on private.
This news comes amid Paul's bid for redemption; he recently released a video attempting to squash the "beef" between him and Clout Gang's FaZe Banks. The pair have been rivals since 2018, when Jake claimed that Banks had punched his assistant in the face at the nightclub Warwick in Los Angeles.
The whole night of the party was catalogued through multiple Instagram stories from Jake, his brother Logan and the countless other wannabes and content creators that attended. At one point during a DJ set, Jake sat on top of a basketball hoop in his living room and blasted the crowd with a C02 gun. To celebrate Cinco De Mayo at the party, a mariachi band was brought in while the Paul brothers vlog their reactions on camera. BMX bikes jumped over obstacle courses alongside a boxing ring full of contenders.
The social media posts from the party have been seemingly innocent. The Pauls are seen as villainous entities with many looking for a reason to criticize and dissect each moment of their seemingly visible lives. Outside of a single incident where YouTuber Cameron Dallas threw a cup of water at make-up artist Cole Carigan, there was very little drama at the party. There has not been a single credible claim of misconduct and Paul's reputation might be more of the issue.