Jake Paul Suffering Memory Loss, Slurred Speech Since Launching Boxing Career
Jake Paul has revealed that he is suffering from memory loss, slurred speech and mood swings since embarking on his boxing career three years ago.
During an appearance on In Depth with Graham Bensinger, the YouTuber-turned-boxer, 24, shared that he has endured numerous concussions over the years—which he estimates to be between anywhere between 20 and 30.
Explaining the changes he's seen within himself, Paul told Bensinger: "I notice it in conversations with my girlfriend and her friends, like, not remembering something that I should be able to remember that happened a couple days ago."
Paul, who launched an amateur fighting career in 2018 before going pro in 2019, went on: "Sometimes in my speech, where like every hundredth or two hundredth word, I'll mess up or, like, slur. Which I didn't do that before."
While Paul spoke about the many concussions he has suffered, he did admit to having taken "lots of hard hits" while playing football as a boy, though he revealed that a large number have occurred since he embarked on his boxing career.
When asked if his history of concussions scared him, Paul responded: "Of course. If you're doing something that you know is detrimental to maybe your health."
According to Mayo Clinic, repeated head trauma can lead to a brain degeneration called chronic traumatic encephalopathy (CTE), which "has been found in the brains of people who played football and other contact sports, including boxing.
"It may also occur in military personnel who were exposed to explosive blasts. Some signs and symptoms of CTE are thought to include difficulties with thinking (cognition) and emotions, physical problems and other behaviors. It's thought that these develop years to decades after head trauma occurs."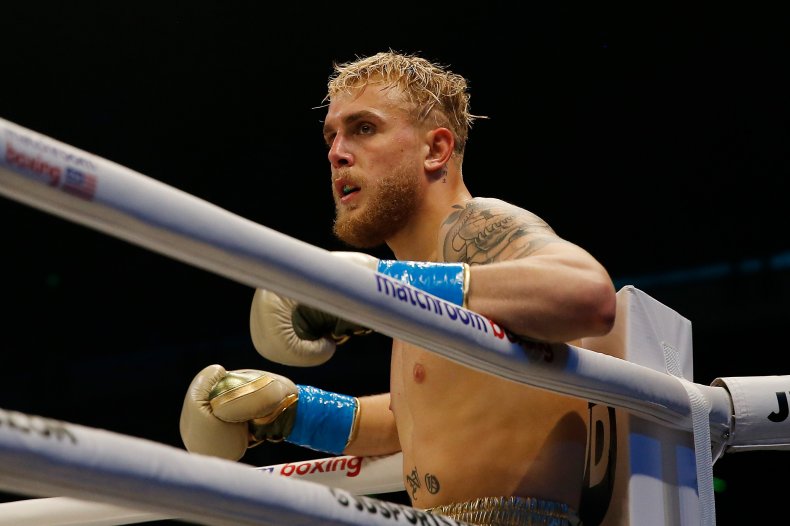 Among the symptoms listed for CTE, which currently can only be diagnosed after death, are difficulty thinking, memory loss, problems with planning, and organization and carrying out tasks."
Mayo Clinic's website also lists impulsive behavior, aggression, depression or apathy, emotional instability, substance misuse and suicidal thoughts or behavior, as well as the potential to develop Parkinson's and motor neuron disease.
Paul said that his brain was scanned before he started his boxing career in 2018 and was told by a doctor that his brain was already affected by a lack of blood flow in "certain areas," because of his concussions from playing football.
When he returned for another brain scan one year later, doctors found that it was "worse"—and advised him to quit boxing for the sake of his health.
"I think before, it was affecting me more at a rapid pace because I never took it easy," Paul told Bensinger. "I was always thrown in there with people who were way, way better than me until I started to slowly get to their level."
In a bid to fight the symptoms, Paul said that he has taken to using psychedelics such as toad venom.
Citing "new research and science," Paul said: "I've experimented with that and it's definitely helped out."
Despite advice to step away from boxing, Paul will return to the ring on December 18 for a rematch against former UFC champ Tyron Woodley.
In the weeks leading up to his fight last fight against Woodley in August, Paul revealed that he would like to face Saul "Canelo" Alvarez in the ring next.
"Anything is possible—my goal is to become a world champion to laugh and say I did it. Ultimate fight would be against Canelo," he told British broadcaster talkSPORT.
"It's about making history and proving people wrong—I want to leave an everlasting legacy. I know I can become one of the best in the world in this sport. Boxing is the perfect way to prove haters wrong."
Paul is the younger brother of Logan Paul, whose career path has also expanded to include YouTube and professional boxing.