Jake Paul's Raided Team 10 House Has Been Losing Members for Years and Here's Why
The FBI executed a federal search warrant on Jake Paul's Calabasas, California home on Wednesday—the very same house that serves as the base for his social media collective Team 10.
Authorities could not give details into the investigation due to an affidavit sealed by a judge, and it's unclear if the YouTube star was at home at the time of the search. His Team 10 members also frequently live and work inside the house, and agents did not reveal if the few that remain were present at the time of the raid either. But it's pretty obvious who was not involved in the FBI search—the many former members of the social media hub, like the Martinez Twins.
Brothers Ivan and Emilio Martinez made a surprising exit from the collective back in November 2017, explaining to their nearly 5 million YouTube subscribers that they were the targets of immense bullying during their time at the Team 10 house.
"Imagine you—a little kid from Spain or from another part of this world—you got to L.A. and you don't even talk English," Emilio explained in a video titled, "We Left Jake Paul's Team."
He continued: "I want you to imagine that you go to somewhere that no one talks Spanish or your language and you see people in the house laughing and you don't even know what they're talking about and then you find out that they were talking s**t about you. They were laughing at you. Every single day."
The musical duo claimed they were often the butts of Paul's pranks and jokes. They accused him of discouraging them from learning English and using racists labels—like "beaners," a racial slur referring to Mexicans—while speaking to them. The twins also said Team 10 held their money hostage and that Jake would often manipulate them into appearing in videos in ways they found offensive.
The Martinez Twins aren't the only ones who alleged that they were exposed to toxic behavior at the Team 10 house. One of the collective's most controversial moments came in February 2017 when Alissa Violet left.
Violet claimed she was kicked out of the group and left homeless after finding all her belongings packed up. Paul later said her ousting was due to her allegedly cheating on him. However, Violet refuted the claims, writing in an open letter on Twitter that they "weren't even dating." She also accused Paul of manipulation, and in a bombshell of a YouTube video titled, "What You've Been Waiting For," she gave a detailed account of her alleged experiences at Team 10, including Paul's gaslighting, excessive fines and rules among other things.
Beauty YouTuber Cole Carrigan, who was one of the only queer members of the collective, had a messy split from Team 10 as well in July 2019, claiming that the members of the house spray-painted the words, "Get the f**k out of our house," over a mural in his room. Carrigan also claimed that he was not provided with the adequate resources that he was promised for joining the team, like brand deals and access to photographers.
"They didn't provide me with anything besides telling me I had an editor. I had to find photographers. I had to find brand deals. I had to find videographers. I had to find clothing brands to sponsor me clothes. I literally did everything on my own. The only thing that I was provided with was a room, a really nice house to live in and followers," he explained in a YouTube video titled, "Why I Left Team 10...".
Since Paul first launched Team 10 in 2016, just about all the original members have left along with the Martinez Twins, Violet and Carrigan including Alex Lange, AJ Mitchell, Neels Visser, Nick Crompton, Tessa Brooks, Stan Gerards, Chance Sutton, Kade Speiser, Tristan Tales, Anthony Trujillo, Max Beaumont, Chad Tapper, Justin Roberts, Ben Hampton, the Dobre Twins and Erika Costell.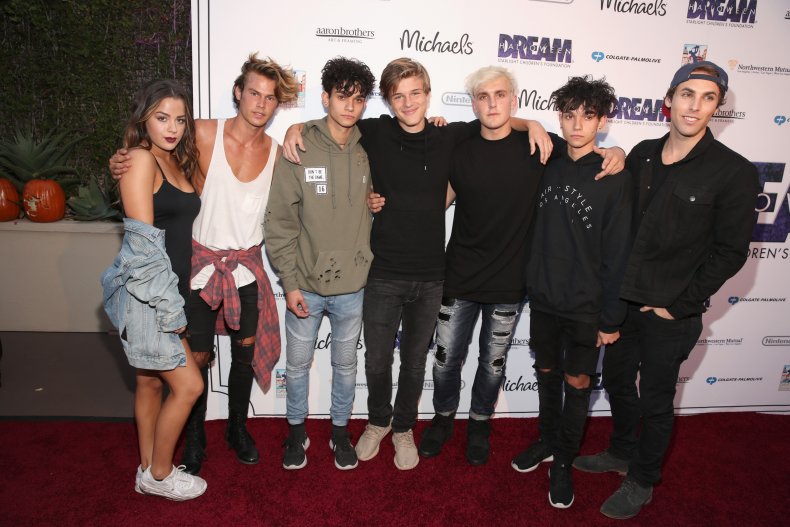 Although no new content has been posted on Team 10's YouTube in over a year, Paul is currently working to revamp the collective and its content. He told Business Insider in January that he was waiting "for the right moment" for Team 10 to reemerge with the newest Team 10 squad comprised of Travis and Corey Talbott, Brandon Amato, Lauren Descale and the Caci Twins.