National Security Advisor Jake Sullivan said that the U.S. is placing "paramount priority" on fielding potential terrorist attacks in Afghanistan, following reports that the Islamic State group (ISIS) could target Americans in Kabul.
Speaking on CNN's State of the Union Sunday morning, Sullivan said potential threats from ISIS are "real," and said the U.S. is using every means possible to prevent an attack.
"The threat is real. It's acute. It is persistent. And it is something we're focused on with every tool in our arsenal. Commanders on the ground have a wide variety of capabilities they're using to defend the air field against a potential terrorist attack. We're working hard with our intelligence community to try to isolate and determine where an attack might come from," Sullivan said.
"It is something that we are placing paramount priority on stopping or disrupting and, we'll do everything we can as long as we're on the ground to keep that from happening. But we are taking it absolutely deadly seriously," he added.
Sullivan's statements come after U.S. officials changed their evacuation strategy in Afghanistan on Saturday after learning of potential threats against Americans at the Kabul airport. The U.S. embassy told citizens that day "to avoid traveling to the airport and to avoid airport gates at this time unless you receive individual instructions from a U.S. government representative to do so."
In a statement to Newsweek, a State Department spokesperson said that officials issued the security alert "to avoid large crowds outside the airport gates – both for security purposes and as a means to make the processing as efficient as possible."
ISIS has long declared an intention to attack Americans and U.S. interests abroad and has been active in Afghanistan for years. According to the Associated Press, the group has recently carried out a wave of horrific attacks, mostly against the Islamic Shiite minority.
The group has been targeted by U.S. airstrikes in recent years, but some officials fear they could gain more power in Afghanistan now that the country has fallen to the Taliban, the AP reported. The potential security threat comes as the U.S. government continues to evacuate thousands of Americans and Afghan allies from the country.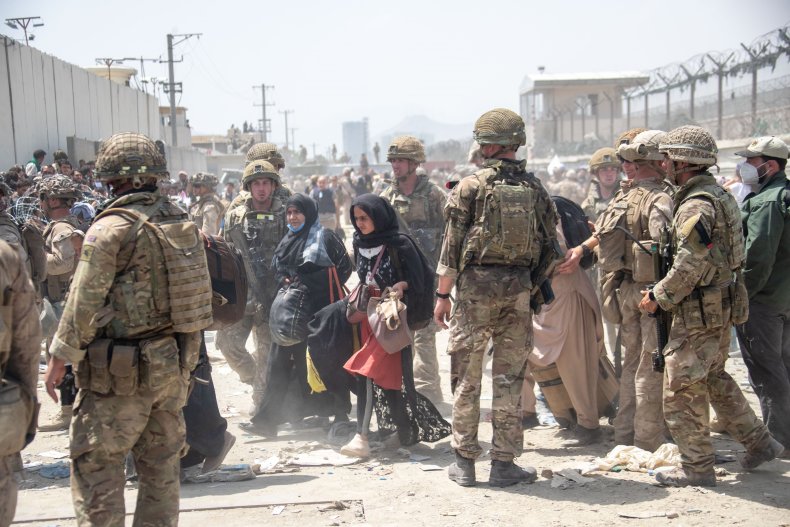 On Sunday, the U.S. Defense Department activated the Civil Reserve Air Fleet (CRAF) for only the third time in history, calling upon commercial airlines to be prepare to assist in evacuation efforts. American Airlines, Atlas Air, Delta Airlines, Omni Air, Hawaiian Airlines and United Airlines will provide a total of 18 aircraft to support the evacuation of U.S. citizens and personnel, the department said in a statement.
Sullivan said Sunday that it is believed there are "several thousand" Americans still in Afghanistan, but that the government does not have a precise number since some people enter the country without registering with the U.S. embassy, while others leave and never de-register. For those who want to leave the country, he said "it is our responsibility to get them out."
"That is what we are in the process of doing right now. We are working hard to organize groups of Americans, to bring them on the air base, get them on flights and get them out of the country," Sullivan said during the CNN interview.
He added that American officials are currently in communication with Taliban military commanders in charge of security in Kabul, who have been warned that if Americans are not given safe passage to the airport, the U.S. "will deliver a swift response."
President Joe Biden said his deadline for completing a full withdrawal of U.S. troops from Afghanistan is August 31. However, he told ABC News this week that the deadline could be extended if there are still Americans in the country at that point.