Jake Tapper Calls Out Dems For Believing Parnas' Allegations Unquestioned, Says He Has A 'Serious Credibility Problem'
On Thursday's edition of CNN's The Lead, Jake Tapper said that Lev Parnas, an associate of Rudolph Giuliani who allegedly assisted President Donald Trump in an attempt at gathering Ukrainian intelligence on Hunter and Joe Biden, has "serious credibility problems."
"He's under indictment for campaign finance charges. The foreign minister of Ukraine told CNN's Christiane Amanpour that he doesn't trust a word Parnas is saying," said Tapper.
He then criticized "people out there on social media—Democrats" who, in his point of view, were "acting as if this guy is the second coming of Theodore Roosevelt or something."
Nia Malika-Henderson, CNN's senior political reporter, replied that this might be a good reason for Parnas to testify under oath. "Kellyanne Conway, for instance, says when he's talking in a television studio he isn't under oath, but there actually is a way to get him under oath if anyone is interested in vetting his claims."
Newsweek subscription offers >
Malika-Henderson noted that it was "unclear" if Republicans were interested in hearing his testimony—or if the evidence he provided during his Wednesday night Maddow interview was factual or if he was simple "parroting" things which he had learned during testimony broadcast in the course of President Donald Trump's House impeachment hearings.
"How Parnas would know what's in Trump's head? Unclear. How Parnas would know what's in Vice President Pence's head? Also unclear. It might be worth having him before Congress to talk about it."
Newsweek subscription offers >
Tapper pointed out that the facts Parnas spoke of during his Maddow appearance are "square" with the rough transcript of the conversation between President Trump and Ukraine President Volodymyr Zelenskiy released by the White House in September.
While noting that the "broad strokes" of what Parnas had spoken about was not new information, Tapper noted the specific references he made about various individuals during the interview were. But, Tapper said, paraphrasing Parnas, "Pence knew, Barr knew, Trump knew." He then wondered, "how would [Parnas] know?"
President Trump and several of his associates, including Kellyanne Conway, who declared during a Thursday morning interview with CNN that she did not know Parnas, only to have a picture of her posing with him surface online soon after—have attempted to deny knowing Parnas since Parnas emerged as a figure in the Ukrainian scandal in the wake of his indictment for alleged campaign finance crimes.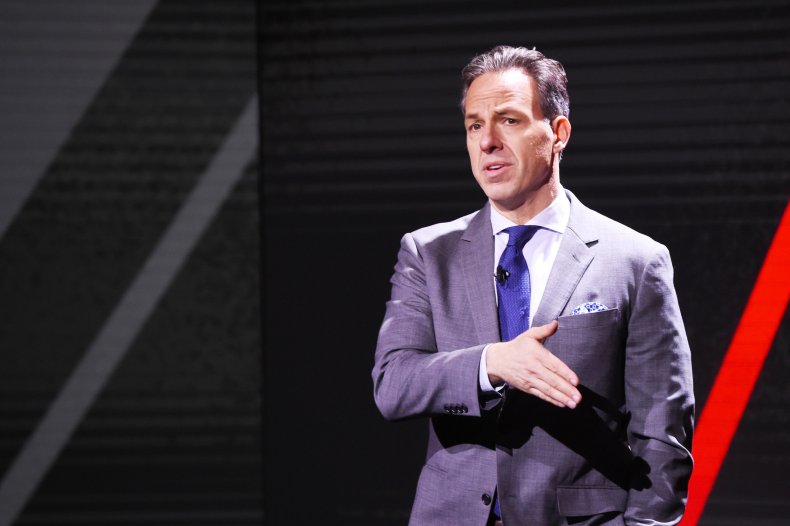 Parnas has claimed he was "basically on the team" involved with the hunt for information on Biden and his son by putting pressure on Ukraine, a team which he alleges included A.G. Barr, Pence and Trump, among others.
Jake Tapper Calls Out Dems For Believing Parnas' Allegations Unquestioned, Says He Has A 'Serious Credibility Problem' | Politics