Jake Tapper Shares Van Drew Tweet Condemning Stephen Miller's 'Racist Rhetoric,' White Supremacy as He Switches to GOP
A November tweet from Congressman Jeff Van Drew, who changed party allegiance from Democrat to Republican Thursday, calling out White House Senior Adviser Stephen Miller for "racist rhetoric," was uncovered Thursday by CNN's Jake Tapper.
On November 25, Van Drew tweeted that he was co-sponsoring a resolution against white supremacist rhetoric while calling out White House Senior Adviser Stephen Miller. Miller has been accused of furthering the ideals of white supremacy.
Van Drew's tweet caught the attention of CNN host Jake Tapper who shared with the simple comment, "Um."
"In light of the recent revelations regarding White House Senior Advisor Stephen Miller we must stand up against white supremacist terrorism and the racist rhetoric that encourages it," Van Drew tweeted. "That is why I am an original cosponsor of H.Res. 299."
"The United States has always stood as a beacon of freedom and opportunity and we should continue to do so," Van Drew added.
House Resolution 299, also known as the "Condemning White Supremacist Terrorism and the Anti-immigrant Rhetoric that Inspires It Resolution," is decidedly pro-immigration.
"Whereas if we ever closed the door to new Americans," the resolution reads, "our leadership in the world would soon be lost."
The resolution also "condemns political leaders who legitimize White supremacist ideology by echoing claims of an immigrant invasion, by falsely alleging that our fellow Americans who are immigrants and refugees commit more crimes or contribute less to our society than native born citizens, or by spreading conspiracy theories about the law enforcement and intelligence agencies seeking to protect every American."
Van Drew's tweet specifically names Miller as the subject of "recent revelations," implying that at least part of the Resolution was drafted with people like Miller in mind.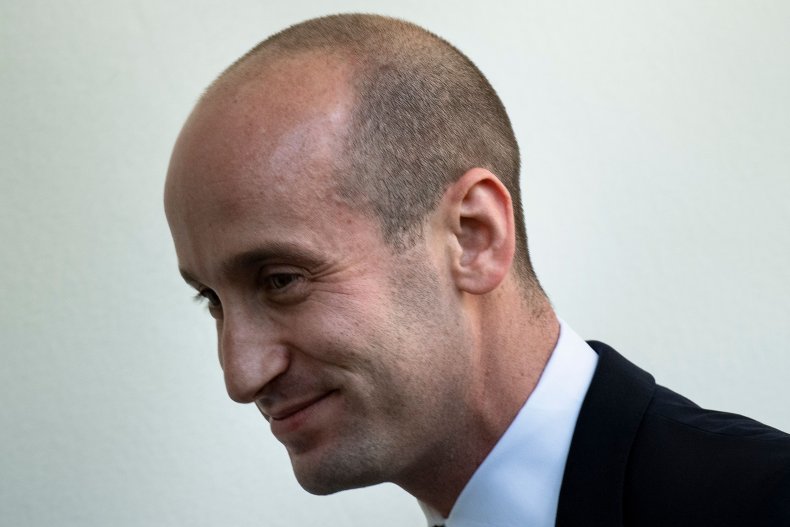 Miller came under fire after the Southern Poverty Law Center (SPLC) reviewed over 900 emails sent by Miller to Breitbart News, a far-right conservative website. The emails were allegedly sent in 2015 and 2016 while Miller was still working for then-Attorney General Jeff Sessions.
Miller's emails espoused the theory that rising crime rates and immigration are linked. He also attempted to correlate acts of terrorism to Muslim refugees. In addition, the emails showed Miller's appreciation of white nationalist websites and articles written by white supremacists.
"I do want to emphasize... that those emails are now White House policy," said former Breitbart editor Katie McHugh in a December interview. McHugh has taken responsibility for giving access to the emails to the SPLC.
As previously reported by Newsweek, Trump's immigration policy will only allow 18,000 refugees into the U.S. during Fiscal Year 2020, a record low number of admissions.
"These aren't people," Trump said about undocumented immigrants in May 2018. "These are animals."
Newsweek reached out to the White House for comment but did not receive a response in time for publication.