For a sports fan, few things are more exciting than a big trade. If you're on the right side of the deal, a top-tier player is suddenly a member of your team. They're going to suit up, hit the field and make a major difference.
That's what the Miami Dolphins thought was happening when they landed Jalen Ramsey in March. Fate, however, had other ideas.
While the star cornerback is technically wearing teal, he's yet to officially suit up for a game. Thanks to offseason surgery, Ramsey is still sidelined, and it's not 100 percent clear when he'll return to action.
With all of that in mind, let's consider what we do know about Ramsey and his unfortunate injury.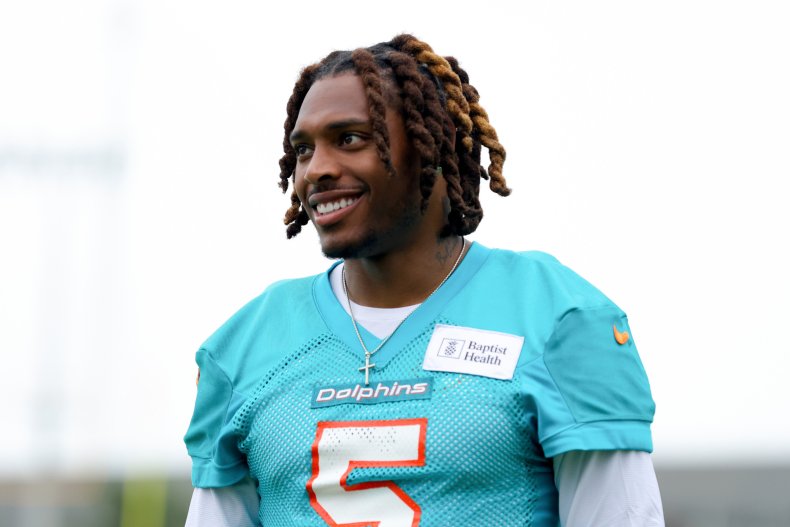 How Did Ramsey Get Hurt?
It's tempting to think of sports as a meritocracy, but there's always some luck involved. That can affect individual games—think of a loose ball taking a bounce directly into the path of a defender—but the hand of fate also touches rosters.
Consider Ramsey and his injury as an example of that reality.
"Ramsey was guarding receiver Tyreek Hill near the end of practice Thursday, July 28 [Thursday was actually July 27] when the cornerback suffered a non-contact injury and collided with Hill," Dan Rorabaugh of The Palm Beach Post wrote. "He limped off the field and got into a golf cart, which carried him to the locker room."
It was soon determined that his meniscus was the source of the problem. For his part, though, the cornerback didn't seem too concerned about his bad break.
Is Ramsey on Injured Reserve?
Because of the nature of his injury—it was a football-related injury suffered during a team practice, and he'll be sidelined for some time—Miami's star defensive back was eligible to be placed on IR, or injured reserve. The Dolphins made it official on August 31, giving Ramsey that official designation.
Landing on IR means he won't count against the active roster, but Ramsey will also need to sit out at least four games. The reality of his situation, however, means that shouldn't be a concern.
When Will Ramsey Return to the Lineup?
That's the multimillion-dollar question, isn't it?
When a team goes out and trades for a big-time talent, the expectation is that the move will pay off on the field. Ramsey obviously can't do that until he's back to full health.
When the cornerback went down, it was unclear how extensive the surgery would be necessary. Ramsey eventually underwent a full meniscus repair, which carries a longer recovery time. He is expected to be sidelined until December, according to NFL.com.
On X (formerly Twitter), Ramsey seemed to confirm that he would miss a good portion of the year.
Head coach Mike McDaniel, however, tweeted that the cornerback had a different sort of timeline in mind.
"He's a self-proclaimed alien," the bench boss said about his cornerback after he went under the knife. "And, you know, he couldn't have a better mindset with which to attack this process. He's immediately, 'Tell me whatever the timeline is, I'm gonna beat it by a month.'"
That same attitude was seen on social media, where Ramsey took issue with the assertion that it would be a challenge for him to come back and play like his old self.
How Can Miami Cope With Ramsey's Absence?
When someone like Ramsey goes down, it's tough to have a like-for-like replacement. The Dolphins, however, do have a former All-Pro cornerback on their roster.
That man, of course, is Xavien Howard, who signed an extension ahead of the 2022 campaign. He followed that up with a Pro Bowl–caliber performance, recording 45 total tackles, 12 passes defended, one interception and two fumble recoveries. He starts in the left cornerback slot, locking down that side of the field.
Are two star defenders better than one? Of course, but you'd rather have only Howard than make do with someone off the practice squad.
Miami is also positioned to cope with Ramsey's absence in another way: outscoring the opposition. With Tua Tagovailoa throwing to the likes of Tyreek Hill and Jaylen Waddle, the Dolphins are more than capable of putting up points. And with that sort of firepower, the defense can afford to take a temporary step backward.
With all that said, though, the AFC East club will want the star cornerback in the lineup whenever he's ready to return. When you're trying to chase down the Buffalo Bills, Cincinnati Bengals and Kansas City Chiefs, having a strong secondary is essential.
Over the course of a season, every team is going to encounter setbacks. The ability to overcome those obstacles separates the good from the truly great. At this point, we'll just have to wait and see how the Dolphins can cope with Ramsey's injury.
Uncommon Knowledge
Newsweek is committed to challenging conventional wisdom and finding connections in the search for common ground.
Newsweek is committed to challenging conventional wisdom and finding connections in the search for common ground.
About the writer
Joe Kozlowski is a Newsweek reporter based in New York City. His focus is reporting on trending sports stories. Joe joined Newsweek in 2023. He is a graduate of NYU's Gallatin School of Individualized Study. You can get in touch with Joe by emailing j.kozlowski@newsweek.com.
Languages: English.