ESPN basketball analyst Jalen Rose has caught flack for recent comments he made about USA Basketball naming Kevin Love to its roster for next month's Tokyo Olympics. Rose said the move was basically white "tokenism" by the national governing body, saying they are "scared to make an all-Black" squad for the Summer Olympics.
Rose made his comments on the Jalen & Jacoby podcast last week.
"Kevin Love is on the team because of tokenism," Rose said. "Don't be scared to make an all-Black team representing the United States of America. I'm disappointed by that."
Rose said Love shouldn't be on the Olympic team based on his performance with the Cleveland Cavaliers this season, when he averaged 12.2 points and 7.4 rebounds in just 25 games played.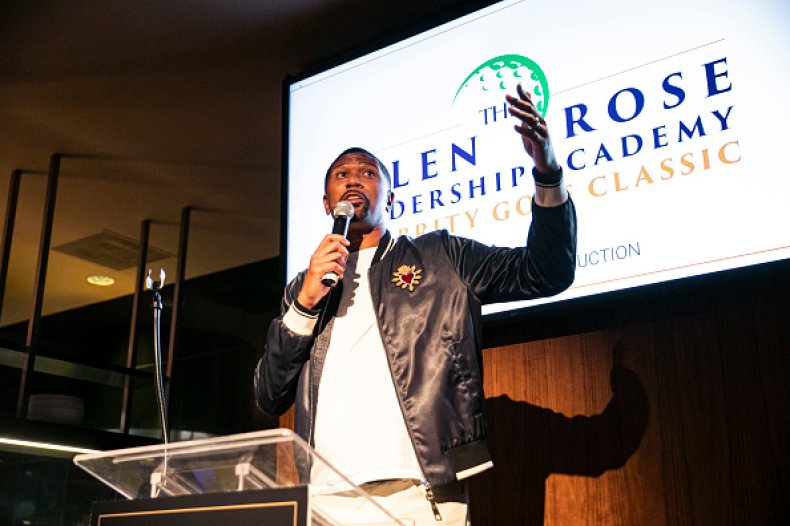 "Anybody that watched the league this year knows Kevin Love did not have a stellar season, was not the best player on his team and did not necessarily deserve to be on this squad," Rose said.
USA Basketball probably saw something that Love brings to the court, other than his skin color. Love won an Olympic gold medal with Team USA at the 2012 London Games, and he helped LeBron James win an NBA Championship in the 2015-16 season.
USA Basketball obviously isn't "scared to make an all-Black team" as its entire roster for the 2016 Rio de Janeiro Games was Black.
Love was the fifth overall pick in the first round of the 2008 NBA Draft by the Minnesota Timberwolves. He played with the Timberwolves for six seasons before going to Cleveland. In addition to winning a gold medal and NBA title, Love has been an NBA All-Star five time, most recently in 2018.
Rose was never an all-star, he never won an NBA title and he was never on the Olympic team. Rose's most-memorable season came in 2000, when he helped lead the Indiana Pacers to the NBA Finals against the Los Angeles Lakers. Rose averaged 25 points in the series, including 32 during a Game 5 victory.
In the NBA Finals that year, Rose intentionally tried to hurt Kobe Bryant during Game 2, something that Rose later admitted to doing. While Bryant was jumping back to shoot, Rose put his foot underneath Bryant, hoping to make him crash so hard to injure himself.
After Rose said Love shouldn't be on the team, he named another player who should be there—DeAndre Ayton of the Phoenix Suns, who are currently in the Western Conference finals of the NBA Playoffs.
"I'm gonna to tell you who's spot that should be. That should be a young man that was born in the Bahamas, is a McDonald's All-American, played in high school and college in Phoenix Arizona. Deandre Ayton should have Kevin Love's spot and I'm disappointed in Team USA for not having the courage to send an all Black team to the Olympics," Rose said.
Ayton is not a U.S. citizen and he has played for the Bahamian National Team. He would need an exception from FIBA (the world's governing body for basketball) just to make the 2024 USA team for the Paris Olympics.
The door opened for Love to make the team with several high-profile NBA players opting out of the Olympics or declining it altogether. They include LeBron James, James Harden, Steph Curry, Chris Paul, Anthony Davis and Kyle Lowry.
Uncommon Knowledge
Newsweek is committed to challenging conventional wisdom and finding connections in the search for common ground.
Newsweek is committed to challenging conventional wisdom and finding connections in the search for common ground.
About the writer
Scott McDonald is a Newsweek deputy night editor based in Cape Coral, Florida. His focus is assigning and writing stories across all topics, from news to politics, business, weather, sports and international news. Scott joined Newsweek in 2018 after a lengthy career of print journalism in Texas, including The Dallas Morning News, where he was a sportswriter, and he's a voter for the Heisman Trophy. He has been a newspaper editor-in-chief and also a newspaper publisher. He is a graduate of The University of Texas at Austin. You can get in touch with Scott by emailing s.mcdonald@newsweek.com. Languages: English