Jalen Rose Says Cavaliers Head Coach Could Lose Respect of NBA Players After Accidentally Calling His Team 'Thugs'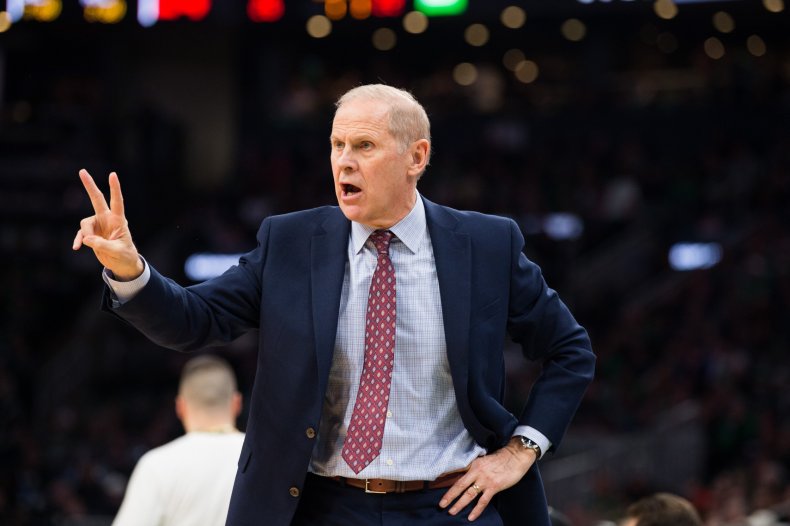 On Thursday, while appearing on ESPN's Get Up, former NBA player Jalen Rose stated that Cleveland Cavaliers head coach John Beilein may lose the respect of NBA players after accidentally referring to his team as "thugs."
Rose's comments stem from an ESPN report on Wednesday regarding Beilein telling his players that they were no longer playing "like a bunch of thugs," during a film session. According to the report, Beilein meant to use the word "slugs," but did not realize his mistake until after the players left the meeting and he was informed by members of his staff.
"I didn't realize I had said the word 'thugs,' but my staff told me later I did and so I must have said it," Beilein told ESPN Wednesday night. "I meant to say 'slugs' as in slow-moving. We weren't playing hard before, and now we were playing harder. I meant it as a compliment."
In addition to Rose's comments about respect from NBA players, he noted that he has been called a thug before but the fact that Beilein did not realize his mistake until afterward was the real problem.
"The disconnect is, you [Beilein] needed your staff, hours later, to tell you what you actually said in a room full of your team," Rose said. "You cannot make that mistake."
Rose was also not the only person to speak on Beilein's mistake. On Wednesday night, during an appearance on ESPN Radio's Golic & Wingo, current WNBA player Chiney Ogwumike said, "I'm a forgiving person but you can't make those type of mistakes and make those implications now."
Beilein's comments are not the first issue that has arisen between the coach and his players this season. In December, The Athletic published a story about the team's struggles, citing three different anonymous Cavaliers who named Beilein as one of the main reasons.
"Guys drowned out his voice," said one anonymous player. "And when guys start searching for the next in line for help, I believe you've lost them."
"Our assistants are definitely more prepared for the NBA," another Cavaliers player said.
The team experienced another problem on January 1, when forward Kevin Love expressed his frustrations during the team's game against the Toronto Raptors. After stepping off the court, Love walked over to the team's seating area and proceeded to punch a chair multiple times.
The Cavaliers currently sit in the 13th spot in the NBA's Eastern Conference with a 10-27 record. They will look to rebound from their past mishaps in their upcoming game against the Detroit Pistons later today.