Jamaal Bowman Rips Brett Favre's NFL Comments: Sport That Allowed Him to Take Care of His Family Is 2/3 Black
Representative Jamaal Bowman, a New York Democrat, criticized retired quarterback Brett Favre after he complained about the politicization of sports in recent years.
Favre played in the NFL from 1991 to 2007, mostly with Wisconsin's Green Bay Packers. In a Sunday interview with The Andrew Klavan Show on The Daily Wire, the retired athlete complained that politics in sports are hurting the games. Amid the ongoing national conversation about racism, police brutality and the Black Lives Matter movement, many athletes have shared their views, and some have chosen to kneel or sit during the national anthem to raise awareness and protest.
"Desmond Howard, a Black man, was MVP of the only Super Bowl Brett Favre ever won. Almost 90% of Brett Favre's passing yards were to Black men. This shows why integration is necessary but not sufficient. Integration alone can't fix this ignorance — we need anti-racist education," Bowman tweeted on Thursday, attacking Favre's criticism.
"The sport that allowed Brett Favre to take care of himself and his family is ⅔ Black. Those Black men, and Black people across America, can't look away. It was never just about the game. It was also about getting a platform to give a voice to the unheard," the congressman wrote in a follow-up post.
During his interview on The Andrew Klavan Show, Favre suggested that fewer people are watching games because of their frustration with the politicization.
"I know when I turn on a game, I want to watch a game. I want to watch players play and teams win, lose, come from behind," Favre said. "I want to watch all the important parts of the game, not what's going on outside of the game, and I think the general fan feels the same way."
He added, "I can't tell you how many people have said to me, 'I don't watch anymore; it's not about the game anymore.' And I tend to agree."
In 2016, former San Francisco 49ers quarterback Colin Kaepernick first sat and then began kneeling during the playing of the national anthem to protest and raise awareness about racial injustice, police brutality and the systemic oppression of minorities in the U.S. Kaepernick drew significant backlash, but also support, as other athletes began following his example.
At the end of the season, Kaepernick became a free agent and was not picked up by another NFL team. This led him and many supporters to allege that he had been blacklisted by the NFL for his political stance. In 2017, former President Donald Trump urged the NFL to "fire" athletes that protested the national anthem as Kaepernick had.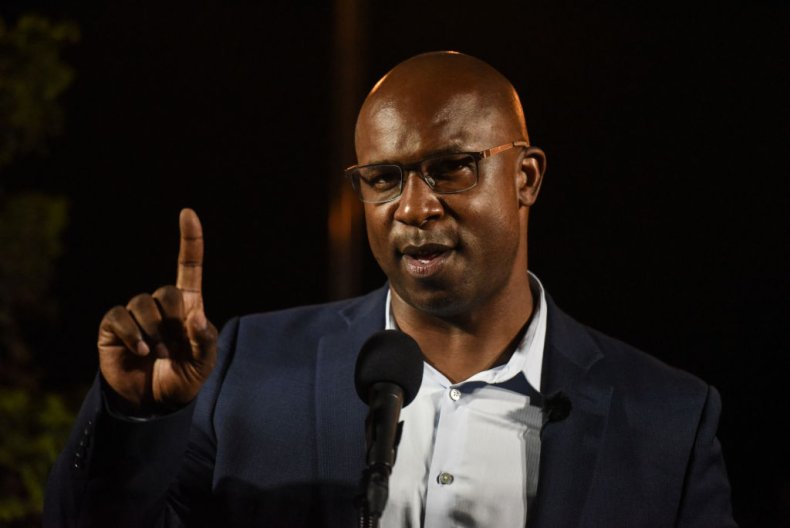 Although the NFL went on to ban protests, the league's commissioner, Roger Goodell, apologized last summer amid a wave of massive Black Lives Matter and anti-racism demonstrations across the country. "We, the NFL, condemn racism and the systematic oppression of Black People," the NFL wrote in a tweet at the time. "We, the NFL, admit we were wrong for not listening to NFL players earlier and encourage all to speak out and peacefully protest. We, the NFL, believe Black Lives Matter. #InspireChange."
Despite the political controversy, the NFL's TV ratings increased in 2018 and 2019. However, they dipped by 7 percent in 2020 amid the coronavirus pandemic.
Newsweek reached out to the NFL for comment but did not hear back before publication.