New York Rep. Jamaal Bowman recently criticized the New York Police Department (NYPD) for spending money on a robot police dog, calling it "some RoboCop s***."
In a video posted to Bowman's Twitter on Tuesday, Bowman spoke about the protests against police brutality over the past summer and the calls to defund the police.
"We scream defund the police so we can allocate those resources towards something that focuses on true public health and public safety. Protesting all summer, for Black lives, we were under assault. People living in poverty, struggling, struggling to put food on the table, keep a roof over their head, take care of their kids, afford child care. All this going on. And now we got damn robot police dogs walking down the street," Bowman said in the video.
"What the hell do we need robot police dogs? This is some RoboCop s***, this is crazy. Robot police dogs walking down the street," Bowman said and asked again, "We need robot police dogs? That's what we need."
In the video, Bowman went on to state how he already feels "physically occupied" by too many police in his community and continued to criticize the NYPD for spending money on the robot police dog.
"So you can't give me a living wage, you can't raise the minimum wage, you can't give me affordable housing...instead we got money—taxpayer money, going towards robot police dogs," Bowman said.
The comments by Bowman come shortly after videos appeared across social media showing the NYPD deploying a robot police dog during a recent domestic dispute involving a firearm.
A spokesperson for the NYPD told WNYW News in New York that the robot dog was on standby and not utilized during the arrest. Despite the report from the NYPD, the videos of the robot police dog posted across social media sparked backlash from many, including Bowman.
NYPD Deputy Commissioner of Intelligence and Counterterrorism John Miller wrote to Newsweek, "The NYPD has used robots for the last 40 years in situations involving bombs, barricaded gunmen, and hazmat situations. It allows us mobility and the ability to get a visual perspective in a place where it would be too dangerous to send a first responder."
"This robot is less than half the cost of the older robots we currently use, though it performs the same functions. It is unarmed, we can hold a conversation through its video and audio functions, and it is rescue oriented. It is not an intelligence tool or for spying and given its appearance, those accusations are a little ridiculous. It's a robot in the shape of a dog. It's not going to sneak up on anybody to spy," the message added.
Gothamist recently profiled the robot police dog, reporting that it was created by Boston Dynamics, and at a selling price of $74,000, it comes equipped with lights, sensors and cameras.
The NYPD previously wrote in a tweet that they have "been using robots since the 1970's to save lives in hostage situations & hazmat incidents."
During a press conference on Wednesday, New York City Mayor Bill de Blasio was asked about the videos showing the NYPD using a robot police dog.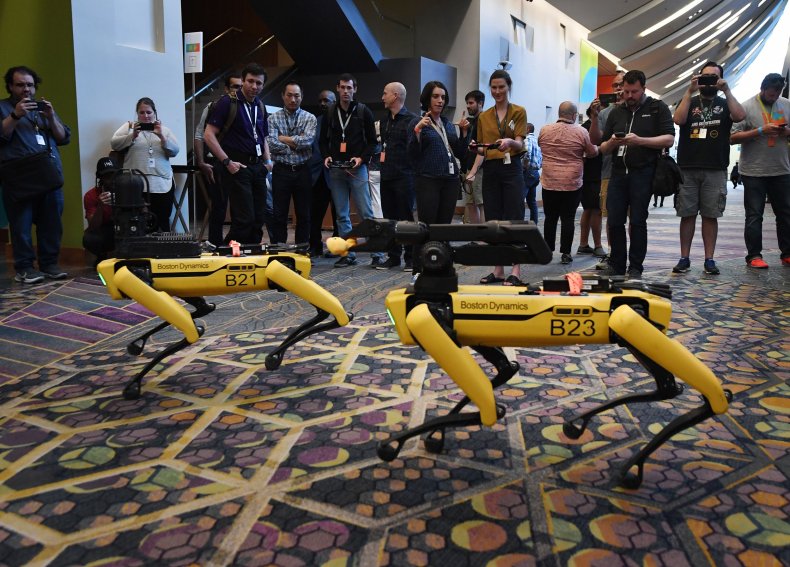 "I haven't seen it, but I certainly share the concern that if in any way it's unsettling to people, we should rethink the equation. So, I don't know what is being done to test it. I'll certainly talk to the commissioner about it," de Blasio said in response. "I don't want people to feel you know, that something is happening that they don't know about. So, we'll work that out."
In addition to Bowman, New York State Senator Julia Salazar called the robot police dog "appalling manifestation of the surveillance of our communities by law enforcement" and "an insult to actual dogs."
Newsweek reached out to Bowman for comment but did not receive a response in time for publication.