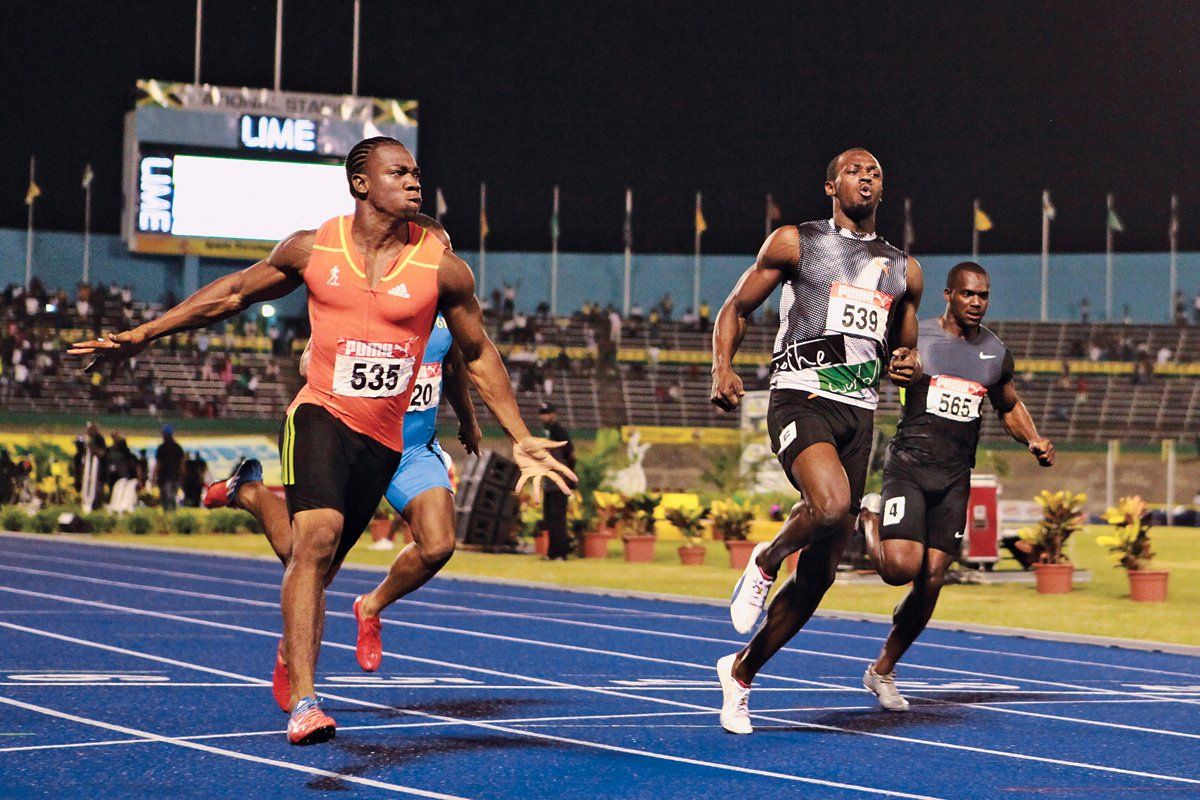 The Twitter messages seemed calculated to drive Jamaica frantic. "Driving the black speed today," Usain Bolt informed his followers as he posted an Instagram image of his chosen vehicle for the day, a 2009 Nissan GT-R. "Nothing but speed for the fastest," he added. Still, the world-record sprinter could scarcely ignore the fact that the last thing they want is for him to risk yet another smashup in the final days before the 2012 London Games. "I will take it easy lol," he promised.
Many Jamaicans are not laughing, either out loud or otherwise. They can't entirely blame their national hero, the holder of five world records and three Olympic gold medals, for his love of velocity. Nevertheless, Bolt and his fleet of high-performance machines keep raising the national blood pressure to levels matched only by his soaring insurance premiums. The latest spike came in early June when he crashed his BMW M3 into guardrails at one of Kingston's busiest intersections shortly before dawn, on his way home from a party. Police said alcohol was not a factor, and Bolt's management team hastened to assure the public that the accident was a minor one and that no harm had come to the most valuable runner in the world. Nevertheless, many Jamaicans grumbled that the collision-prone Bolt shouldn't be allowed behind the wheel at all until the Games are over. After all, this was his fourth traffic accident in recent years. In fact he was driving his second BMW M3; he had wiped out the first in 2009.
The grumbling grew louder after the country's National Trials a few weeks later, when 25-year-old Bolt was beaten by his protégé, 22-year-old Yohan Blake, in both the 100-meter event and the 200m. It was the first time since September 2007 that Bolt had lost a 200m race—and the first time he had ever failed to win the 100m on Jamaican soil. Even before the sprints began, the man they call Lightning Bolt seemed unusually subdued. When the trials were over, the 6-foot-5 Bolt fondly patted the 5-foot-11 Blake on the head and gave him a hug, and the winner paid public tribute to Bolt's advice and support. "I have to give him thanks because Usain has always motivated me," Blake said. "He always tells me to be calm, even coming into this race."
Others were less kind. "The fastest man in the world is not the fastest man anymore," blared one local newscast. It was a hard fall from four years ago, when Bolt sent Jamaica into paroxysms of national pride by sweeping the 100m, the 200m, and the 4x100m relay at the Beijing Games. What most astonished that crowd was the way he shattered world records almost literally in a walk. The others on the track took 44 steps to complete the 100m. Bolt did it in 41.
The question now is whether he has let himself slide since then. Bolt doesn't hide his love of the high life. "If there were gold medals for partying, I'd have won every year since 2003," he likes to say. "My nights out start at 1 a.m. and finish at 6 a.m." The day before the National Trials began, he was seen dancing at Kingston's trendiest nightclub, Fiction, until 4:30 in the morning. In the past he has fended off criticism of his wild ways by saying he owes his success not only to hard training but also to his ability to unwind when he's off the track.
That possibly counterintuitive defense will be put to the test in London. Meanwhile, Bolt's fellow islanders can only hope he's right. "When the Jamaican athletes rise from the starter's pistol in London, a whole nation will rise up in joyous anticipation," promises Stephen Vasciannie, the country's ambassador-designate to the United States, who describes Bolt as "a winner for the ages."
The trouble is that for Bolt, rising is the hardest part. His exceptional height may give him a longer stride than most of his competitors, but it also gives him farther to go when he pushes up from the starting blocks. His weight, approximately 207 pounds, only adds to the difficulty. Which creates a kind of double jeopardy for Bolt: his anxiety about getting out of the blocks in time sometimes causes him to jump the gun—a tendency made even more perilous by unforgiving new false-start rules that don't give runners a second chance. When he finally gets going, his telescopic legs usually make up for any late start—except when they don't, as happened at the National Trials, where Bolt ran the 200m in 19.83 seconds versus Blake's 19.80.
Bolt was born to a hardworking rural couple in the agricultural town of Sherwood Content, some 30 kilometers east of Montego Bay. His father, Wellesley Bolt, was a sometime coffee-farm worker, and his mother, Jennifer, made her living as a dressmaker. Seasonal work gave Wellesley Bolt ample time to oversee his son's schoolwork and athletic training. He was a strict father—sometimes too strict for the boy's liking. Jennifer, on the other hand, was an indulgent mother whose son could do no wrong. She nicknamed him Vijay, now shortened to VJ—a most propitious name, meaning "victorious" in Hindi. (India has left an indelible mark on Jamaica ever since the days of the Raj, when thousands of workers were imported to the island.)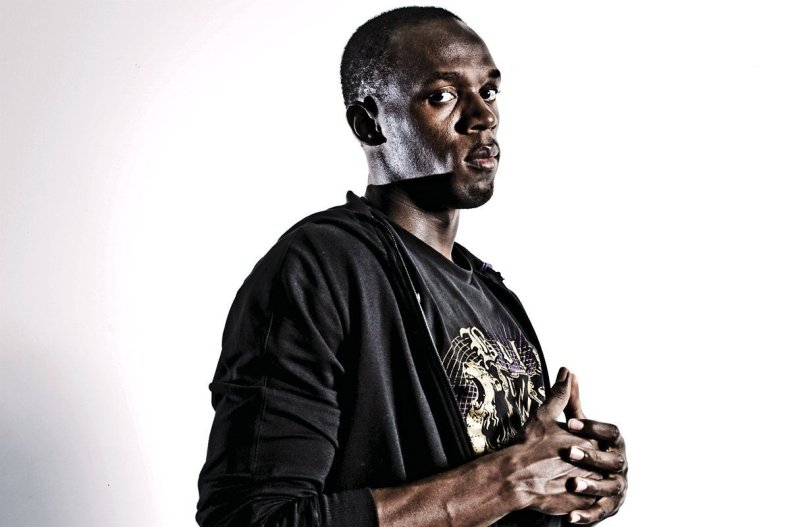 The family of three often expanded to include Wellesley's two children by other women, an older half sister named Christine and a half brother, Sadiki, only eight months younger than Usain. Many Jamaican families are loosely polygamous, with the men fathering children by several women. According to Usain, he and his half sister tend to be calm and relaxed, having grown up in the laid-back countryside, unlike Sadiki, who was raised primarily amid Kingston's urban frenzy.
Usain seems to have his own notion of what's calm and relaxed. In his early years his father famously complained to relatives that something seemed to be wrong with the boy: he always seemed to be running rather than walking and jumping rather than sitting or standing. His mother recalls that her son never walked to school; he only ran. In other, more-developed countries he might have been medicated for hyperactivity, but rural Jamaica offered plenty of space where he could race around and wear off his excess energy.
Running is a sport that seems practically ideal for a country like Jamaica. You don't need deep pockets or fancy equipment to become a great runner. In a land where hardly anything else works, an exemplary tradition of track-and-field instruction and competition has flourished for almost 100 years. The island first seized the world's attention back in 1948 when Jamaican runners Arthur Wint and Herbert McKenley won the gold and silver in the 400m in London.
Nevertheless, the sport that first captured the boy's heart was not running, but cricket. He played on his school team from an early age, and it was on the pitch that his extraordinary speed first caught the attention of the town's grown-ups. He became a prize recruit for William Knibb Memorial High School, which featured both a strong track-and-field program and sports scholarships. Knibb has produced many of Jamaica's top athletes.
Before long, Bolt was more than living up to expectations. At 15 he became the youngest runner ever to win the 200m at the International Association of Athletics Federations Junior Championships. Two years later he smashed the world junior record for the event with a time of 19.93 at the Caribbean Free Trade Association Games. And then that meteoric streak suddenly stopped. After being repeatedly sidelined by injuries and hamstring problems, the young sprinter was diagnosed with scoliosis, a curvature of the spine that left his right leg half an inch shorter than his left. Doctors warned that he might have to give up athletics altogether. Instead, however, he found help from a German sports doctor, Hans-Wilhelm Müller-Wohlfahrt, and a new coach, Glen Mills (he's now Blake's trainer as well). In 2007 Bolt began his comeback, and the next year he electrified his country by breaking the 100m and 200m world records in Beijing.
Bolt is still growing into his role as an international star. He didn't even know standard English until he began winning gold medals. Until then he spoke only the Jamaican patois, a dizzying amalgam of English, Spanish, and African languages. Blake currently finds himself in the same predicament, his English halting and hard for outsiders to understand. Jamaica's elocution teachers will need to work as fast as they can to prepare him for the spotlights in London.
Which of the two runners will be the fastest? Keep an eye on how Bolt behaves before the big races. When he's relaxed and confident, he likes to dance and play the fool for the cameras, basking in the roars of approval that erupt from the crowd. That's when he runs his best. If he fails to ham it up, he's probably off his form and therefore not confident of holding off the competition. But don't count him out even then. After all, he does hold the world record.
Annie Paul, author of the blog Active Voice, works at the University of the West Indies in Kingston, Jamaica.