New York Jets safety Jamal Adams believes neither Drew Brees nor Jake Fromm's apologies in the wake of racially insensitive remarks are genuine.
On Wednesday, Brees suggested players who knelt during the national anthem "disrespected the flag of the United States."
In the wake of the demonstrations over George Floyd's death on May 25, a large number of players could take a knee during the national anthem in the upcoming NFL season, following the example set by then-San Francisco 49ers quarterback Colin Kaepernick four years ago.
"I will never agree with anybody disrespecting the flag of the United States of America or our country," the 41-year-old said in an interview with Yahoo Finance on Wednesday.
The comments drew vehement criticism from some of Brees' own teammates, including Malcolm Jenkins and Michael Thomas, as well as from the likes of LeBron James.
On Thursday, the veteran quarterback acknowledged he had "missed the mark" with his comments and apologized.
"I made comments that were insensitive and completely missed the mark on the issues we are facing right now as a country," Brees wrote.
"They lacked awareness and any type of compassion or empathy. Instead, those words have become divisive and hurtful and have misled people into believing that somehow I am an enemy. This could not be further from the truth, and is not an accurate reflection of my heart or my character."
On the same day, Fromm apologized for making racist remarks after claiming that only "elite white people" should be able to purchase guns.
Screenshots of a text conversation between the Buffalo Bills rookie and a friend in which Fromm discussed guns back in 2019 were posted on Twitter on Thursday.
"But no guns are good. They need to let me get suppressors," Fromm wrote in the text. "Just make them [guns] very expensive so only elite white people can get them."
The quarterback, who was drafted by the Bills in the fifth round of the draft in April, issued an apology on social media suggesting he was firmly against racism and vowing to be part of the solution to the racial divide in the U.S.
"I am extremely sorry that I chose to use the words 'elite white person' in a text message conversation," the former Georgia quarterback said. "Although I never meant to imply that I am an 'elite white person,' as later stated in the conversation, there's no excuse for that word choice and sentiment.
"I stand against racism 100%. I promise to commit myself to being part of the solution in this country."
Adams, however, was far from impressed with both apologies.
"You [Fromm] and Drew aren't really sorry," he tweeted. "Save the bulls**t a** apologies. The truth just came out, and you two aren't the only ones!"
Terry Goodwin, Fromm's former teammate at Georgia, echoed Adams' thoughts.
"This is showing everybody's True side. Even from a guy like Drew Brees and Georgia very own Jake Fromm," Goodwin tweeted. "I've lost all respect for both of these people."
Adams and Goodwin were not alone in questioning Fromm's apology.
Pittsburgh Steelers cornerback Steven Nelson, who like Fromm is a native of Warner Robins, Georgia, said the his comments didn't do their hometown any justice.
Meanwhile, NBC Sports writer Patrick Daugherty called for the Bills to immediately cut the rookie from their roster, while a host of other football writers and analysts came down hard on Fromm.
The Bills said they were aware of the texts and did not condone Fromm's comments.
"Earlier today, we became aware of comments made in a text message conversation involving Jake Fromm in 2019," the franchise said in a statement. "He was wrong and he admitted it to us. We don't condone what he said. Jake was honest and forthcoming to us about the text exchange.
"He asked for an opportunity to address and apologize to his teammates and coaches today in a team meeting, which he did. We will continue to work with Jake on the responsibilities of being a Buffalo Bill on and off the field."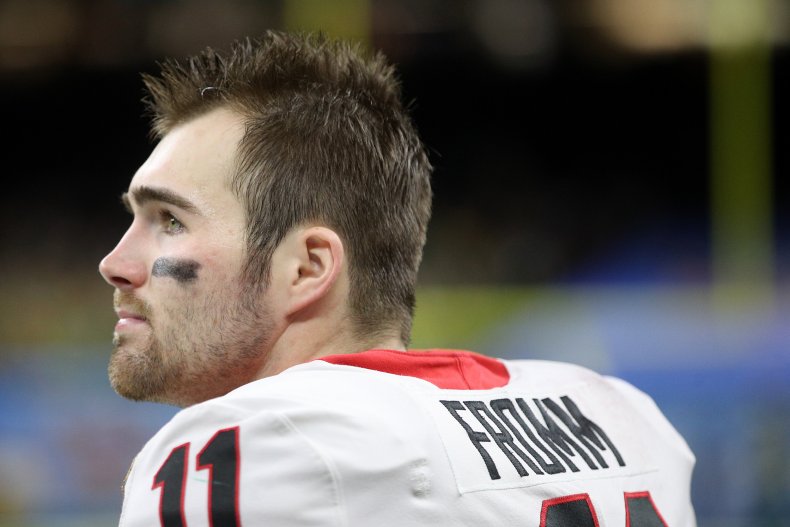 Uncommon Knowledge
Newsweek is committed to challenging conventional wisdom and finding connections in the search for common ground.
Newsweek is committed to challenging conventional wisdom and finding connections in the search for common ground.
About the writer
Dan Cancian is currently a reporter for Newsweek based in London, England. Prior to joining Newsweek in January 2018, he was a news and business reporter at International Business Times UK. Dan has also written for The Guardian and The Observer.