Jamal Edwards Vigil Attended by Hundreds as Friends Confirm He Died of a Heart Attack
Hundreds of people turned out to attend a vigil for Jamal Edwards following the music producer's sudden death on Sunday.
The 31-year-old's passing has left those who knew and admired him reeling and prompted a huge outpouring of grief in his home city of London.
Edwards was also a well-known YouTube star who launched the careers of numerous U.K. artists including Ed Sheeran and Stormzy.
Huge crowds gathered in Acton, west London, on Monday night for a candlelit vigil to honor Edwards.
Many people left flowers, candles and Chelsea FC shirts beneath a mural of Edwards, the Evening Standard reported.
Local reporter Sam Ormiston shared photos from the memorial, which showed large crowds gathered at a memorial to Edwards under a mural of him.
The vigil came as Edwards' friend confirmed that he died from a heart attack after playing a DJ set.
"The details are still not clear but we've been told that it was a heart attack," the friend, named Dwayne, told MailOnline.
"He was out DJing on Saturday night and eventually got home in the early hours of Sunday morning.
"The family are still trying to come to terms with it all, but we've heard that his mum found him in his bedroom and called an ambulance."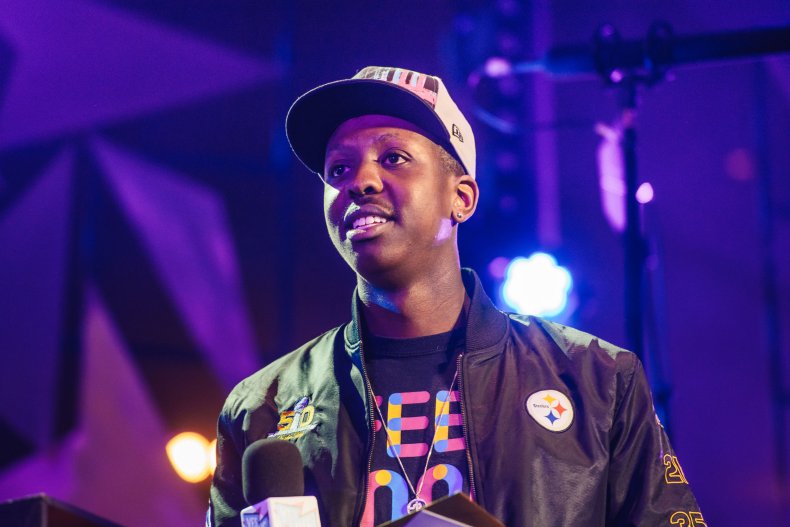 Edwards is the son of British TV presenter Brenda Edwards of Loose Women fame.
On Monday, she confirmed that he had passed away suddenly.
"It is with the deepest heartache that I can confirm that my beautiful son Jamal Edwards passed away yesterday morning after a sudden illness," Brenda Edwards said in her statement.
"Myself, his sister Tanisha and the rest of his family and friends are completely devastated. He was the center of our world."
She continued: "As we come to terms with his passing we ask for privacy to grieve this unimaginable loss. I would like to thank everyone for their messages of love and support.
"Jamal was an inspiration to myself and so many. Our love for him lives on, his legacy lives on. Long live Jamal Edwards MBE, MBA, PHD."
Multiple celebrities have paid their respects to Edwards, including Idris Elba and Richard Branson.
"We lost one @jamaledwards You will be missed little brother," Elba said in an Instagram tribute.
While Sir Richard Branson, who wrote the foreword for Edwards' 2013 book, Self Belief: The Vision, tweeted: "So sad to hear about the passing of Jamal Edwards MBE. What a loss of a truly extraordinary young man who made a huge difference to so many people's lives."
Former U.K. Prime Minister David Cameron, who is now chairman of the National Citizen Service's Board of Patrons, tweeted: "My thoughts & prayers are with the family of Jamal Edwards MBE. He was a great friend to @NCS & a valued Patron, supporting & inspiring young people to be the best they could be, leading from the front & showing what's possible with hard work & determination. Such a sad loss."