Jamal Khashoggi Is a 'So-called Journalist' Whose Murder Has Not Been Proved, Rush Limbaugh Says
Controversial right-wing political commentator Rush Limbaugh tried to dismiss the alleged murder of journalist Jamal Khashoggi inside the Saudi Arabia Consulate in Turkey as President Donald Trump rode out criticism of the U.S.'s close strategic and business ties to the Saudi ruling family.
Khashoggi, a Saudi citizen and outspoken critic of the royal family, has not been seen since he entered the country's consulate in Istanbul on October 2. Turkish officials, speaking anonymously to numerous media outlets, claimed he was murdered inside the building by Saudi agents within minutes of his arrival.
Though Saudi authorities—including Crown Prince Mohammed bin Salman—initially said Khashoggi left the embassy within an hour of his arrival, Turkey claimed to have audio recordings proving his death at the hands of an assassination squad that was lying in wait for the journalist.
Saudi Arabia is believed to be preparing its own report on the incident, which might state culpability, though the report could claim the journalist died accidentally during an interrogation rather than in a premeditated assassination.
Trump has hesitated to condemn the Saudis. He initially said "rogue killers" might have been behind the murder and told reporters of Salman's "very, very strong" denial of involvement. Critics argued that his comments were parroting Saudi talking points and were designed to give the authoritarian regime a way out of the crisis.
But Trump has now threatened "very severe consequences" if the kingdom is found to be behind Khashoggi's death, and noted it was likely the journalist had been killed.
Nonetheless, some conservative figures have been rallying around the president to cast doubt on the story and defend Trump's ties with Saudi Arabia, a vital U.S. ally and significant customer for American weapons.
Speaking on the The Rush Limbaugh Show on October 17, Limbaugh discussed "so-called Washington Post journalist, Jamal Khashoggi," noting that his death has not yet been confirmed.
"And the story is that it took him seven minutes to die, that they dismembered him alive, at some point gave him drugs to knock him out, and then they listened to music while they did all of this," he added.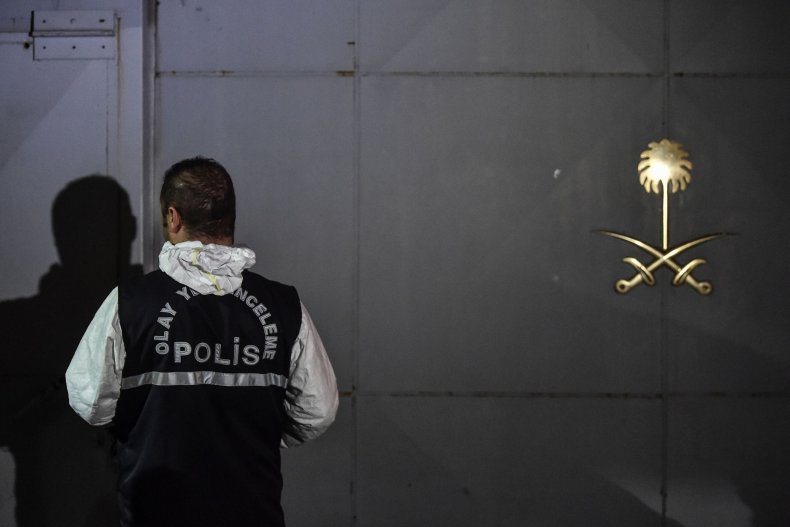 Turkish authorities did not reveal how they recorded the evidence they said proves Khashoggi's death. One theory put forward by the Turkish newspaper Sabah was that the journalist used his Apple Watch to capture and transmit his own death, though experts and even Apple itself had argued this was not possible.
Limbaugh touched on this theory, suggesting "they were gonna try to make it look like proof existed in the form of audio recordings." Limbaugh did not specify who "they" referred to.
The radio host tried to dismiss the importance of the Khashoggi case—which has precipitated an international diplomatic crisis for the Saudi rulers—by comparing it with the death of four Americans in the Libyan city of Benghazi in 2012 in an attack on a CIA facility and American diplomatic building.
"Where was this concern for our ambassador and three other men brutally murdered in Benghazi?" Limbaugh asked listeners, suggesting the outrage over Khashoggi's apparent death had been manufactured in order to launch a partisan attack on the president.
"The Democrats seriously believe they have a way of blaming Donald Trump for this," he said. "CNN all afternoon has tried to make it look like that Trump knows the Saudis did it and is trying to provide them cover. It's despicable.
"Donald Trump is keeping his eye on the ball, keeping his eye on the geopolitical ball, the national security ball," Limbaugh said. "He's not going to get sidetracked by what happened to a journalist, maybe, in the consulate there. He's not giving cover to anybody."