Jamal Khashoggi's Sons Have 'Faith' in Saudi Monarchy Despite Father's Killing
The sons of Saudi journalist Jamal Khashoggi have given an emotional interview in the wake of their father's killing, in which they expressed that they "have faith" that rulers of their kingdom will bring the killers to justice.
"The king has stressed that everybody will be brought to justice. And I have faith in that," Salah Khashoggi, 35, told CNN in a Sunday interview in Washington with his brother Abdullah Khashoggi, 33.
"All what we want right now is to bury him in Al-Baqi in Medina with the rest of his family," the grieving son added. "I talked about that with the Saudi authorities and I just hope that it happens soon."
Abdullah Khashoggi said: "I really hope that whatever happened wasn't painful for him, or it was quick. Or he had a peaceful death."
The journalist, who was a columnist for The Washington Post and a U.S. resident, disappeared in early October after he entered the Saudi consulate in Istanbul. Although Riyadh initially denied any knowledge of his whereabouts, it eventually admitted—weeks later—that the Khashoggi had been killed within the diplomatic facility in a "premeditated" attack.
Turkish officials have maintained that not only was Khashoggi killed but he was dismembered with a bone saw, although a body has not yet been reported as recovered. More recent Turkish reports have suggested that the body may have been dissolved in acid.
While Saudi Arabia's King Salman and Crown Prince Mohammed bin Salman have insisted that they were not involved or aware that the operation would be conducted, many analysts as well as Turkish and U.S. leaders have raised serious doubts about that narrative.
President Donald Trump even suggested that if "anybody [back in Riyadh] were going to be" behind the killing, it would be the crown prince. The president also called it "one of the worst in the history of cover-ups," but has defended U.S. financial ties and arms sales to the kingdom, arguing that curbing these relations would have a negative impact on the U.S. economy.
An image of Khashoggi's elder son Salah meeting with Prince Mohammed went viral in October, with Saudi media reporting the king and his son had expressed their condolences to the slain journalist's family. Many commentators were quick to suggest that the images and reports were a public relations stunt by the kingdom's leaders to deflect intense international criticism.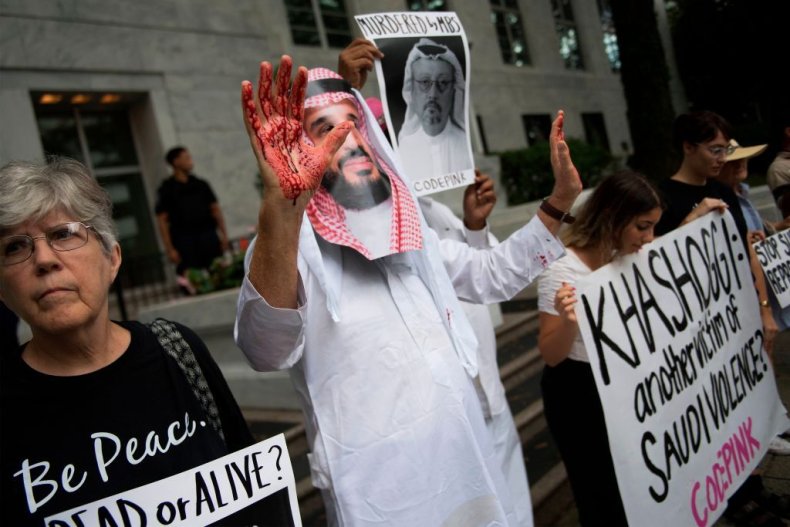 In their interview with CNN, the sons painted a different picture, arguing that many lies have been told about their father and their family in light of his disappearance and confirmed killing.
"I see a lot of people coming out right now and trying to claim his legacy and unfortunately some of them are using that in a political way that we totally don't agree with," Salah said. "Public opinion is important…but my fear is that it's being over politicized. People are throwing analysis that may direct us away from the truth," suggesting that his father was actually supportive of the Saudi monarchy.
Khashoggi fled the kingdom last year as Prince Mohammed led a crackdown on those seen as dissidents or challengers to his growing prominence. The journalist remained in self-imposed exile, fearing that he could face detention—or potentially worse—if he returned to the kingdom. Although he was often critical of decisions taken by Saudi leaders, particularly the ongoing war in Yemen as well as restrictions on free speech, associates have said that he was not hostile toward the Saudi regime.