Jamal Khashoggi's Fiancée Says Donald Trump Should Not Help Cover up Journalist's Murder
During a Monday speech in London, Hatice Cengiz, the fiancée of slain Saudi journalist Jamal Khashoggi, accused President Donald Trump of helping "pave the way" for the cover-up of the columnist's murder.
"President Trump should help reveal the truth and ensure justice be served," she told the audience in Turkish.
Khashoggi vanished early this month after entering the Saudi consulate in Istanbul, Turkey, to seek the paperwork needed to marry his fiancée. She was waiting in the parking lot when he went into the building and alerted the police about his disappearance around 10 hours later.
The Saudi government has admitted that Khashoggi was killed in the consulate, but his body has not yet been discovered. It is unclear exactly how he died, although Turkish officials say they have evidence that Saudi officials had planned to kill him when they arrived in Turkey on the day of his disappearance.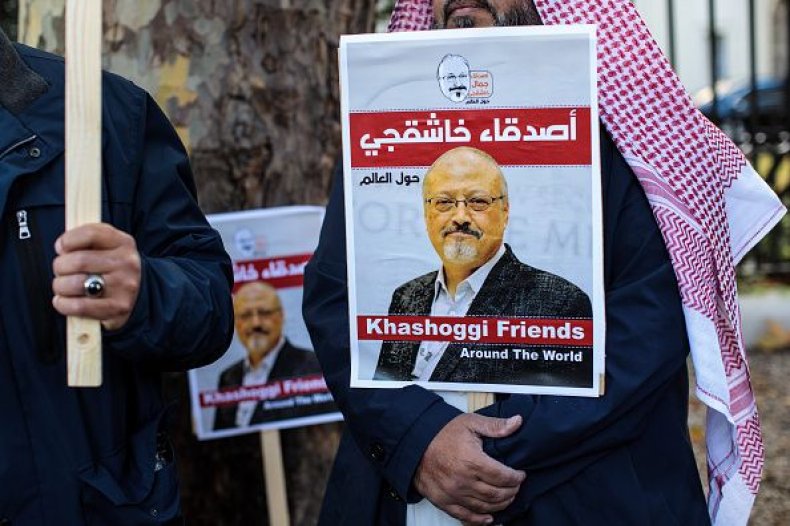 Secretary of State Mike Pompeo was immediately dispatched to Saudi Arabia following the murder, but the U.S. administration appeared satisfied with allowing the Saudis to carry out their own investigation. Saudi Arabian Foreign Minister Adel al-Jubeir announced Saturday that the people suspected of murdering the Washington Post columnist would be prosecuted in their own country. Turkey, however, has called for the 18 Saudi nationals allegedly linked to the killing to be extradited to Ankara.
Saudi Arabia's chief prosecutor is currently visiting Turkey, where he will meet with his Turkish counterpart. Turkey's chief prosecutor Irfan Fidan has reportedly put together a 150-page dossier about the murder.
The Saudi leadership has also said that the country's powerful Crown Prince Mohammad bin Salman was unaware of the murder until after it took place, but experts say that nothing involving Saudi intelligence officials happens without the crown prince's prior approval.
Still, Trump has signaled that he does not plan to halt sales of military equipment to the Kingdom. The U.S. has instead revoked the visas of 21 Saudi officials believed to be tied to the journalist's disappearance.
Meanwhile, Cengiz has been penning op-eds for the international press and going on speaking tours to demand answers. Trump invited her to visit the White House, but she has said she will not visit the U.S. unless the Trump administration responds to her fiancé's death.
"The statements Trump made in the first days around his invite and the statements he made afterward opposed each other. They were simply statements to gain public sympathy," she told Turkish television.