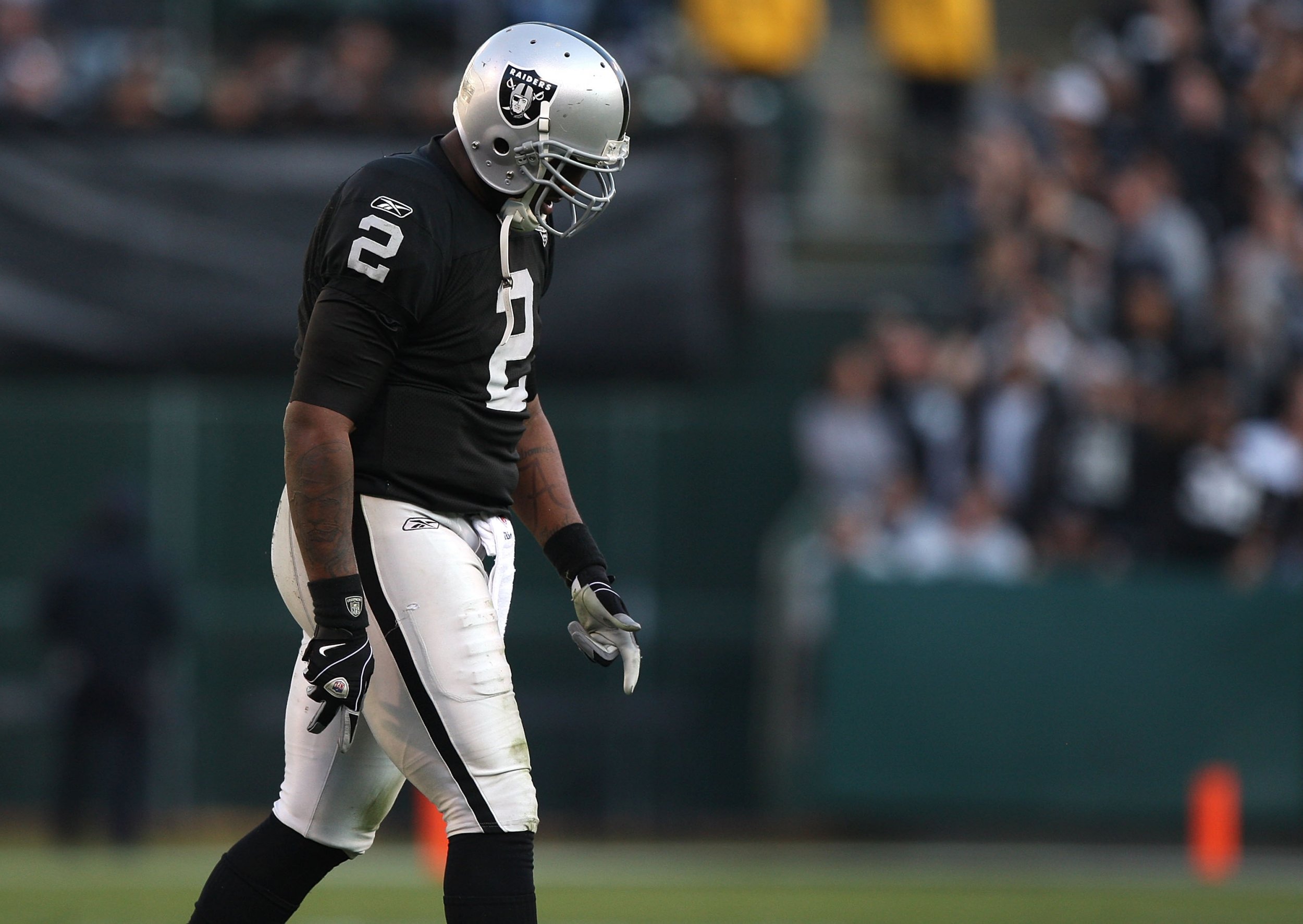 Former Oakland Raiders quarterback JaMarcus Russell has been labeled by many as one of the biggest draft busts in NFL history.
The former LSU star was selected No. 1 overall by Oakland in the 2007 NFL Draft and failed to live up to the expectations of becoming a franchise quarterback.
Russell's lack of work ethic, specifically his inability to keep his weight down, played a huge factor in his disappointing play throughout his short-lived NFL career. However there may be another reason for his lack of success.
According to former NFL offensive lineman David Diehl, there's a chance that the former quarterback didn't watch game film.
Diehl appeared on his weekly radio program "Football Sunday with Marc Malusis & David Diehl" for WFAN in New York on Sunday morning and revealed that Raiders coaches used to give the quarterback blank tapes in order to see whether he was actually studying game film.
According to Diehl, Oakland coaches didn't believe Russell was studying tapes so they gave him blank copies in order to see if he'd falsely claim to having watched them. The lineman said that Russell returned to the Raiders' facility the next day claiming he studied blitz packages from the game footage.
It's worth noting that Diehl spent his entire career with the Giants and therefore never alongside Russell during his stint with the Raiders, so it's likely word of mouth information shared from a mutual former teammate.
But still, the story fits the perception that the former No. 1 overall quarterback had created during his short-lived NFL career.
Russell's stock skyrocketed after a breakout junior season at LSU and several impressive pre-draft workouts. ESPN's John Clayton predicted it would "be hard to pass up" on him with the No. 1 overall pick after watching the former LSU star perform at the 2007 NFL Combine.
Cleveland Browns general manager Phil Savage also praised Russell's pre-draft drills, claiming "his talent is substantial. He's a rare combination of size and arm strength."
However, those attributes didn't translate to the NFL as Russell showed up to training camp "annually and incredibly overweight" throughout his career, according to NBC Sports and was perceived as having a bad work ethic.
Russell attempted to make a comeback to the NFL while working with former NBA standout and head coach John Lucas in September 2010, which reportedly resulted in tryouts for the Washington Redskins and Miami Dolphins two months later.
However, Lucas eventually became frustrated with the former quarterback's lack of work ethcic and severed all ties with Russell, according to Yahoo! Sports.
The former No. 1 overall pick only played three NFL seasons and appeared in 31 total games, which included throwing for 4,083 yards, 18 touchdowns and 23 interceptions.