Video Showing Jamba Juice Robot Kiosk Miserably Failing at Pouring Smoothie Goes Viral
A video of a robot smoothie maker at a Jamba Juice has gone viral, after it was seemingly unable to do the very thing it was created for.
The robot was documented creating a smoothie for Tiktok user @cyncity22, but it stumbled at the last hurdle, as it completely missed the cup. Posted on October 14, the video has gained over 1 million views and has been filled with comments joking about the robot's inability to pour.
Jamba Juice introduced robot kiosks at a Walmart in Dixon, California, in December 2020, and announced a second robot at a mall in Downey, California, earlier this month.
The company teamed up with robot smoothie maker Blendid to create the kiosks, which use a machine learning, artificial intelligence powered system. In theory, the machines should be able to smoothly make nine drinks at the same time, with the process taking under three minutes.
They use a robotic arm, blenders, refrigerators and different ingredient dispensers. The ordering, payment and pickup process can all be completed through a customer's smartphone.
In this case, @cyncity22's smartphone was used to document the hilarious blunder by the robot, as the arm shook before pouring out the smoothie into the cup. Half of the smoothie managed to make it into the cup, while the other half fell straight to the counter. According to the TikTok user, the robot didn't clean up the mess.
The video can also be seen in full here.
Jamba Juice told Newsweek in a statement: "We are currently testing our new Jamba by Blendid kiosks and as you see in the video, the robot is still learning how to perfect its smoothie-making skills! We want to ensure all of our guests have a great experience and if a smoothie does not meet our standards, we make it right, refund the guest and offer a replacement."
Blendid's VP of marketing, Covahne Michaels, also told Newsweek: "Robots do have bad days too, but very infrequently. Having just launched at Stonewood Center, our robot (and its AI engine) was still learning and fine tuning the recipes. We operate Blendid kiosks with 99%+ uptime and all our locations are fully monitored during operating hours so the mess was immediately cleaned by our operator partner! Since that video was shot, our robot has already learned to operate in Southern California and perfected its preparation of Green Dream Fusion. We hope people found it humanizing to realize that technology isn't perfect either and hope folks come check it out for themselves."
Much to the amusement of viewers, the robot moved in a way that looked as if it stopped to look at the mess, before moving back into its original position.
"It's only their first day," joked one user.
"Y'all mean, they're shy," commented another.
The robot kiosk market is a booming one in the food and retail industry, and is only predicted to grow in a post-pandemic contactless world. In 2018, Research and Markets predicted that the automated kiosk market would be worth $34 billion by 2023.
Robots Replacing People
For many viewers of the video, it highlighted a fear many have of robot labor replacing humans, especially in industries facing huge staff shortages.
August saw a record-breaking amount of workers quitting, according to the Bureau of Labor Statistics, with over 4.3 million Americans leaving their jobs in the month.
A 2021 study by Black Box Intelligence and Snagajob revealed that child care, mental health and opportunities in other industries are among some of the most common reasons for the labor shortage.
Turnover in the quick-service industry rose to 144 percent in June, up from 135 percent in 2019, the study revealed.
Newsweek has contacted Blendid for comment.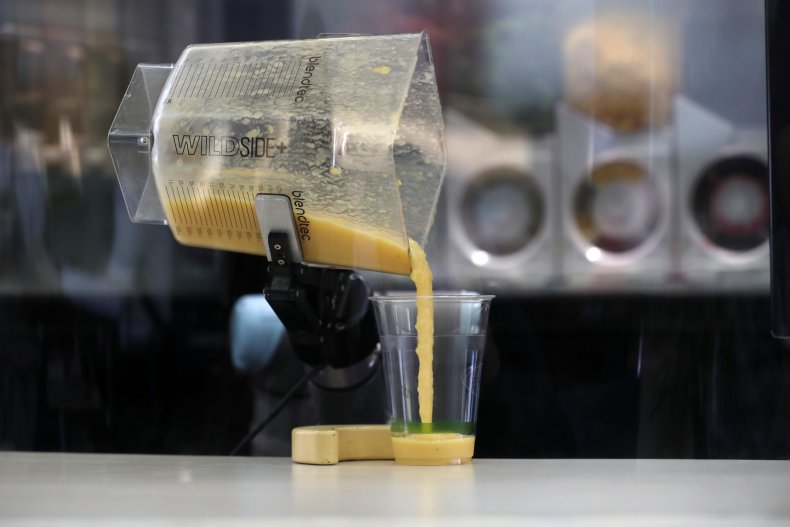 Update 10/25/21 at 3:16 a.m. ET: This article was updated to include a statement from Blendid.