Videos of Jamie Raskin Calling Out Lauren Boebert Viewed Millions of Times
Maryland rep. Jamie Raskin has gone viral on social media after he mocked and criticized Colorado congresswoman Lauren Boebert on subjects from grammar to Donald Trump's handling of the coronavirus outbreak.
In a series of videos that have gained millions of views on Twitter, Raskin used his time during a meeting of the House Oversight and Reform Committee, which both lawmakers are part of, as well as the House floor on Tuesday to launch a series of attacks against Boebert.
On February 28, Boebert discussed at the House Oversight Committee the claims surrounding the origins of the coronavirus, with FBI Director Christopher Wray recently supporting the Department of Energy's "low confidence" suggestion that a leak from a Chinese lab was the most likely cause of the virus.
Boebert noted that Trump had frequently laid the blame of the coronavirus on China while he was in office, but reporters "frequently dismissed that."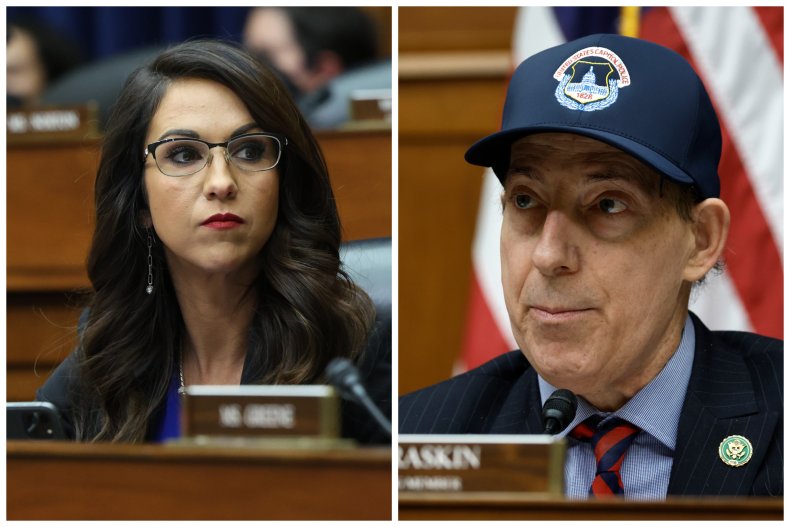 In response, Raskin said there are two facts that she "should be alerted to" before trying to defend Trump with regards to how COVID broke out.
"One is that Donald Trump, on more than 20 different occasions defended the performance of Chinese government and specifically President Xi in terms of his treatment of COVID-19 and said he was doing a wonderful job and a great job and they were working closely and they were constantly in touch," Raskin said.
"So if there's a problem with the Chinese government unleashing the virus—which has not been proven anywhere, but it certainly could be true—You would have to pin that on your favorite President Donald Trump, not on Joe Biden."
"The second thing is President Trump's own special adviser on COVID-19, Deborah Birx, said that the lethal recklessness of Donald Trump's policies about COVID-19 cost Americans hundreds of thousands of lives.
"So you don't have to believe anybody on the Democratic side of the aisle. That's Donald Trump's own special adviser on COVID-19."
A clip of the exchange was shared online by the @Acyn Twitter account, where it has since been viewed more than 1.6 million times.
While on the House floor, Raskin also suggested that when Boebert was discussing new jobs that she was referring to the "12 million" created under the Biden administration and not the "millions" lost while Trump was in office.
In another clip from the House floor, which has more than 1.5 million views on Twitter, Raskin said he would be happy to describe Trump loyalists in the GOP as "ultra MAGA" after Boebert corrected the term "MAGA extremists" used by House Democratic leader Hakeem Jeffries to attack the far-right faction of the Republican Party.
"So when the Minority Leader referred to the extreme MAGA element, which appears to be driving the train over there, he should have called it the ultra MAGA element, in deference to the gentlelady from Colorado," Raskin said.
"I certainly will be able to honor her wishes in the future as she chooses to be described as ultra MAGA."
Raskin later criticized Boebert for using the phrase "Democrat" instead of the adjective Democratic while suggesting there is malice in the error.
"Assume it's a good faith, grammatical error the first few times, but after people are corrected several times, and they continue to say it, it seems like it's an act of incivility," Raskin said.
"As if every time we mentioned the other party it just came out with a kind of political speech impediment, 'oh, the banana Republican Party,'...every time we mentioned the 'banana Republican member' or the 'banana Republican plan,' or the 'banana Republican conference,' but we wouldn't do that."
In response to the criticism, Boebert told Raskin on the House floor: "I am very happy that you have moved on from pronouns to adjectives. And you know, when you guys start acting democratic, I'll be sure to call you Democratic Party."
Boebert has been contacted for further comment.