Jameela Jamil Blasts Piers Morgan as 'Irrelevant S*** Stain' after Criticism On Meghan Markle's Vogue Cover
Jameela Jamil had some strong words for controversial British host Piers Morgan after he slammed her feature on Meghan Markle's British Vogue cover on Monday. The Good Place actor responded to Morgan's disses against her past behavior by admitting to past flaws, which she's already posted online.
Jamil was listed as one of Markle's hand-selected "voices for change." That doesn't mean Jamil is without flaw, though. Morgan brought up some of Jamil's past, controversial comments on Twitter Monday in a diss of both Jamil and Markle. "*NEW: One of Meghan's 'kind & inspiring' female-empowering Vogue 'heroines' is @jameelajamil - who called @Beyonce a 'stripper', said @MileyCyrus was a 'vagina with no platform' & told @Rihanna to 'put your m*nge away,'" he wrote.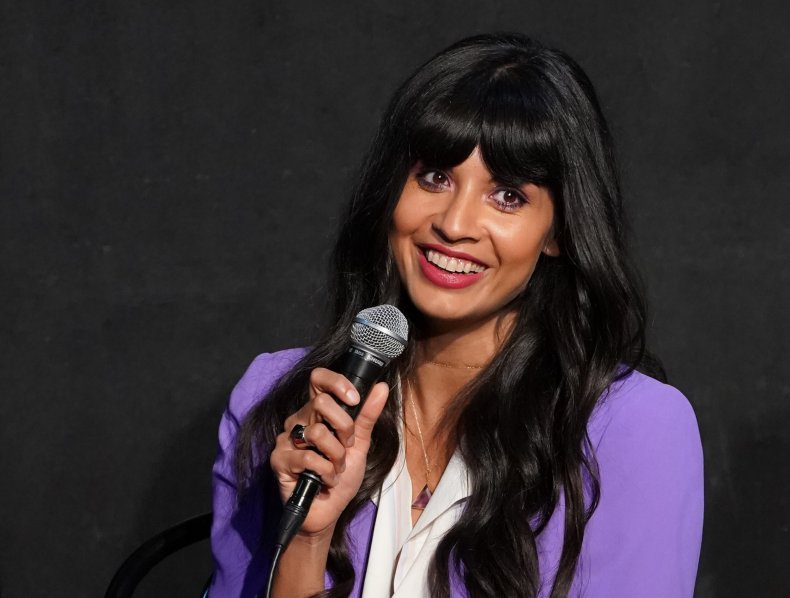 The actor responded, calling the host a s*** stain. "My PINNED tweet is all of the mistakes I made, owning up to being problematic when I was young. I have nothing to hide. You are old, and still a problematic slut-shaming, fat-shaming, misogynist, irrelevant shit stain, smeared across our country."
Newsweek subscription offers >
She added: "He is just the thirstiest bitch alive."
Jamil does not deny issuing problematic or mean comments in her early days in the industry, and her pinned tweet supports her claim. In it, Jamil said: "It is never too late to check yourself and right your wrongs," she wrote in the tweet, originally published in December. "I used to be slut shamey, judgmental, and my feminism wasn't intersectional enough. Nobody is born perfectly 'woke.' Listen, read, learn, grow, change and make room for everyone. We aren't free til ALL of us are free."
Markle likely chose Jamil because of her current activism to bring body positivity to social media users, as well as slam those promoting unrealistic standards with weight loss products, like diet shakes and teas. Jamil often responds to celebrities promoting the controversial product and asks them to be transparent about the trainers and plastic surgery they have access to, instead of claiming their thin bodies are from a drink you can buy online.
Jamil's latest tweet on the topic talked about "fat-phobia," and how it's become normalized to criticize a person's weight. She suggested it be treated like gender, race or disability, and be respected from all.
Newsweek subscription offers >
The actor expressed how grateful she was to appear on the cover, alongside a handful of other, influential women. "Good grief! I'm on the cover of @BritishVogue alongside a bunch of absolute game-changers. I'm so awe/star struck by all of them," she tweeted. "And then the mic drop of all guest editors, HRH Duchess of Sussex, Tahani's "good friend" chose each of us! Thanks Edward Enniful, you legend. GOSH."
Jameela Jamil Blasts Piers Morgan as 'Irrelevant S*** Stain' after Criticism On Meghan Markle's Vogue Cover | Culture