Jameela Jamil and More Slam Cruel Comments On Nike's First Curvy Mannequin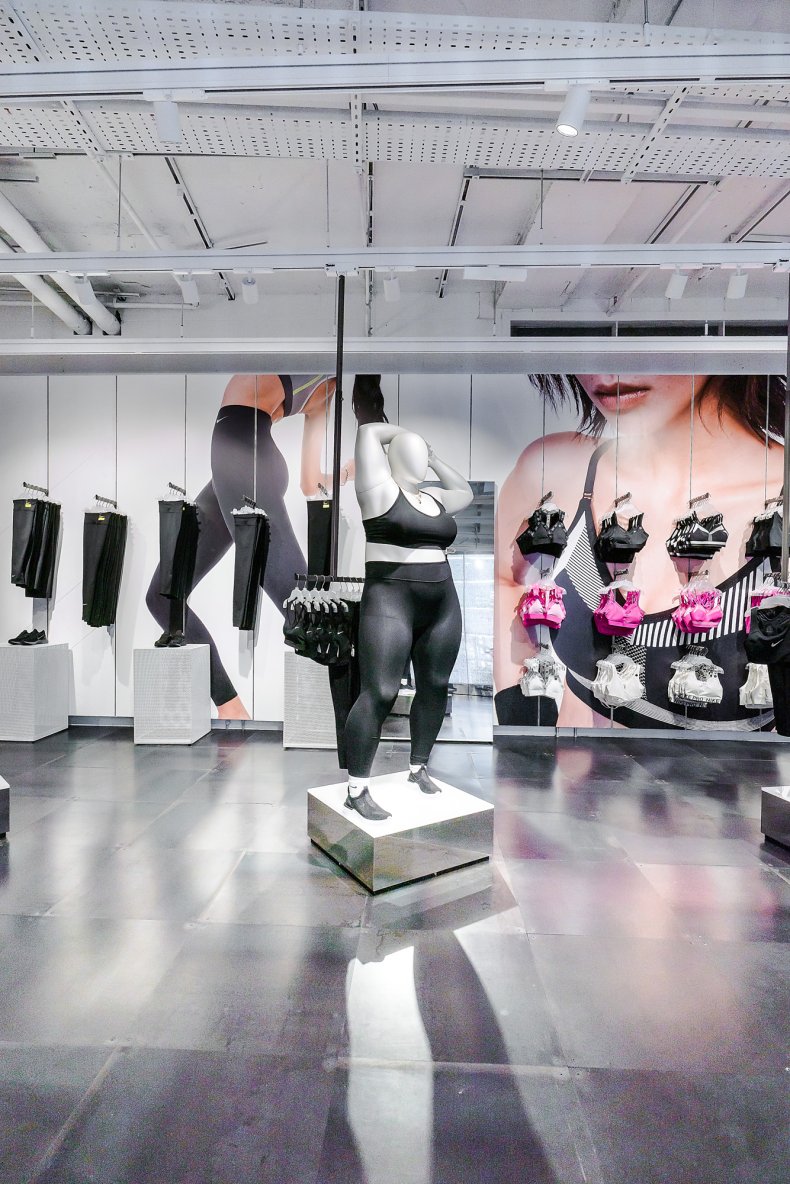 Plus sized models are showing support for Nike after the athletic brand introduced their first curvy mannequin. The mannequin popped up at a Nike flagship store—located on Oxford Street in London—and was immediately slammed with fat shaming comments, both from publications and social media bystanders. A handful of women wouldn't let the negative comments get in the way of celebrating Nike's move toward body acceptance, though, and shared their support on social media.
It seems the internet has polar opposite opinions on Nike's decision. While some have posted photos and videos praising Nike for their bold, and progressive decision, others have been vocal with opinions that the plus-sized mannequin is promoting an unhealthy lifestyle.
Some have gone so far as to say it's bad publicity for the athletic brand, as the weight of the statue would prohibit it from running in the first place—see this comment from Tanya Gold in the Telegraph, where she described the mannequin as "An immense, gargantuan, vast. She heaves with fat. She is, in every measure, obese, and she is not readying herself for a run on her shiny Nikegear," Gold wrote. "She cannot run. She is, more likely, pre-diabetic and on her way to a hip replacement."
The negative comments written by Gold, which extend much further than the one line, have been echoed on social media, but have also been rejected by many. Women including writer and model Callie Thorpe, author Megan Jayne Crabble, and actor Jameela Jamil showed their support of Nike. Others followed, posting photos with the mannequin.
Thorpe commented on Gold's article with disbelief. "It's ludicrous that fat people are mocked, bullied and told to get to the gym and lose weight yet we are also told, we don't deserve the access to active wear," she said on her latest Instagram post. "Do you see how ridiculous that is? Which goes to show It's got nothing to do with health concerns and everything to do with prejudice."
The point was echoed by Jamil, who took to Twitter to slam Gold and the Telegraph for their said offensive statement. First, Jamil stated she and readers demand an apology for the Telegraph's decision to use their platform as a site for bullying. She added: "Also... the idea that you people disapprove of fat people, but don't want them to be allowed to have fitness clothing to fit their bodies to exercise in, which would surely help their health/fitness, which you cry in *such* despair over... exposes you for the idiots you all are."
Nike told Newsweek their mission has "always been to serve all athletes and we continually evolve how we display product across our platforms to reflect the diverse consumers we serve every day."
They added: "We continue to listen to the voice of the athlete and know that the female consumer wants to see a diverse and inclusive range of product to serve her sporting needs."
This article has been updated to include a comment from Nike.
Jameela Jamil and More Slam Cruel Comments On Nike's First Curvy Mannequin | World