The Jameis Winston Case: 'To Kill a Mockingbird' In Reverse?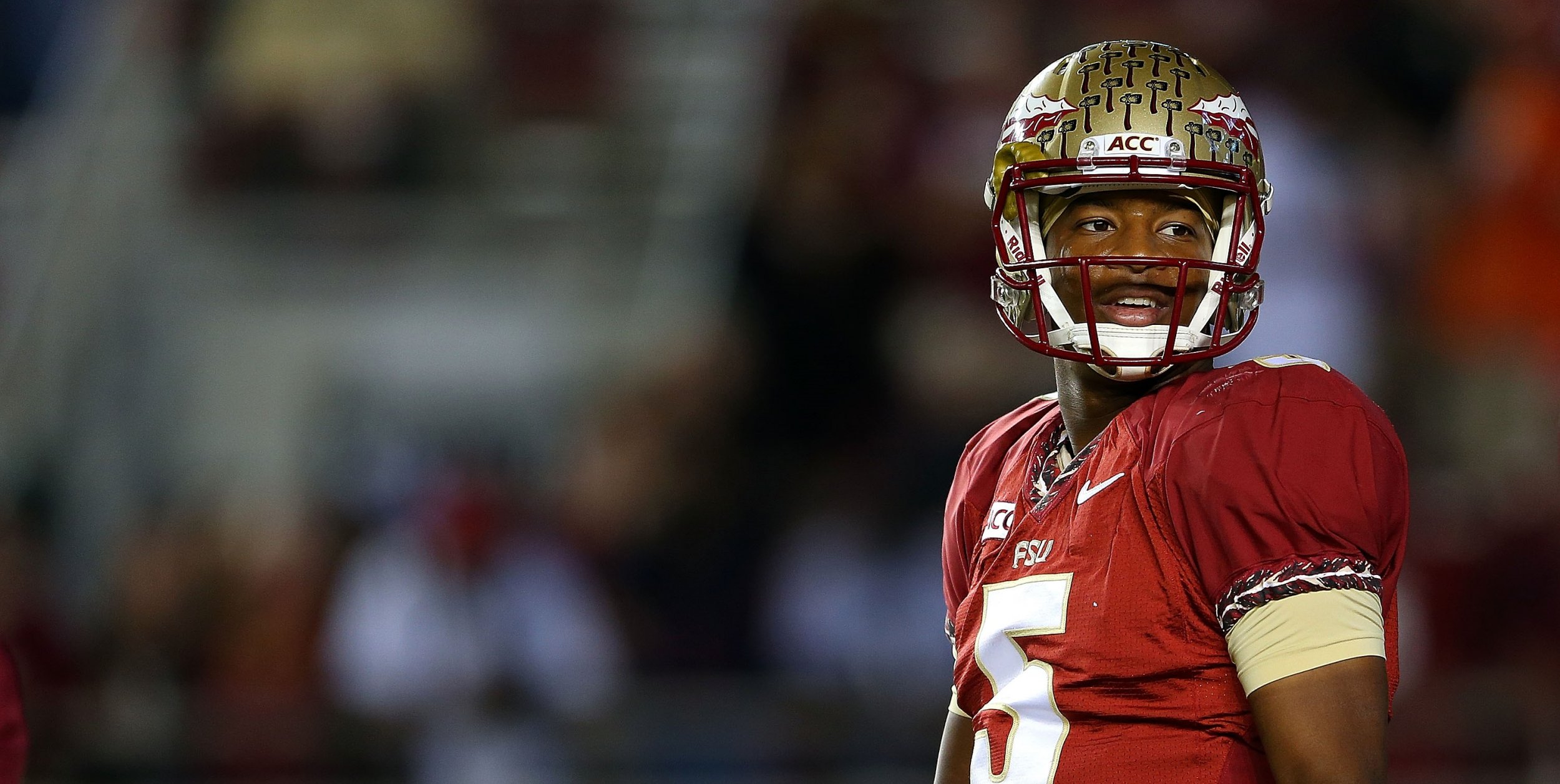 Last August Jameis Winston, then a relatively unknown redshirt freshman quarterback at Florida State University, sparred playfully with fate. During preseason camp in Tallahassee, Winston, a luminous prodigy who had yet to take a college snap, was asked if he was worried about contracting "Manziel disease."
The six-foot-four native of Hueytown, Ala., laughed. The query was a facetious reference to Texas A&M quarterback Johnny Manziel and the off-field circus his life had become—mostly due to "Johnny Football's" reckless behavior—since winning the Heisman Trophy the previous December. "If I get Manziel Disease," the irrepressible Winston replied, "I want every one of you all to get your (microphones) and start slapping me on the head."
No one in Tallahassee is laughing now. A rape accusation, first made 11 months ago, may result in felony charges against the charismatic Seminole star in the midst of a debut season as brilliant as Manziel's. Florida State is 10-0 and No. 2 in the BCS rankings while Winston, alias "Famous Jameis," is the leading candidate for the Heisman. However, a long-dormant case that was re-opened last week and conclusive DNA evidence revealed on Wednesday may derail all of that.
This much is known. Early on the morning of December 7, 2012, Winston and the complainant, a Florida State student from the Tampa area, had a sexual encounter. Winston's attorney, Tim Jansen, admitted as much on Thursday after DNA evidence was leaked to ESPN the day before, saying that the sex was "absolutely" consensual.
However, on that same December morning, still before sunrise, the woman filed a sexual battery incident report with the Tallahassee Police Department. She had initially reported the incident to the FSU campus police.
From that moment until now, the account reads like a John Grisham novel. Both the accuser and the Tallahassee Police Department concur that last January she identified Winston as her assailant, but then the stories diverge. The accuser's family attorney, Patricia Carroll, says in a statement that TPD Detective Scott Angulo warned her at the time that Tallahassee is a "big football town" and that her client "would be raked over the coals and her life will be made miserable" if she pressed charges.
Were Angulo's words intended as sage advice in the prosecution of sexual assault cases or were they a threat?
Carroll also noted in the statement that Angulo refused to collect blood work or DNA evidence or question Winston's roommate, whom the complainant says witnessed the alleged assault. However, TPD contacted Jansen last February and informed him that his client was being investigated. The TPD contacted Jansen a second time to inform him that the case was no longer being investigated.
If this were a football game, the Tallahassee Police Department would be guilty both of tipping off one team's plays to the other and picking up the yellow flag on the field. And, by the way, how many police detectives know the identity of a 19 year-old's attorney (how many 19 year-olds retain attorneys without being charged with a crime?) and contact that counsel before a charge has even been formally filed in a criminal case?
The case lay dormant until early November when, in the span of a few days and seemingly independent of one another, both the Tampa Bay Times and TMZ.com contacted the TPD and made public-records requests for the police reports of this incident. Then and only then did the TPD contact State Attorney Willie Meggs' office, which has since kicked this investigation into high gear, collecting that long-sought DNA sample from Winston and interviewing the complainant, who dropped out of Florida State as soon as this investigation went public last week.
A decision on whether Winston will be charged with felony sexual assault should be made within a week. FSU's policy dictates automatic suspension for a student-athlete charged with a felony. However, a seemingly innocuous clause states that the suspension may be waived due to "extraordinary circumstances as determined by the administration," providing the school's administration wiggle-room should it determine that a felony charge, as opposed to a conviction, should not prevent its Heisman Trophy favorite from leading the charge to national championship game in Pasadena come January.
And these are extraordinary times in Tallahassee, as the football program resembles the indomitable 1990's FSU teams that won two national championships. The Seminoles have rolled over four opponents by 55 or more points this season and the denizens of Doak Campbell Stadium have performed the tomahawk chop with such frequency and vigor that rotator cuff surgeries may soon be on the rise in the Florida panhandle.
Of course, more than a few fans who cloak themselves in garnet and gold wonder why a crime that allegedly occurred almost 50 weeks ago is only now coming to light. "Seems like when you're doing good, people wanna try to bring you down, pray for Jameis Winston," tweeted @Poloboyrich.
This is a crime story. A sex story. A football story. A story, perhaps, of law-enforcement negligence and/or malfeasance. Of an accuser who is either being unfairly harassed or is wrongly accusing a 19-year-old African-American male. A story where people take sides before they even know where the line of scrimmage is.
It is, unmistakably, a Southern Gothic story. It's To Kill a Mockingbird turned upside down – here the local citizenry is vehemently in Tom Robinson's corner – with a dash of indigenous gridiron seasoning tossed in (as former Seminole Travis Johnson, who himself was acquitted of a sexual assault charge in 2005, told Yahoo! Sports earlier this week, "It's not Florida. Tallahassee is South Georgia") for good measure.
On Thursday a local disciple contacted Bob Gabordi, editor-in-chief of the Tallahassee Democrat, on Facebook and noted that Carroll, the complainant's family attorney, is an alumna of the law school at the University of Florida (FSU's chief rival). The Facebook informant suggested that Carroll "got wind" of a closed case, leaked it to TMZ and then contacted the victim's family.
Gabordi replied, "Interesting, Robert."
On November 14, Gabordi penned an op-ed column for the newspaper that included this infamous Jameis line about how a seemingly closed case had blindsided both the campus and the state capital: "We knew a national media outlet was working on the same story, an outlet that didn't care a whit about our community, our university, our team or the young man many of us – me included – have learned to care about, Famous Jameis Winston."
Gabordi closed his argument by rendering what was for him a fair and balanced treatment of both sides in what is, after all, a rape case.
"Meanwhile, I'll continue to cheer for Jameis Winston and the Seminoles and hope that he is cleared quickly and decisively," Gabordi concluded. "But I'll save a few thoughts and prayers for the well-being of this young woman, and hope you will, too."