Jameis Winston Only Two Passes From Being Sole Member of Never Seen 30-30 NFL Feat
Tampa Bay Buccaneers quarterback Jameis Winston has a chance to accomplish something no quarterback has ever accomplished in the National Football League. He's just two passes from becoming the league's first 30-30 member.
That would be 30 touchdown passes and 30 interceptions in the same season.
With his four interceptions and one touchdown in Saturday's 23-20 home loss to the Houston Texans, Winston now has 31 touchdown passes and 28 interceptions. Should he throw two more interceptions in Week 17 against the Atlanta Falcons, then Winston can become the exclusive, sole member of a 30-30 club.
Winston wasted no time throwing an interception Saturday at Raymond James Stadium, as he was picked off by Houston's Bradley Roby, who returned it 27 yards for a touchdown just 38 seconds into the game. Winston threw another interception on the next Buccaneers drive, and another during the first half.
Bucs coach Bruce Arian said his team can't have five turnovers in one game, and that Winston has to be better at directing the offense with playmakers on the outside.
"You just can't have them; you can't have that many," Arians said of the turnovers. "Throwing it to the right guys, those guys have got to win, too. We've been winning one-on-ones. He's used to guys winning one-on-one when he reads it properly and we didn't win."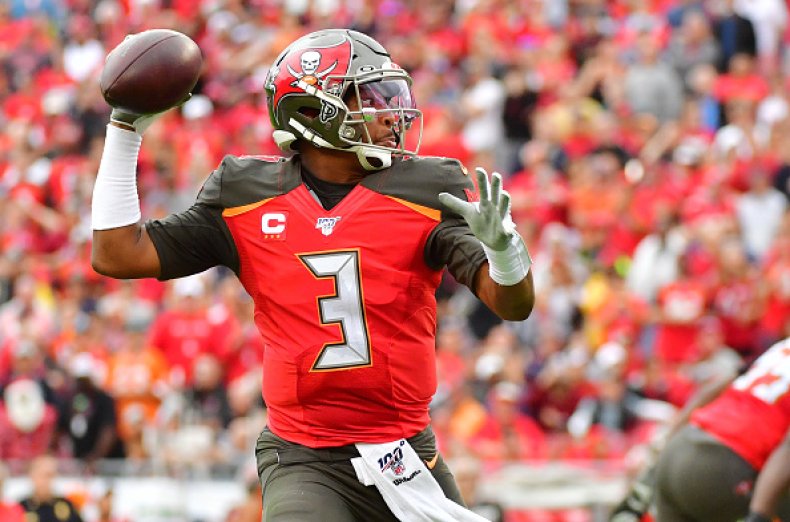 Tampa Bay (7-8) had won four-consecutive games heading into Saturday's showdown with Houston (10-5), which clinched the AFC South with the win.
Winston is having the best statistical season in his career for most major passing categories. He already has more yards (4,908), touchdowns (31), attempts (602), completions (367) and yards per game (327.2) than any other season, and he still has one more game to play in 2019.
He also has more interceptions than any year in his career. According to NFL Research, Winston's high interception rate in 2019 is already in a league of its own. Here are some data points on Winston's picks:
Winston has thrown an INT on the opening drive five times in the last seven games
His six INTs on opening drives is most in the NFL this season
He has the most interceptions (85) since 2015, when he entered the league
Winston has the most 3-plus INT games (11) since 2015
Winston has thrown six INTs returned for touchdowns in 2019, which is tied for the most in a single season since 1950
Winston threw two interceptions against the Atlanta Falcons when they played last month in a 35-22 win for the Buccaneers. Should he match that next Sunday, he'll be in a club all his own.