Jamel Floyd Was 'Murdered' By Mace Because Prison Guards Knew He Had Asthma, Mother Says
The mother of federal inmate Jamel Floyd, who died in prison Wednesday after guards at the Metropolitan Detention Center pepper sprayed him in his cell, calls his death a "murder."
Floyd allegedly barricaded himself inside his cell and broke the window of his cell door. Officers responded by deploying pepper spray on Floyd. After the incident, medical staff at the correctional facility found Floyd to be unresponsive. Floyd was pronounced dead at a local medical facility.
Floyd's mother, Donna Mays, told the New York Daily News on Thursday that officers at the jail "murdered" her son through their usage of mace.
"He had underlying medical conditions they were aware of," Mays said, citing Floyd's alleged asthma and diabetes. "You do not mace an asthmatic."
"They maced my son," Mays added. "They murdered my son."
Newsweek reached out to the presidential campaign of Joe Biden for comment. This story will be updated with any response.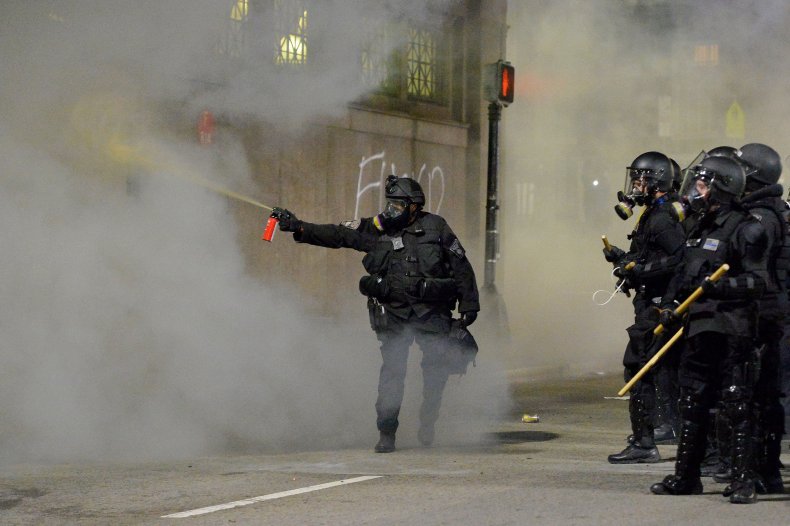 According to the National Capitol Poison Center (NCPC), pepper spray can be an irritant to the eyes, skin and lungs. "People with lung conditions, such as asthma or COPD, can have more severe breathing effects when pepper spray is inhaled," read information posted on the NCPC's website.
According to a statement sent to Newsweek by the U.S. Bureau of Prisons and the Metropolitan Detention Center, the matter is "under investigation." Both the United States Marshals Service and the FBI were notified.
Floyd's death is also under investigation by U.S. Department of Justice Inspector General Michael E. Horowitz, who said in a Thursday statement to Newsweek that his office was coordinating with the FBI to probe Floyd's death. However, the DOJ "will be unable to provide further information until the investigation is complete."
"While police maliciously use pepper spray to suppress nationwide protests for black people's safety and freedom in the streets, jail guards reportedly used it against Jamel Floyd in what amounted to a deadly use of force," read a joint statement from advocacy groups The Release Aging People in Prison Campaign, the Parole Preparation Project, the HALT Solitary Campaign and the Jim Owles Liberal Democratic Club on Thursday.
The Federal Defenders of New York called for a "full, independent and transparent investigation" of Floyd's death on Thursday. In a written statement, they called the Metropolitan Detention Center where Floyd was incarcerated "a brutal place to be imprisoned at any time."
"We don't know what happened yesterday, but we need to find out," the statement added.