James Baker, Secretary of State Under George H.W. Bush, Treated for COVID
James Baker, the now 90-year-old former Secretary of State who served under deceased Republican President George H.W. Bush, and Baker's wife Susan are both being treated for COVID-19 in Houston, Texas, according to KHOU 11 News.
The couple both "feel crummy" according to James Baker's senior advisor, John B. Williams, but neither spouse has been hospitalized even though both have tested positive for coronavirus.
The couple began feeling symptomatic on Tuesday morning. They suspect they may have contracted the virus from family members they visited in Wyoming who later came down with the virus.
As of August 20, Wyoming ranks 49th amongst U.S. states with the highest number of coronavirus cases. Texas, however, ranks 3rd with Harris County, the county that contains Houston, being the Texas county with the highest overall number of cases and deaths.
According to the U.S. Centers for Disease Control and Prevention (CDC), the hospitalization rate for people over the age of 85 is 13 times higher than the rate for people ages 18 to 29. The death rate for people over 85 is 630 times higher than the rate people aged 18 to 29.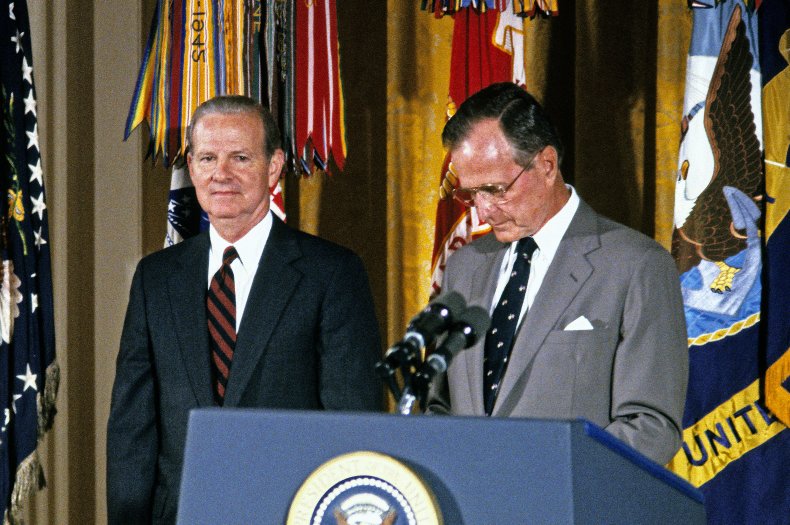 In 1971, Baker served as Finance Chairman of the Texas Republican Party and, in 1972, he served as Gulf Coast Regional Chairman for the presidential campaign of Republican Richard Nixon. In August 1975, President Gerald Ford appointed Baker as the Undersecretary of Commerce.
Baker managed the 1976 presidential campaign of Gerald Ford and the unsuccessful 1980 presidential campaign of George Bush. Between the two campaigns, in 1978, Baker unsuccessfully ran for Texas' Attorney General with Bush as his campaign manager.
After winning the 1980 election, now-deceased Republican President Ronald Reagan appointed Baker as his Chief of Staff, a position Baker served in until 1985 after which point he became Reagan's Secretary of the Treasury. Baker then served as the manager of Bush's 1988 presidential campaign and was appointed as Bush's Chief of Staff and Secretary of State afterward.
As Bush's Secretary of State, Baker oversaw the dissolution of the Soviet Union and the 1990 Gulf War. During the Geneva Peace Conference in early January 1991, Baker threatened to eliminate the entire Iraqi government if the U.S. discovered any officials using chemical or biological weapons. He later admitted he wanted a nuclear retaliatory strike against the nation. Later that year, Bush awarded Baker the Presidential Medal of Freedom.
In 1993, Rice University in Houston, Texas founded the James A. Baker III Institute of Public Policy in his name. In 1995, he published his memoirs, The Politics of Diplomacy: Revolution, War and Peace, about his time serving as Bush's Secretary of State.
Baker also served as an advisor to Republican President George W. Bush during his 2003 invasion of Iraq.